How to insert pictures.
09-15-14, 06:41 PM
Join Date: Oct 2012
Location: Jersey
Posts: 63,074
How to insert pictures.
---
A new picture attachment system is now in use. There is no longer an attachment cap on a members account. The DIY picture storage system will take your pictures and reduce/resize them to fit the board better and keep the file sizes in check. Excessively large files may not load and the system will notify you. I will outline the changes and what needs to be done.
Mobile users
who are using the mobile version of the site (instead of the full or desktop version of the site) can skip directly to step 2 as there is no "go advanced" button to click on.
1) You will still need to be on the advanced editor page.....click on "Go Advanced."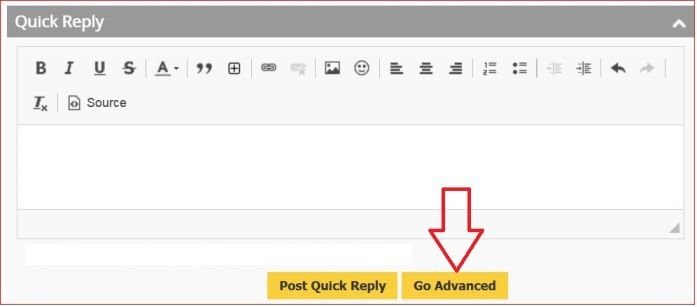 2) Once in the "Go Advanced" editor..... you can access the attachment area at three points.
.........
I recommend using the paper clip icon.
3) When one of the three choices is clicked you'll see the next page. You can drag your pictures into this page but it can be easier to use the "browse your device" selection and get pictures that way. You can load more than one picture here. After you select a picture..... click on "browse your device" again for additional pictures. When done getting pictures.... click on "Upload" to save them to your thread.
4) In this next picture I've selected three pictures. The order can be changed or they can be deleted before uploading. Just drag them around.
With the new attachment system.... if a picture posts incorrectly or you don't like it..... you can right click on it and delete it right from the text editor screen. I'm not sure yet how long a member is allowed to edit a picture. You should correct/delete any pictures immediately. You can reload a replacement picture by following above. You can also drag your pictures around in the text area. After you have put your pictures in your thread... you can still click on "edit thread" and delete pictures in edit mode.
If something happens that doesn't match this or you have a particular picture problem.... just send me a PM and I'll address it for you.
---
Last edited by PJmax; 08-15-22 at

06:20 PM

. Reason: instructions update 8/19/2022
abbynormal52,
badeyeben,
Doggo21,
FirstHomeNH,
MediaWeasel,
plastic cake,
radioguy80,
rcdiy,
RKPDiy,
scrambledlife,
Supersonic7,
truenorthdv,
TTASHA
and

8 others

liked this post.
(Show less...)
voted this post useful.