Mystery wiring of a switch
01-12-15, 07:19 PM
Mystery wiring of a switch
---
There is a switch in one room I never figured out what it's for and finally I decided to open up the switch plate and peek inside.
There are three switch.
Switch 1 operates a ceiling fan.
Switch 2 (top) operates a back porch sconce.
Switch 3 (bottom) is the mystery switch.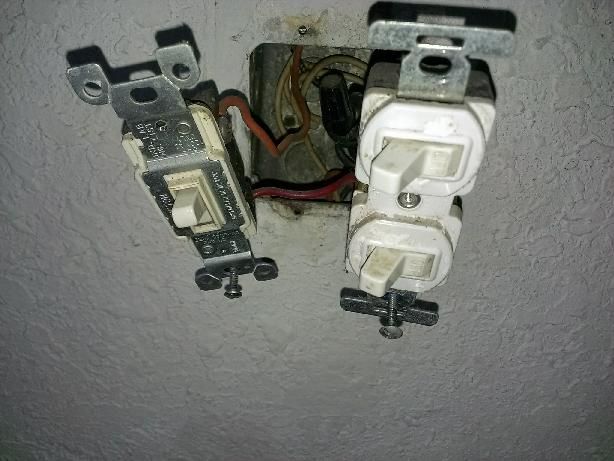 Once I looked at how switch 3 is wired, I am confused. See the picture below.
Looking at the back side, there is a hot orange conductor that goes to switch 1, the red switched leg then jumps to switch 3, and from there to the ceiling fan.
So switch 1 and switch 3 are two switches in series for the ceiling fan?
Does it make any sort of sense?
Problem is switch 3 does not work, it does not really do anything to turn on or off the fan. May be switch doesn't work.
I am just perplexed may be there could be a valid reason for this that is not obvious to me. Is there?
Sponsored Links
01-12-15, 09:41 PM
Ahhh OK, I assumed the black conductor and the orange conductor (they came in through the same conduit) are two hots from the same circuit. You are right, the orange is a switched conductor to "Load 1" the ceiling fan. Load 2 is the back porch light. Now I need to find where Load 3 goes to.

Thanks for straightening me out!
01-12-15, 10:10 PM
If 3 doesn't go to a light, it may go to a receptacle in the room.
With 3 off, check each receptacle with a plug in tester. Check both top and bottom of receptacles. When receptacles are switched, it's normally half-switched and the other half is always hot.
01-13-15, 11:00 PM
Which direction does the conduit go? That's usually a good clue as to whereit ends up. The first thing I would do after checking the outlets is open up a few boxes and look for an orange wire. My personal guess would be that it's for a light kit on a fan.

Also-you're in a house right? If you're not, be careful as in my area orange is used to identify the high leg on delta systems, or as a phase conductor in 480/277V systems.
Posting Rules
You may not post new threads
You may not post replies
You may not post attachments
You may not edit your posts
---
HTML code is Off
---