Can I join multiple grounds with cable lugs?
03-14-15, 02:59 PM
Can I join multiple grounds with cable lugs?
---
By cable lugs I mean something like this.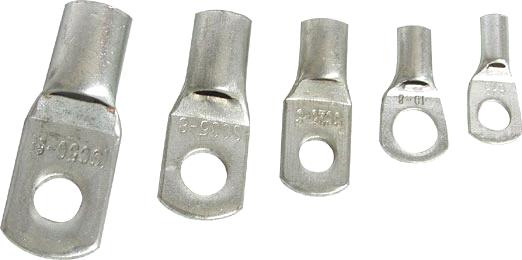 I want to join the 3 grounds in 252C8 with lugs and a bolt through the lugs and junction box. The "main" ground wire so to speak is the one runing from 251C1 to 253C1
edit:link to full size version
http://s4.postimg.org/gnerzjxzx/Bathroom_wiring.png
Please excuse my horrible MS Paint drawing.
Also a note so our friendly mods don't need to edit it in: I'm not in the US, I'm also not worried about an inspection so am not asking from a 'code point of view' rather a will the grounds still work as grounds point of view.
03-14-15, 05:24 PM
Join Date: Nov 2007
Location: United States
Posts: 14,093
I would not splice the grounds in that matter. I doubt the lugs are listed for more than one wire and it would be hard to get a good connection. I recommend connect them with a wire nut or push in connector like this (they make ones with 6 holes):
http://d2pbmlo3fglvvr.cloudfront.net...5EKL4_AS01.JPG
You could also use a green wire nut with a pigtail on it like this:
http://www.goodmart.com/images/prodi...eal/1FS243.jpg
When I do it, I will cut the grounds except for one that I keep long. Install the green wire nut with a hole in the end and wrap the long lead around a green screw to bond the box. Then run the long ground to your device you will be putting in the box.
Another good option is just add a pigtail to the box with a ground screw and attach that to your bundle of grounds.
03-14-15, 07:24 PM
Hmmm, what I have currently is the ground from the box with the switch looped through one of the screw holes in the box and then pigtailed with the others, I thought of the lugs because that looked kind of sloppy. However, I can see what you mean about the lugs not making a good connection.

What about running the ground as one continuous cable from 252C2 to 252C3 with a stripped segment wrapped through the screw hole of the junction box and the ground from 252L1 wrapped through the other screw hole and pigtailed? The box is galvanized sheet metal, I'm assuming that would serve as a sufficient connection in the event of a ground fault.

FWIW 252C8 and 252C3 are junctions suspended in a plenum the connection between the two would never be subject to stress, 252L1 and 252L2 are recessed lighting fixtures which could conceivably fall out.

This is all somewhat academic since the majority of recessed lighting fixtures in my house aren't grounded, however since I'm redoing it, I might as well do it well.
03-15-15, 07:33 AM
Join Date: Nov 2007
Location: United States
Posts: 14,093
I should ask, what wiring method are you using? Is it a grounded cable like MCAP or AC, conduit, or a cable with a separate ground wire like MC or Romex? I understand you are not in the US but I would think you have similar wiring methods as we do.
03-15-15, 09:23 AM
Each line is a separate 1.5mm diameter stranded coducter. Everything except for 252C8 to 252C3 is in 1" steel conduits. The existing ground wire is uninsulated copper, the new grounds are 1.5mm insulated conductors like the other wires

Edit: In line with local electric code Blue = Neutral, Brown = Phase, White = Control
---
Last edited by Esand1; 03-15-15 at

11:29 AM

.
03-15-15, 11:36 AM
Lugs
---
What method would you use to crimp the lugs to the stranded wire?

To be clear, you are suggesting a separate lug on each wire and then all the lugs tied together and to the box with a bolt/screw. Is this correct?
03-15-15, 11:40 AM
I have a combination wire stripper/crimping tool, I figured I'd strip the insulation put the wire in and crimp. Since it's ground, I figured there wasn't much need to be all that worried about the insulation.
03-15-15, 01:15 PM
Join Date: Nov 2007
Location: United States
Posts: 14,093
I would still suggest running a ground pigtail off the metal box and connect to the other ground wires with a wire nut. In the US, steel conduit (properly installed) is an approved grounding path and a ground wire is not required.