My tile cutout is 1/8" too small - arghhhh HELP!
05-07-15, 07:27 PM
My tile cutout is 1/8" too small - arghhhh HELP!
---
OK I have a bathroom with wall to wall very hard and thick porcelain tiles. The existing light switch was mounted on a 4X4 metal box with a 1 gang 1 device mud ring - I wanted to add an exhaust fan and a GFCI receptacle...so I carefully measured the size of a 4X4 metal box - took out my angle grinder and a diamond blade and cut a larger hole, so far so good. The original box was set deep so I was able to slide in a 1.5" extension ring, and did all the wiring for the ceiling light, exhaust fan, receptacle etc...everything ready to go.
The front of the extension ring is still about 1/4" recessed from the finished tile, so I went to get a 1/4" raised two device metal mug ring.
When it comes time to put the mud ring on
HELLO...the mud ring is a bit wider then the actual box!
not much, but about 1/8" or so? But just so that I cannot fit the mud ring on to the box!
It won't fit. I tried different ways and I can't "finesse" it in.
I can't cut the hole bigger now, with all the conductors in there and it was dusty as heck when I cut it the first time, the tiles are so hard and dense, the dust is like a soot.
So what are my options now? I am contemplating a few possibilities.
(1) Get a two device plastic mud ring, may be Carlon makes a blue one, and use a grinder to shave an 1/8" off the edges to make it fit.
(2) Get a flat two device mud ring and mount it over the finished tile, and use longer screws to attach it to the box.
Thanks in advance for any comment.
05-07-15, 08:05 PM
How? The box extension is to be attached to the mud ring or a switch box.
I am trying to attach the metal mud ring to the box - the box has only two screw holes at the corners.
I have this.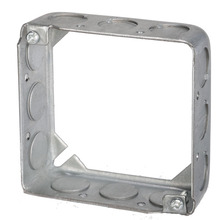 The mud ring is just a tad bigger than the footprint of the box and I cut the tile hole very tight to the size of the box.
05-08-15, 03:36 AM
Short of using the grinder again (which is what I'd do - so what if it's a bit messy?), I don't see any other option than to chisel out whatever tiles you have to and replace with ones having a larger opening.
05-08-15, 04:29 AM
Have someone hold a shop vac behind the grinder as you are cutting the tile. Also, if there is a window, open it and have a box fan pointing out pushing air and creating negative pressure. Open a window in an adjacent room to let replacement air in. Pull the bathroom door closed except for a crack. You will not fill the house up with dust. Have your safety goggles on and a respirator. You'll be surprised at how clean you can cut without a lot of dust if you prepare first.
05-08-15, 08:59 AM
Rotozip with a tile bit does nothing to this dense porcelain. I had one, no good. Also tried once to cut a 1/2" round hole with a carbide grit hole saw, nothing either. Has to be a diamond bit or blade.

That's why I hesitate to cut this stuff. First time I did it the dust from it is so fine and dense it went right through the filter in my shop vac. I had a dust mask on and it didn't matter. Regular tile dust will vac right off the floor, this stuff clings onto the floor and that's why I call it "soot", had to wet mop it to get it off the floor and wall. I hate cutting this stuff.