Setting up a 400 amp panel/meter for shop & RV parking/use.
07-07-15, 03:43 PM
Setting up a 400 amp panel/meter for shop & RV parking/use.
---
Hello DIY forums! Thanks in advance for having a place like this where regular folks can come for advice and help.
I have very little experience working with power, beyond running a few new outlets and adding a breaker or two to existing sub-panels... so please bear with me. You can't "dumb-it-down" enough for someone as ignorant as myself.
Purpose:
Trying to setup an RV spot for my Dad to park his travel trailer/home on our property. He's 76 yrs. young now and as he gets older, I've finally gotten him to agree to moving out here so I can help him out and keep an eye on him as his health, slowly starts to fade. One of the things I had to do to get Dad to agree to moving out here was to supply his own power meter, so he can pay his own power bill.
Always keeping future needs in mind... I figured I'd install a 400 amp service panel, instead of a 200. Reasoning is that I'd love to eventually install a shop out next to the area we're parking his trailer. I figure it's better to get setup for it initially, rather than pay for changes and waste money, after the fact.
Even if I never am able to afford the dream shop... I figure it's a good potential addition to have setup to help increase the property value anyway. Yes... I'm one of those "over-kill" types who'd rather have it and not need it, than need it and not have it... at least, as much as money will allow.
Preparation:
I've already worked with the local PUD on expanding the power supply box another 275ft. deeper into the property (underground), down the property egress. Gotten the quote and code requirement paperwork from them and once I get the panel setup and pass inspection, they'll come out and install the extended supply box and connect the power panel at the same time.
I've picked up a 400 panel from Home Depot and a 30 amp plug-in for his older trailer. I plan to also install 2, 110 GFCI outlets as well... to have 4 regular outlets available for various uses (water line heat tape, vehicle block heater, battery tender and at least one, open spare outlet). All outlets are to be outdoor, bubble-door outlets... obviously.
The power panel is Siemens brand and comes with a single, 200 amp breaker switch installed (click to see it
here
).
I had planned to add, 2 more 100 amp breakers into the panel box. That would leave 300 amps available for future shop needs and then I can dedicate the last, 100 amp breaker to supply the 30 amp RV trailer plug and the 2x 20 amp GFCI power outlets. That still leaves 30 amps free'd up... or 10, if I eventually swap out Dad's 30 amp RV plug-in for an updated, 50 amp RV plug-in.
Plans:
I had originally thought to install the power panel on wooden posts, going so far as to setup a small roof and make it look very nice and sturdy, like a small "power supply shelter".
Unfortunately, I later realized that the wood won't last nearly long enough in the sandy ground on my property and have since decided to use 2 galvanized, capped, poles with cross straps held tight with u-bolts to mount this free-standing power panel, meter and supply outlets on... so I'm not calling in the PUD in 5-8 yrs. to shut-off the whole thing while I redo all the rotted wood.
I plan to install 2x 10' long galv. poles, 4' into the ground and pour 2 bags of quick-crete to secure each post. That should leave the posts sticking 6' up out of the ground and the top of the power panel will need to be that high to put the meter at the required height for visibility/reading and possibly to clear potential snowfall. This seems like a little overkill... but the power panel is pretty heavy and the load will be slightly lop-sided on the posts. My ground is soft and sandy, with winds reaching up to 70 mph on rare occasions.
I also plan to orient the panel and meter to face outside the property (for easy meter readings, if required) and have the outlets under it facing inside the property for easier access. This should just be a matter of switching the mounting straps from one side to the other with all the outlets sitting directly under the panel. All outlets and outlet boxes will be "outdoor" grade, with "bubble doors" to protect connected power lines/plugs.
Code Requirements:
Now... as I understand the code requirements in my state/county (WA/Pend Oreille), from the paperwork provided by the PUD... the only code requirements I need to have fulfilled are as follows:
1. meter has to be mounted from 5' min to 6' max from the ground.
2. 400 amp service will require 3" conduit to accommodate the power lines coming into the panel/box and end 12"-18" below the ground (for underground power line setups like mine).
3. 2 - 8' 5/8" galv. ground rods 6' min. apart from the panel/box into the ground/sand, w/#6 copper lines.
I'm also still wondering if I need to install a master cut-off switch box... so I can actually work on the panel (adding breakers, lines, etc.) or what options I have there. The panel comes with "lever-operated bypass with jaw tension release", so I'm wondering if that will work well enough, if I need to kill the power to the rest of the panel, to setup breakers and other lines.
I've got a few friends in different trades, but electrical isn't one of them and the one guy I do know lives 50 miles away and is staying too busy to come out and help me out... without being paid for a regular "job".
So far... that's about all I know or understand of this project.
If anyone has experience or knowledge they can share with me to correct any misunderstandings or expand on anything else I might need to know... well, that's what I'm here asking for.
I can't find anything online on how to setup the power panel... beyond a few YouTube vids that are very specific and don't match my needs at all.
I did get a local electrician to quote me $1500 to setup this power panel to pass inspection (prior to purchasing the panel myself). My 1/2 brother asked an electrician friend of his about the gig and the guy threw an off-hand quote of $2400 for the same job. I'm already well past broke on the budget and need to save any pennies I can at this point. PUD has already quoted $4200+ for the power extension and hook-up to the panel and I've already installed 600 ft. of irrigation line with freeze-faucets out in the field to supply Dad's water.
My father lives on SSI retirement income and I live on SSDI fixed income, so we don't have a lot of extra cash to set this situation up properly much less pay someone to do it all for us.
sorry to blather on. just trying to get as much as I understand out there and not waste anyone's time. thanks in advance if anyone can help me out here.
07-07-15, 10:14 PM
Join Date: Oct 2012
Location: Northern NJ - USA
Posts: 60,773
Welcome to the forums.
It may take a little while for others to read and respond but they will be by.
A few points.....
Make sure that Siemens meter/breaker setup is approved by your POco. They have certain requirements that must be met.
Here in NJ we have two major POco's. They each require a different type of meter pan.
The panel comes with "lever-operated bypass with jaw tension release",
That is there to release the meter. Once the meter is set and the meter section is sealed..... you can no longer access that without breaking their seal.
We'll add more......
07-08-15, 12:25 AM
Thank you PJMax!
I did check the literature given by my local PUD and they don't approve of the Siemens or Midwest 200A boxes, but the 400A is apparently ok. Apparently they feel the 200A versions are too small to work in for "wire termination" but these 400 boxes are HUGE inside. Thus the need to mount on two poles, instead of a single railroad tie or something similar.
I have tried to do my homework... but I'm not a numbers guy, so I start to get lost within all the "specs".
I was afraid that was the case with the lever bypass and the meter. So... would it be appropriate to install a cut-off box before the meter, or can I even do that? I'll eagerly await to be enlightened.
In the meantime, I did grab some pics of the setup I've prepared to install the power box.
May as well share 'em, since I took 'em already.
This is just roughly laid out for me to assemble on the next day I've got free'd up.
Top of the siemens outdoor power panel/meter box... showing capped ends of galv. posts.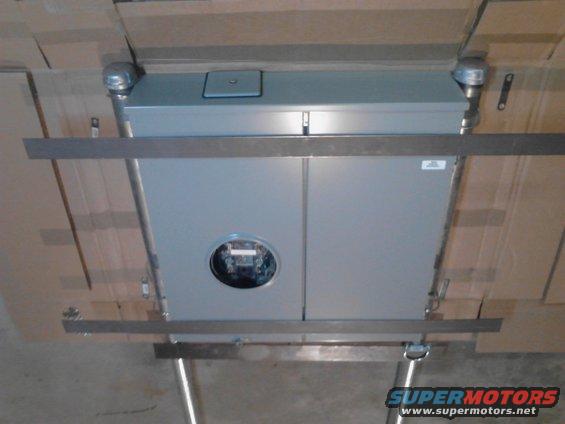 Damn galv. posts aren't cheap these days. Bought a 21ft. and had it cut in half, instead of paying by the foot for 2x 10' posts. The wood across the bottom shows "ground level" to keep the meter high enough to satisfy code inspection.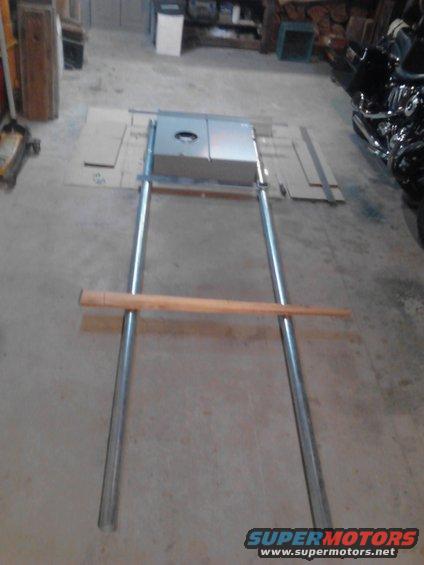 Roughly how it will look from the ground up (if you were taking a picture from under the invisible earth).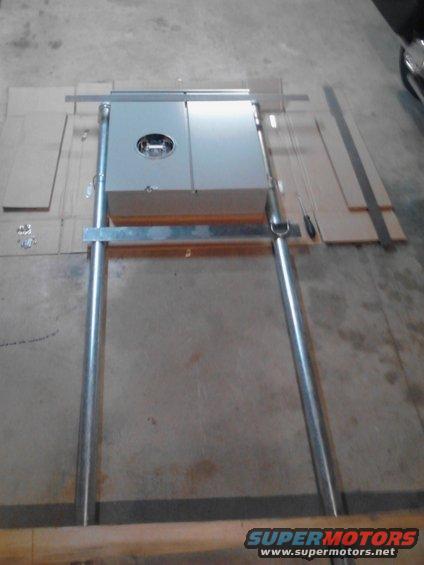 And a picture of the inside of the power box...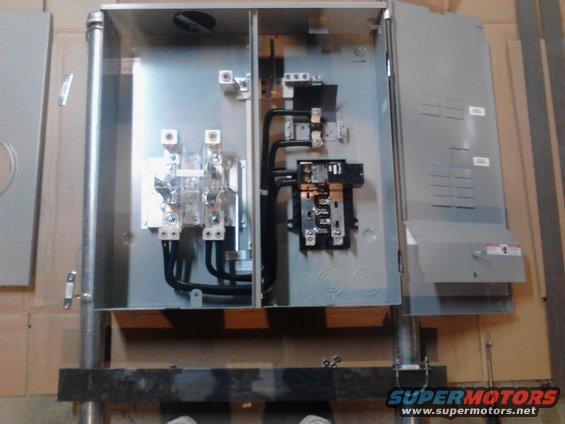 Close up of the galv. posts and u-bolts that will hold the mounting straps in place. The post is approx. where it should sit installed.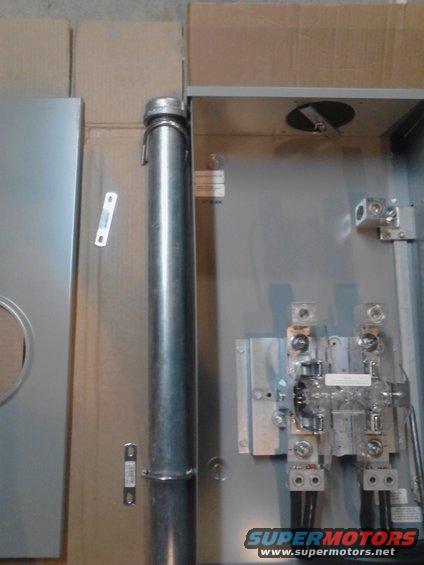 And a final pic to show the rough location on the post of the top mounting strap. The other one you see at the bottom will face the opposite direction and be used to bolt the plug-in boxes (1x 30 amp & 2x 20 amp standard CGFI's) too, under the panel.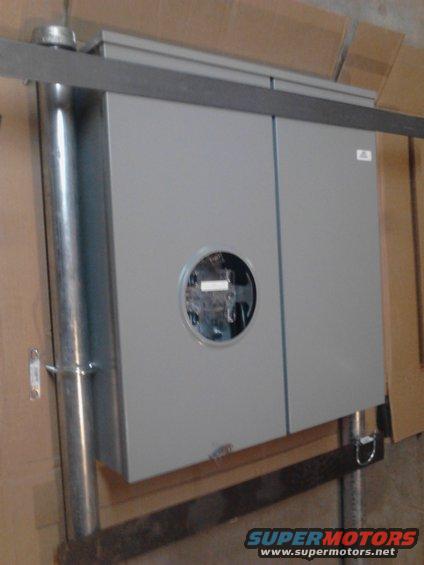 I also picked up c-type lock nuts and thick washers for the u-bolts. I'll drill my holes in the mounting straps and then paint them with a primer sealer, a few coats should do to keep those surfaces from getting rusty in the exposed weather, for a few years anyway.
I'm planning to assemble the whole thing on the garage floor and then pick it all up together with the hoist on the flatbed. Then I can drop it in the holes, center it up and pour 2 bags of quick-crete in each hole to secure it in the sandy ground. I had hoped to get a full 4ft. or more deep... but to keep the meter up high enough, I'll only be able to sink the posts 3'9" into the ground. Hope it's enough.
So... there it is. Wish me luck! :toothless
07-08-15, 07:47 AM
It all seems OK to me. An additional disconnect switch is not required beyond the breakers you have in the "main" part of the "meter/main" combo box.

We usually mount freestanding exterior boxes like that on a stand using two 4x6 treated timbers with doubled up 3/4" outdoor plywood lagged in and with stainless fasteners (POCO requirement) attaching the panel to the plywood & posts. Commercial is usually fabricated with unistrut on a concrete pad or wall. Your galv pipe option seems like it would be acceptable along those lines as long as you use all heavy weather resistant hardware. Our frost line is 3'6" so the depth would be ok, but that is based on your local area.
07-08-15, 08:53 AM
3. 2 - 8' 5/8" galv. ground rods 6' min. apart from the panel/box into the ground/sand, w/#6 copper lines.
I would double check this requirement. The NEC requirement is for copper clad steel ground rods (1/2" X 8'). Galvanized rods may be a local requirement which would supercede the NEC. The larger diameter is fine and probably a local requirement too.
Will this service also be feeding your home on the property. Frankly, I think 400 amps is overkill for a 30 amp RV requirement even if to also one day power a dream shop.
07-08-15, 02:28 PM
ibpooks... thank you. My concern over the disc. switch was mainly for my personal safety if I had to get into the box and swap out breakers or add new lines in the future (like, if the dream shop ever happens). Without one... I assume I'll have to call the PUD and have the whole thing shut off to do that type of future upgrade/add-on work? Again... my ignorance is clearly an issue here.

I also understand the galv. poles aren't the "standard" but anything short of 10' long rail-road ties would just need replaced withing 10 yrs. with my sandy and seasonally wet soil. I'm hoping the galv. solution will buy me another decade or more before any more maintenance would be needed. The metal straps I'll be using to mount the box between the galv. poles will need to be pre-drilled and then painted with rust inhibitor prior to mounting. Beyond that... everything else should stand up to the weather well.

frost line code for irrigation is 42" deep, so pretty much the same as your area. I generally try to get an even 4' deep... but my ol' lady likes to say that over-kill is my specialty.
07-08-15, 02:40 PM
CasualJoe... Thank you also!

I double checked the paperwork from the PUD and sure enough... galv. rod is a local requirement.

This add-on service will not be feeding anything beyond the RV and the potential, future shop.

It's definitely over-kill for the RV and a normal garage too... but I do live in WA and I legally grow my own medical marijuana. There's a distinct possibility that a future shop could end up being a legal grow operation for the state, at some point. The states regulations, tax structure and cannabis control board are all still a mess and I can't say for sure... one way or the other, but if it becomes a real possibility... that extra power will definitely be useful with multiple 1000w ballasts/lights, smaller lights, fans, irrigation/hydroponic needs, etc. If that doesn't happen at all... it could also end up as a small "body shop" for auto-body restoration and there would be some fairly industrial tools in use with air tools and a paint booth.

Either way... the future shop wouldn't be just a "parking garage", so the electrical needs should be on par with the remaining 300 amps. Trust me... if those potential future needs weren't so demanding, I'd have been happy to pay far less to setup a simple 200 amp supply.
07-08-15, 02:49 PM
My concern over the disc. switch was mainly for my personal safety if I had to get into the box and swap out breakers or add new lines in the future (like, if the dream shop ever happens). Without one... I assume I'll have to call the PUD and have the whole thing shut off to do that type of future upgrade/add-on work?
That's correct -- if any of the major components of the panel (like the main breakers) need to be replaced in the future, the power company has to do a disconnect either at the meter or at the transformer so the work can be completed safely. In my area they give the homeowner one free disconnect & reconnect per year for doing that kind of work.
07-08-15, 04:12 PM
The metal straps I'll be using to mount the box between the galv. poles will need to be pre-drilled and then painted with rust inhibitor prior to mounting.
I'd use galvanized 1 5/8" slotted strut for the horizontal cross members, no holes to drill and no rust inhibitor paint needed except maybe on the ends.
07-09-15, 11:20 AM
good to know ibp! Thank you. My property is cross-cornered from a neighbor who works for the local PUD. it's been a blessing when power outtages occur. He just runs down to the local transformer station and hooks us (himself) right back up, asap. I've also had him out to cut-off the main power... as I just recently had to 200a service box replaced for my home and existing garage.
I'll have to ask him about the charges or how many "temp offs" I can get.


CJ... I've been reconsidering those straps myself. I might just go back to the hardware store and get some of those "unistrap" types instead. I didn't care for the look of them originally... as they look like a beefier type of plumbers strap... but I have seen them used for setups similar to mine in the past, so they are probably going to be more "code" friendly.



So... has anyone setup this or a similar panel box before? I'm wondering about the breakers setup. I won't have a sub-panel setup for the RV like I would in the shop... so I'm thinking about swapping the 200a switch to the top of the box where connections are more limited and then adding a 100a breaker below, that will flip around and feed a 30 and 2x 20a breakers for the future plug-ins under the main panel.
07-09-15, 12:14 PM
Unistrut is pretty much the standard in the electrical industry for mounting large panels.

You can put the 20A and 30A breakers for the RV receptacles in the lower portion of the panel without the need for an additional panel.
07-10-15, 12:53 AM
well... I broke down and went after the unistrut this afternoon. Was pretty beat from some garden hose bib relocating and re-enforcing I did yesterday, but I got the unistrut in place and mounted up on the posts. Just need to get some proper nuts and bolts to secure the panel now and I should be dropping it in the ground.


I see the panel I picked up is setup for 8 breakers... so I was hoping I would be able to do that with the lower part of the panel. Now I'm just wondering if I should switch out the 200a main breaker that's on the lower 1/2 for a 100a, to divide up for the RV connections.
I suppose I could just use the 200... as I'll still only be drawing the 30 & 2x 20's.

Either way... I'll have to get it all figured out before I call out the PUD to hook it all up.

Greatly appreciate the help in here guys!
07-10-15, 07:57 AM
Just leave the 200A main breaker as-is. The panel is designed to split the 400A service into two 200A feeds. One goes to the top bank, in which you can set a single type QNR breaker (150A, 175A, or 200A) to feed your future workshop. The other goes to the bottom bank where you can set up to 8 type QP or QT breakers for use in this location and use the feed-through lugs at the bottom of the bus bars to extend feed another 200A panel either here or at another location.