starting an electrical project at the ranch
02-24-16, 04:50 PM
Join Date: Feb 2016
Posts: 18
starting an electrical project at the ranch
---
I have some property that has electricity out to a main pole but is currently disconnected as I have no need. I've put a shipping container in for storage and I need to light it up. The container is 75 feet from the main pole. I'd like to be able to run a couple of overhead lights, a couple of trickle chargers on batteries, and an occasional power tool like a saw or something. I believe I can get away with 40 amps (2 20s) for that limited use, correct? I *might* at some point want to run a welder so a 50a 220 circuit would be nice but it would be a rare thing and maybe not ever be used. Therefore I don't want to spend a bunch of money running extremely thick copper for something I may never use. So, here's the question...

If I use a wire size calculator for 50 amps at 75 feet, I get 6ga. If I run 3 strands plus a ground, can I run this to a 100 amp sub-panel with a single 50 amp 220v circuit and then ALSO run a second sub panel from the first sub panel with 2 20 amp or 3 15 amp for lights and such? Obviously I'd have to shut down the second sub panel if I ever hook up a welder but again that is very unlikely.

If I can't do this, then I have to spend a ton on wire to be able to carry 90ish amps (50+20+20) or 95ish (50+15+15+15). That's a huge increase in expenditure for something that will quite likely never be used but I'll regret it if I need it at some point.

Any suggestions on how to get this done?
Sponsored Links
02-24-16, 05:02 PM
Why two subpanels. Won't they both be at the shipping container? What is currently at the power pole? Is there a breaker box?
02-25-16, 10:44 AM
Join Date: Feb 2016
Posts: 18
I have a 200 amp service box at the main pole. It's brand new and not yet fired up but all I have to do is call the electric coop... The reason for 2 sub panels is I'm trying to figure out:

Can I just run 50 amps to the storage container and have enough juice to run a couple of shop lights when needed, a couple of trickle chargers (all the time) and a spare plug or two to maybe plug in a saw or something occasionally. I also want to put a 50 amp circuit to a 50 amp plug for a welder on the same panel but will almost never (or ever) get used. Obviously all those items on at once are more amps but I don't want to spend a fortune on pinky finger-thick copper for a "maybe" if I can set it up so I can use a 50 amp welding plug if needed but not pay to run 50 amps of "additional" capacity (costly wire).

So, in a nutshell... 50 amp breaker from the main to the container. In the container on a panel, 220V 50 amp plug, maybe 3 outlet plugs (15 or 20 amp standard household) and I'm done. I won't EVER run the welder along with other items so chance of overload would be zero.
02-25-16, 12:44 PM
Join Date: Feb 2005
Location: Near Lansing, Michigan
Posts: 10,502
If all you want is the lights, chargers and occasional chop saw you can run a 12-3/g UF-B cable from a double-pole 20A breaker in the main panel; 24" deep in a trench; to two GFCI receptacles in the shipping container. The neutral is shared up to the GFCI receptacles. It's called a multiwire branch circuit and gives you two 20A circuits without any additional panel required.

If you want the welder circuit, then you need to run a subpanel feeder to the shipping container. You can do a 60A subpanel with #6-3/g UF-B from a double-pole 60A breaker in the main. Trenching depth is the same. You'll need to get two ground rods driven at the container and bond those to the subpanel ground. The container itself should also be bonded to the grounding system.

If you want to this in an upgradable way, dig your trench and put in 2" PVC conduit. You can pull any size through that in the future if you want.
02-28-16, 10:37 AM
Join Date: Feb 2016
Posts: 18
Thanks, ip...

So the plan will be 6 gauge copper with ground (6-3 wg UF-B) in a 2" PVC conduit at 24" depth. I'll put a sub panel in the shipping container. The one I'm looking at is an outdoor 125amp with 8 places. I'll put a dual pole 60 amp breaker on the main at the pole and run the 75ish feet underground. That will get the "heavy lifting" done in terms of electrical so I don't have to pay an electrician to do the grunt work.

I'll need three copper rods @ 8' I assume? 2 for the sub panel and 1 for the metal container.

I'll put 12 gauge feeder already in conduit along one wall of the container and put in maybe 3 sockets equally spaced. Shop lights will just be the plug-in type to keep this easy.

I'll leave all the hookup to a pro...

Anything else I should buy/prep before I have an electrician come out and get started?
02-29-16, 09:07 AM
Join Date: Feb 2005
Location: Near Lansing, Michigan
Posts: 10,502
Sounds right. You only need two ground rods, drive them at least 6' apart to full depth. Put brass acorn clamps on the top of the rods. Use one continuous length of bare #6 copper wire to go from rod to rod to container to subpanel ground bar. Drill and tap or weld a screw lug onto the shipping container so you can loop the ground wire through it on the way to the panel.
03-16-16, 04:12 PM
Join Date: Feb 2016
Posts: 18
Ok, I've changed my mind. I'm just going to light up a couple of GFCI circuits and put an outdoor 50 amp circuit on the main pole in the event I need it. That will save me a bunch and not having to have a panel and heavy wire.

Is there anything more to it than running a pair of 12/3 wg UFB from the pole to the building? I'll come up through the floor of the shipping container with the 2" conduit. Once it's in the building to I step it down in size to a metal conduit and take the metal conduit to my two plugs (about waist high)? Do I terminate the plastic conduit at some kind of junction box and then go metal conduit from there to the plugs? The shipping container is brand new and probably wont' leak for a long, long time, but I'd like to do it right from the get go and put in solid metal boxes for the outlets on studs.

Let me add my understanding here... If I can pull this off and do it myself, I'd prefer.

It appears the way this is wired using a GFCI double pole breaker with regular plugs since GFCI is at the breaker vs at the plug. I have two hots and then actually have 20 amps on EACH plug in the building. I assume the two hots to the hot side of the plugs are black on one and red on the other (one to each) and then share the white neutral across the two plugs. I assume the bare ground will go from one outlet over to the next for grounding.
---
Last edited by kenneu; 03-16-16 at

05:07 PM

.
03-18-16, 09:18 AM
Join Date: Feb 2005
Location: Near Lansing, Michigan
Posts: 10,502
You only need a single 12-3 UF-b -- it will have black, red, white, bare wires in it. If you do a GFCI breaker it will be the easiest. The black, red and white wires from the UF go to the GFCI breaker, and the white pigtail from the GFCI breaker goes to the panel neutral bus.
In the shipping container, all the receptacles use the same white and bare. The black and red each provide a full 20A -- you can split those up whatever makes sense for your use. You can do one wall of the container with one, one with the other, you can alternate every other receptacle, etc.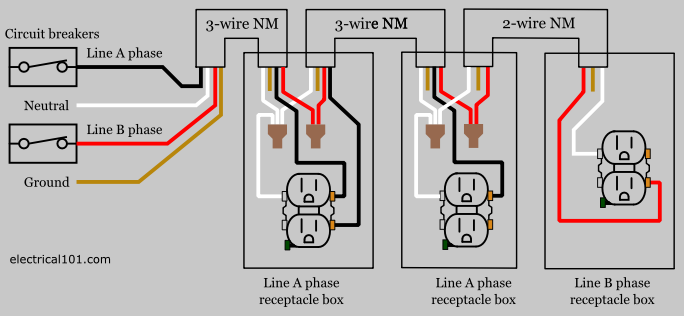 03-20-16, 08:47 AM
Only thing to clarify on Ibpooks diagram is circuit breaker feeding the 12/3 needs to be a two pole breaker, and there should be a 2 pole disconnect in the shipping container.
Posting Rules
You may not post new threads
You may not post replies
You may not post attachments
You may not edit your posts
---
HTML code is Off
---