Running outlet wiring to new outlet for TV
02-24-16, 04:12 PM
Running outlet wiring to new outlet for TV
---
Before you guys start chastising me for messing up this wiring, just letting you know, most of it is not of my doing :NO NO NO: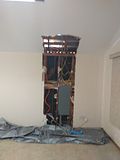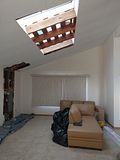 I rarely watch TV, but when I do want to watch anything, my only TV in the house just happens to be magically occupied by someone else. I suspect that if I have five TV in the house it most likely to be the same story, non the less.
I am in the midst of a living roof remodeling project and as usually this things give me crazy ideas
What if I run coax and CAT6 wiring to the spot on the wall where would be most logical to place TV? I have all said wiring on the opposite wall, where you see all destruction, but it's not a good place for TV.
Since I am taking down my ceiling anyway, I was going to run a 14 or 12 wire and duplicate set of coax up to the attic anyway. So how much trouble should it be to run another set to that 60" wall, where 48" TV should fit pretty nicely, no?
I do not have an outlet on that wall, so was going to either drop a line directly from the circuit breaker panel or connect it to existing outlet next to the panel. I'd just hate to give away a separate line for just one outlet. I like having spares
I realize this question could become more appropriate in low power forum, please feel free to move.
I just wanted to know what would be correct cabling to run to the TV considering near future demands. I mean, is one or two coax? Is CAT5 enough of I need CAT6? Do I need anything else?
Thanks in advance!
02-24-16, 04:35 PM
Join Date: Oct 2012
Location: Jersey
Posts: 62,054
I don't see how you're messing up your wiring yet I don't know exactly what you want to do.
If you want to run cable and electric to the other wall while the ceiling is open... do it. That's the perfect time.

You should at the very least run one RG6 coax and a cat5E cable. If you are planning on having any type of A/V switching unit connected to the TV then you should consider an HDMI cable too.
02-24-16, 05:24 PM
Thank you Pete,
I will run the CAT5 and coax then, but please clarify about the a/v switching unit.
Since I rarely use TV, I don't know what it means
Maybe an X-box? Only what I want is to be able to watch Netflix or similar web based service, I think
Maybe connecting my PC remotely not a bad idea, but I will probably run into problems controlling it, I don't know.
02-24-16, 09:54 PM
Join Date: Mar 2006
Location: Wet side of Washington state.
Posts: 16,321
Cable is cheap, I would run at least TWO RG-6U coaxial cables and TWO category 5e cables to the location. A third Cat.5e for telephone or other services might not be a bad idea.
02-24-16, 11:02 PM
Join Date: Oct 2012
Location: Jersey
Posts: 62,054
With only coax and network cable going to your TV you couldn't connect it to a cable box, satellite box or any type of A/V source..... like blueray player.
02-24-16, 11:13 PM
Join Date: Mar 2006
Location: Wet side of Washington state.
Posts: 16,321
Why not? The Blu-Ray, cable box or whatever connects directly to the television via the HDMI or component cables. Unless you plan on having these items in a different location than the television.

I have ALL my components located next to the television, three video recorders, component switch, DVD player AND Blu-Ray along with additional OTA tuners that rep[lace any cable box or satellite receiver. I don't need any IR-to-RF converters or repeaters for the remote controls and I don't have to go into a closet or other room to change a disc, it is all in one convenient spot.
02-24-16, 11:42 PM
Join Date: Oct 2012
Location: Jersey
Posts: 62,054
I took the TV as being wall mounted.
02-25-16, 05:53 AM
Thank you all.
Yes TV will be wall mounted, and I plan on running an outlet somewhere close to the height of TV.
I am hoping to avoid any and all wires running up and down the wall in that location. The only component that I am considering would probably be a sound bar.
I may have an entertainment dedicated PC eventually installed at my other TV's location so running an HDMI cable from there would be nice, I just have a little hard time imagining how :/
02-25-16, 10:24 AM
Join Date: Sep 2005
Location: USA
Posts: 5,831
Just to give another opinion,
To the back of the TV on the wall, I would run:
- 1 RG-6U coax cable
- 1 (or maybe 2) Cat 5e network cables
- 1 14ga 15A circuit, probably with a surge supressor receptacle
- Cut out a low-voltage ring with a
cable plate
like this installed
At about 16" off the floor below the TV I'd:
- Add another 120v receptacle (same circuit)
- Another low voltage ring and plate.
This will allow you to add a little hutch or cabinet below the TV and connect blu ray, x-box, Apple TV, or whatever else you may want. You can then run the cables inside the wall between the two as you need them, since each will require it's own special whatever kind of cable.
You have to be careful with the length of HDMI cables. They can start failing over about 20-30', depending on the quality of the cable. With a high quality cable (not necessarily the MOST expensive, but they do get pricey), you can get up to about 50-60'... but a lot depends on the quality of the cable and the quality of the decoding hardware on the far end.
Long story short, I wouldn't use HDMI for anything longer distances.
02-25-16, 02:23 PM
thank you Zorfdt,
I know, it seems like an overkill, but sometimes even with an over kill I find out I don't have enough, wiring, piping, whatever
To run an HDMI I'd have to jump through so many hoops, it makes it just not worth it anyway.
Those low voltage rings do look very helpful if I do decide to update/upgrade to whatever.
03-03-16, 07:19 AM
Have not made any holes yet, but thinking about it
Looks like with correct viewing angle the center of TV should be somewhere around 38" off the floor level. That does not leave much space on the bottom for any components. How weird would it look if I make a little shelf for them on top i.e. 5-6" above the TV?
Also what is the best way to brace for the TV mount inside the wall? Are most of them designed to hit the studs with 16" on center?
03-09-16, 12:49 PM
Beam above the TV location
---
Well,
finally papered to run some wires and.... got stuck right away.
The location (wall) where I want the TV has a 6x12 beam at the top of the wall.
You can probably see on the first picture where the wall has the tecture and white painted beam has woodgrain.
The second picture is where I drilled the facia to the outside thinking maybe I'll just run the wires to the outside and then come back inside the wall to continue downward. The problem it's my front porch wall, so it's somewhat visible and will look probably ugly with the loop to the outside.
So,
a. I am not drilling that beam
b. What are my alternatives?
I know, there must be the way to get those wires through the wall, what is the best/easiest way?