Wall connection to electrical box
04-06-16, 11:39 PM
Join Date: Oct 2005
Location: Florida
Posts: 1,465
Wall connection to electrical box
---
I have an exterior masonry compartment for the hot water heater. The WH needs to be replaced so I disconnected water supply and electric.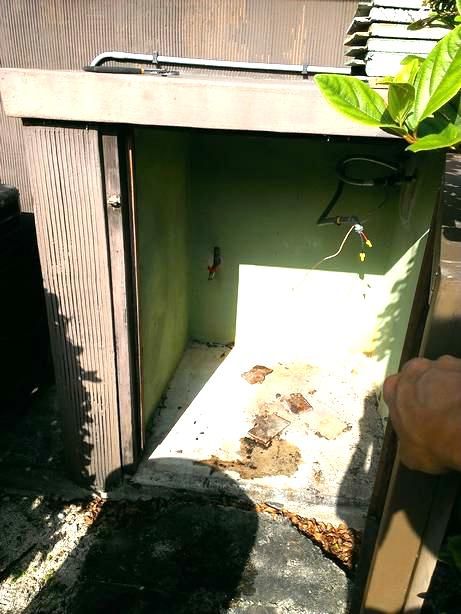 I put a temp hose to connect the cold to the hot for now.
The electric coming out of the wall is a liquid tight tubing. I would prefer to mount a metal box at the wall, then from there to the new WH.
After I removed the liquid tight tubing, I noticed at the wall is a 1/2" rigid coupling sticking out by about an inch. I assume behind the coupling is a nipple through the 8" concrete block wall.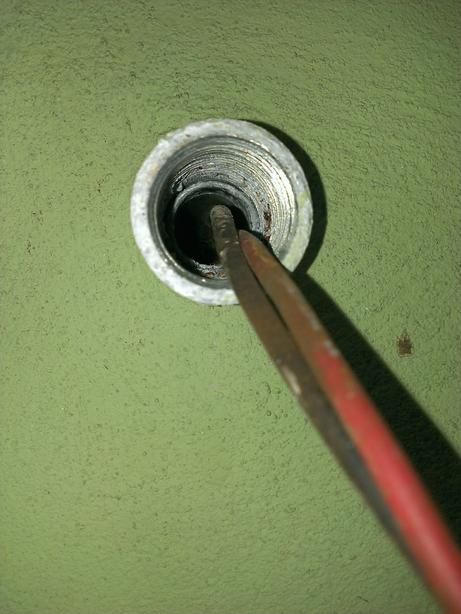 I tried to turn the coupling counterclockwise and it turns, but I am not sure this is a good idea, if the nipple inside turns with the coupling, then I might end up backing out more than just the coupling.
What is a good way to mount a metal box at the wall to that connection? If the coupling is flushed with the wall, I can open a knock out hole in the back of the box and use a chase nipple. But with the coupling stick out an inch, I am not sure how to make a good connection.
Sponsored Links
04-07-16, 12:23 AM
Cut a 6"-7" long piece of 2x6, drill a hole in the board large enough for the coupling, and glue the piece of wood to the wall using construction adhesive. Use a nipple and mount a 4x4 box or a 60 amp unfused air conditioner disconnect* to the board.

*If no line of sight to breaker box a disconnect may be required by code.
04-07-16, 07:18 AM
Join Date: Nov 2015
Posts: 911
Why not just use existing flexible liquid tight conduit to attach to a junction box or disconnect switch? Cut it shorter if needs to be.
You can pull new wire from that point. New wire doesn't need to be in conduit. You can use regular 10-2 NM-b or UF-b.
Much easier and less things to worry about.

Is that liquid tight conduit metallic? If not, it should be changed to metallic. Otherwise, you don't have ground.

I don't see any point in putting regular junction box. You should put a disconnect switch, such as air conditioner disconnect switch ray suggested.
04-07-16, 04:32 PM
Join Date: Oct 2005
Location: Florida
Posts: 1,465
I didn't know metallic liquid tight tubing can be used as EGC, I think I read somewhere BX, MC can't be used even metallic. That's why I wanted a way to connect to that coupling or the male thread behind that coupling, install the disconnect, then run new wires to the new WH.

I might do what Ray suggested and Tapcon a 2X onto the wall.
04-07-16, 05:10 PM
The reason I didn't suggest Tapcons was once the nut is on the nipple inside the box even if the adhesive eventually failed that nut holds both the spacer and the box* (but it is unlikely the adhesive would fail.) Myself just wouldn't go to the extra effort of Tapcons.

However Lambition's way is probably even simpler.

*Assume conduit through concrete block is not loose.
04-07-16, 09:10 PM
Join Date: Nov 2015
Posts: 911
As far as I know liquid tight metallic conduit can be used as EGC as long as it is approved type of conduit and fittings are used. Most should be approved type.

Liquid tight metallic conduit is different from BX or MC.

If worried, there are fittings with ground lug. You can used this fitting to run a separate ground wire.


A disconnect switch is must under current code, but yours probably is grandfathered.

So, you can just wire back the way it was if ground was what you were worried about.
04-08-16, 08:39 AM
Join Date: Feb 2005
Location: Near Lansing, Michigan
Posts: 10,502
I read somewhere BX, MC can't be used
Old armored cable (AC) (of which BX is one brand) cannot be used as a EGC (ground) because the sheath gets rusty over time and becomes less conductive. Newer AC includes a continuous bonding strap in the sheath which makes it suitable to use as a ground as long as you use metal boxes and proper fittings.
Metal cable (MC) includes an insulated green ground wire.
Some types of liquidtight can be used as a ground and some cannot. You have to look at the specific product and verify it is using the proper fittings.
04-08-16, 10:39 AM
The loose coupling would mean you cannot use the conduit as a grounding means.the fitting need to be made wrench tight .
Posting Rules
You may not post new threads
You may not post replies
You may not post attachments
You may not edit your posts
---
HTML code is Off
---