Digital temperature controller wiring
05-26-16, 05:51 AM
Digital temperature controller wiring
---
Members location is Switzerland.
I bought a digital temperature controller to convert a fridge into a fermentation chamber.
The idea is to have higher temperatures than the original fridge range.
I watched several videos, but I'm still quite confused about which cable goes where.
Does someone have an idea where the cables from the fridge original controller have to be connected on the digital controller (see photos)?
6 and 7 are for the temperature probe.
Thanks!
---
Last edited by ray2047; 05-26-16 at

09:07 AM

.
Sponsored Links
05-26-16, 07:39 AM
Where are you located? You have a 220VAC controller and residential fridges in the US are 120VAC. If you're truly using 220V then the 10 amp rating of the controller might be enough. It's cutting it close for one on 120 volts though.
What I do with fermentation temp controllers is all done without disassembling the fridge. Set the fridge thermostat to it's lowest temperature so it's always trying to make the compressor run. I wire an outlet to the temperature controller using it's relay output so the temperature controller turns the outlet on and off. You plug your fridge into that. Doing it this way means you only have to get the temperature probe into the fridge which minimizes the holes you need to drill and it leaves the fridge "stock" in case you ever need to use it as a fridge again.
Here is a wiring diagram I use with LOVE brand temperature controllers. This diagram is for a controller that controls both heating and cooling in the fermentation chamber but the wiring is the same for your controller minus the heating stuff.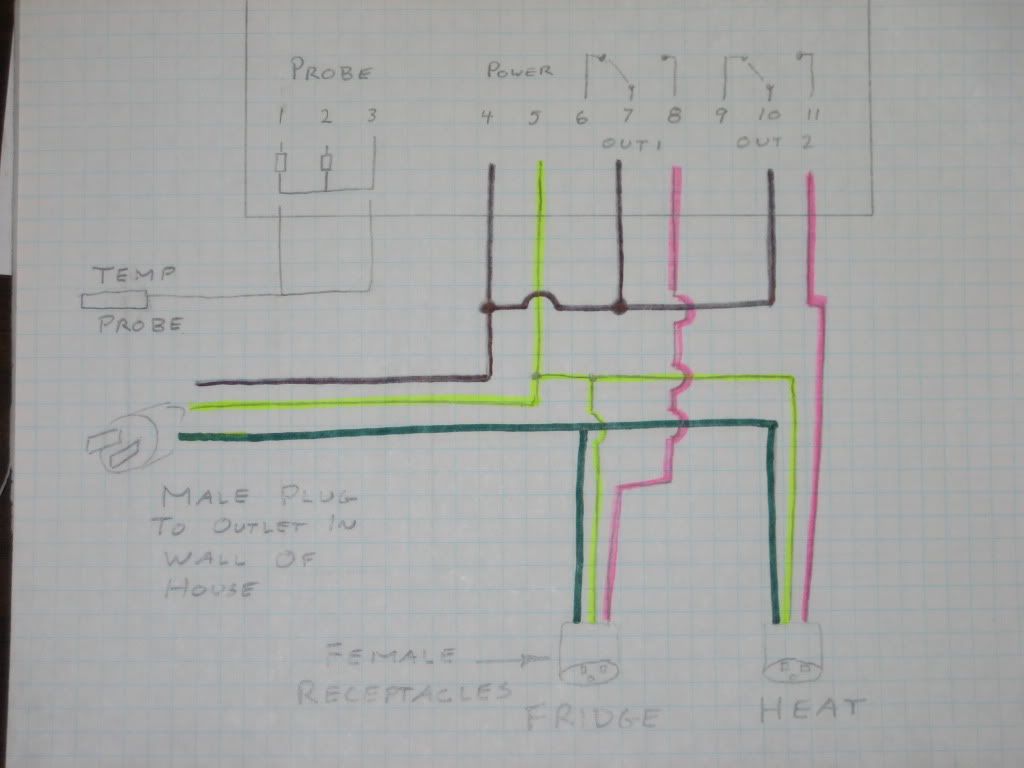 05-26-16, 10:32 AM
Join Date: Oct 2012
Location: Northern NJ - USA
Posts: 57,771
Dane's way illustrates using the thermostat on the power cord instead of connecting at the internal thermostat.

If you want to connect to the internal wiring you would need to post a wiring diagram for the fridge. The diagram will be somewhere on the fridge..... usually the back.
05-26-16, 12:35 PM
That's exactly what I had in mind originally.
Leaving the fridge intact is the way to go.
I don't know why most tutorials require to hack the fridge controller.
Thanks a million!
05-27-16, 06:38 AM
Hacking the fridge controller preserves lights, displays, auto-defrost or anything else that might need constant power--depending on fridge model.
Doing it Dane's way is easier if none of that is a concern.
Posting Rules
You may not post new threads
You may not post replies
You may not post attachments
You may not edit your posts
---
HTML code is Off
---