Dog chewed A/C wiring
07-21-16, 06:49 PM
Dog chewed A/C wiring
---
Hello everyone, I was wondering if anyone can help me out.
My dog chewed up the wires to the air conditioner and I dont know which wires to reconnect. I have a trane xe 1000. There are two wires coming from the ac which are yellow and blue and there are 3 wires coming from the house which are Red, Green, and White. Can anyone tell me which the wires are supposed to be connected to? Thank you'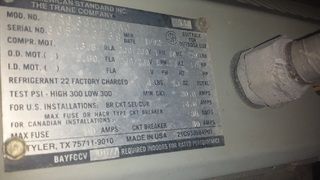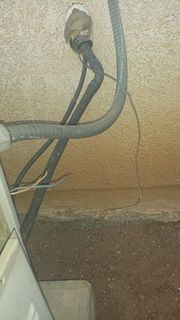 07-21-16, 08:52 PM
Join Date: Nov 2007
Location: United States
Posts: 14,963
Normally you only need 2 wires from the furnace to the condenser. Remove the panel on your furnace and see which wires are connected to the Y and C terminals.

In the condenser remove the panel (power off) and make sure the the blue and yellow wires are not damaged inside the unit and are still connected to the contactors coil.

After doing that you should be able to connect the two wires from the house to the two wires (one each) in the condenser. It doesn't mater which one goes where.
07-21-16, 08:59 PM
Join Date: Oct 2012
Location: Jersey
Posts: 70,065
Typically you'd find the red and white wires used and the green wire a spare.
07-29-16, 02:00 AM
Thanks alot, you helped me figure it out. I opened the furnace and checked the terminals. Turned off the breakers, and attached the red wire to the blue and the white wire to the yellow. Went back in the furnace and replaced a blow fuse and voila. It worked...