Jacuzzi bath tub - where to ground.
09-08-16, 08:50 AM
Jacuzzi bath tub - where to ground.
---
Member is in Argentina.
So the last thing in the bathroom project is hooking up the jacuzzi. The tub was installed and never used before the house was abandoned for 10 years.
Now I'd like to hook it up but not sure how.
Opening the access door there is the a pump which looks just like a generic pump, not self priming or anything as far as I can tell. It has two leads coming off of it which are both the same color and not connected to anything.
Then there is a bundle of 3 wires, colored for hot, neutral and ground, looped and tapped off with a hand written tag. " Careful Tension! "
Assuming there is. Does the polarity matter when hooking up the pump?
And more importantly what do I do with the ground wire. The tub is CI, the recirculating pipes are copper, the pump is metal. So everything is conductive. What needs to be grounded.
The circuit is gfci protected.
---
Last edited by ray2047; 09-08-16 at

01:32 PM

.
Sponsored Links
09-08-16, 01:29 PM
Here is where asking in a US forum gets tricky. Different voltages different requirements so we have to guess. If you have only 220 volts in Argentina, no 110 or 120 volt power like we do then one leg of the 220 is probably a grounded conductor which means it could matter which wire you connect where. You mentioned neutral (grounded conductor) so it may matter which wire connects. Wait for the pros. Can you post make and model number of the pump?
09-08-16, 01:53 PM
As far as the grounding issue, every item that gets power (pump and heater if you have one) should have a grounding lug where the branch circuit ground should connect. In addition to that, all of the metal components should be bonded with a continuous solid #8 copper wire. You may need to add some brass ground clamps to the copper plumbing and attach a strap clamp somewhere on the cast iron if you can. The bonding wire should also connect to any supply or drain plumbing if they are metal and any metal fixtures around the tub like grab bars or flooring (example rebar in poured concrete) if you have those things.
If you take your multimeter set to continuity or ohms and test between each of the motor leads and the metal motor case, you should find no connection (infinite ohms, no continuity). If that is true, it does not matter which lead is neutral and which is hot.
Do you know where the "Careful Tension" wires go? Heater, lighting, control panel?
To add, for the bonding wire you'll need fittings like these to connect to the various metal elements: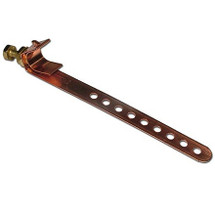 Posting Rules
You may not post new threads
You may not post replies
You may not post attachments
You may not edit your posts
---
HTML code is Off
---