3 wires feeding old 2 prong receptacle
01-15-17, 11:12 PM
Join Date: Mar 2011
Location: USA
Posts: 63
Received 0 Votes on 0 Posts
3 wires feeding old 2 prong receptacle
---
Any idea what's going on here?
I've been replacing some old, loose outlets in my home recently. The house was built in the 1920's or so, with a garage and an addition added on in the 70's I believe. Some of the wiring in the garage is newer, and then there's two or three different types of older wiring in the other parts of the house.
Long story short, any idea why there are 3 black and white wires coming into this box, with only two connected to the receptacle? There are ground wires, and in this box it is hard to see, but it looks like they grounded the box itself.
It looks like the wire might be 16ga wire feeding the receptacle. The old outlet was a 2 prong, 15A 125v outlet.
Later I might try to check out the wiring jacket itself, but I think the writing might be worn off like on some of the other wiring. It's in an area that's hard to access, that's why I might take a look tomorrow or another day.
You can click on the thumbnails below to see larger images.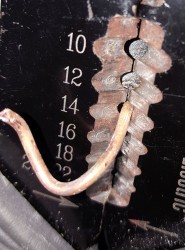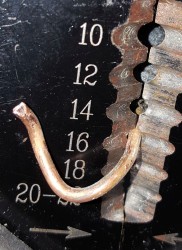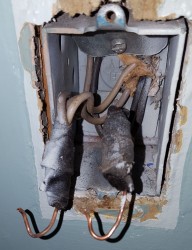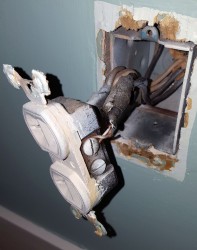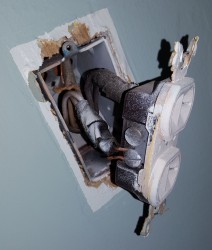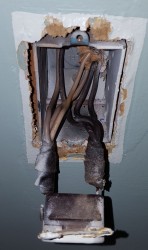 Sponsored Links
01-16-17, 12:15 AM
Join Date: Mar 2011
Location: USA
Posts: 63
Received 0 Votes on 0 Posts
One more thing.. I know some people might say to take the tape off and see what's under there. I might do that another day, for today I just left it alone.
01-16-17, 02:39 AM
Join Date: Oct 2012
Location: Northern NJ - USA
Posts: 54,666
That tape is probably over a soldered connection and should be checked.
I'll take your word for the ground wire as I haven't seen it in any of the pictures.
The gauge of the wire is #14.

You have three cables coming in there. One is the feed in and the other two are feed outs.
You have three white wires in one "connection" and three blacks in the other "connection".
01-16-17, 11:19 PM
Join Date: Mar 2011
Location: USA
Posts: 63
Received 0 Votes on 0 Posts
Posting Rules
You may not post new threads
You may not post replies
You may not post attachments
You may not edit your posts
---
HTML code is Off
---