Z-wave light switch - is it possible?
02-03-17, 09:17 AM
Z-wave light switch - is it possible?
---
Hi everyone,
First time poster, long time lurker. My situation is as follows:
Basement:
One light switch that turns on/off two large fluorescent light fixtures that holds four long tube bulbs in each light fixture (see pic below). I was wanting to replace the old switch with a Z-wave smart switch because the switch is located on the other end of the basement and if we want to watch a movie it would be convenient to use Alexa or harmony remote or even our smartphones to control the lighting.
I read that smart switches require a neutral wire and that in most common one way light switches the neutral wire is usually white. Before purchasing the smart switch, I investigated what was behind the current switch (see pic below). The black and white wires were connected to the switch and the single red wire with a wire nut was not connected to anything in the box.
There is another light switch next to the one in the photo that controls the other half of the basement's lights which is just two fluorescent light fixtures with 4 bulbs in each fixture which is identical to the side of the basement that is in the attached photo.
So my question is: Is it possible to install a smart switch with the three wires in the electrical box or do I need to run new wire? The mains electrical breaker panel is rather close to where the switch is located and I can run new wire if there is no other fix. Any suggestions/recommendations would be greatly appreciated.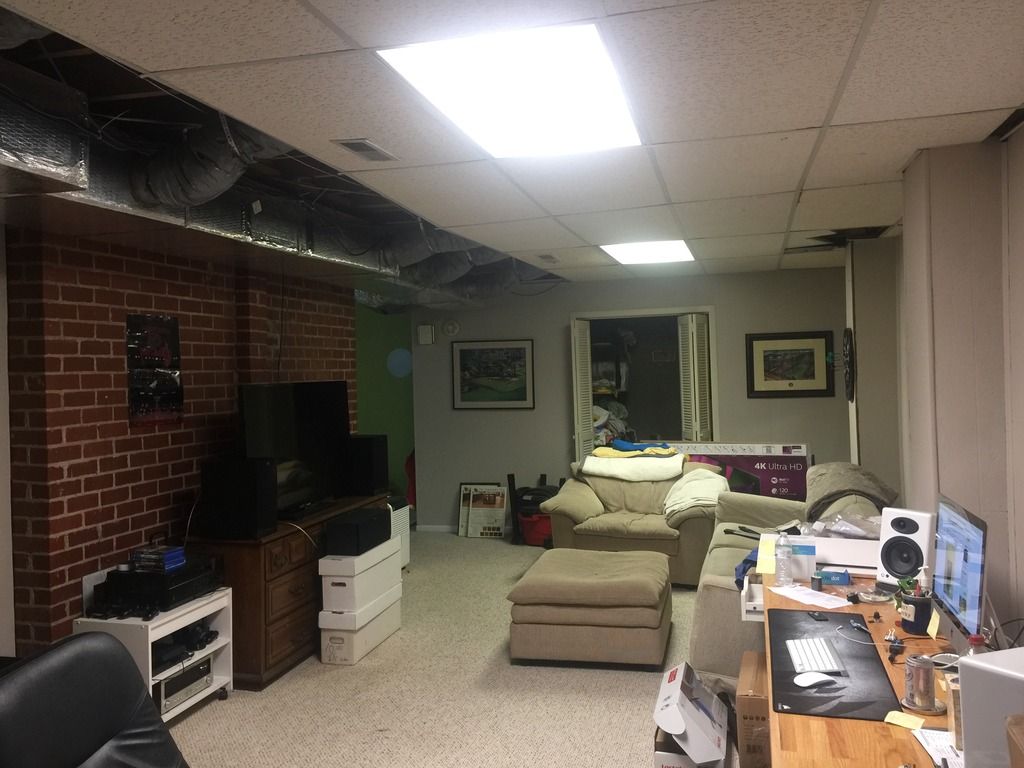 02-03-17, 09:19 AM
The fact you have black/white/red could be a good sign. This circuit may be able to be reconfigured to have a neutral. The white presently is not a neutral.

We'll need to examine the wiring at any other three-way switches if they exist and at the lighting fixture.
02-03-17, 11:07 AM
Join Date: Oct 2012
Location: Northern NJ - USA
Posts: 60,874
That looks to me like the end of a three way circuit which means that the other end of that cable ends up in a switch box..... probably on the other side of the basement.

Like Ben said... a three wire cable is a good thing.
02-04-17, 07:18 AM
Thanks PJmax,
I will try to investigate further this weekend. I'm on call this weekend and unfortunately I'm working today so I might be able to look at it more tonight. I appreciate your comments.
02-04-17, 09:57 AM
Join Date: Dec 2005
Location: USA
Posts: 39,965
Unless it was prewired for a ceiling fan. Chances may be low, but it is an option. If the red wire shows up in one of the ceiling boxes, you may be able to do a re-switch. I am not sure how ZWave switches play with fluorescents, though. Have you considered can lighting for that basement since you have a drop ceiling. I think the main thing is to find the other end of that red wire.
02-04-17, 10:39 AM
Join Date: Oct 2012
Location: Northern NJ - USA
Posts: 60,874
Most of the Z wave type switches use a relay for switching the load so they can operate any type of light. Still best to make sure before installation.
02-06-17, 12:22 AM