Silly question regarding ground on copper pipe
05-29-17, 04:03 PM
Silly question regarding ground on copper pipe
---
I sprung a leak in a copper pipe in my basement ceiling, as with the rest anytime one leaks I replace it with pex. This pipe has a ground with a wire attached. I am unable to trace the wire. My question is when I cut out the copper can I just leave the ground connected to the copper and just mount it to a stud. Or will this just do nothing since its a just a piece of copper not connected to anything else. the ground looks pretty new and I have a feeling the electrician that was used for my kitchen reno put it there.
05-29-17, 04:36 PM
Join Date: Oct 2012
Location: Northern NJ - USA
Posts: 60,725
Welcome to the forums.

If it wasn't close to where the water service enters the house then there's a good chance it's not the service bond.

Can you describe the wire.... size and color ?
If you don't know wire sizes try to compare it to something. Most larger wire has the size on it.

No need to leave a piece of pipe in the ceiling. It would be advantageous to know what it was for. Most likely nothing to do with recent electrical work.
05-29-17, 05:16 PM
Given an unknown wire coming out and attached to a water pipe not within 5' of where the pipe goes out through the foundation wall and underground and not attached to the pipe without the water meter or other device in between where the pipe exits the foundation, that wire does not officially count as electrical grounding. Also it does not count as gas pipe grounding.

That piece of wire could be a bonding jumper to ground water pipes with, namely connect the metal plumbing network to which the piece of pipe in question used to be attached with other metal plumbing up in the house where there is plastic pipe connecting those two sections

Contact the electrician who did your last renovation and ask him if he put that wire there and why. After that you can splice on a piece of wire of the same or larger size to extend to the wire that runs from a ground rod to the electrical panel or to extend to a wire that runs to a cold water pipe within 5' of where the latter exits the house underground.
---
Last edited by AllanJ; 05-29-17 at

05:34 PM

.
05-29-17, 05:32 PM
This just about the furthest point in the basement away from where the water enters the home. There is a ground of course where the water enters the house in my utility room. The wire is white and looks to be older. It is hard to read 12awg says gasoline and oil, looks to be copper inside.
I attached a link to photobucket with 3 pictures.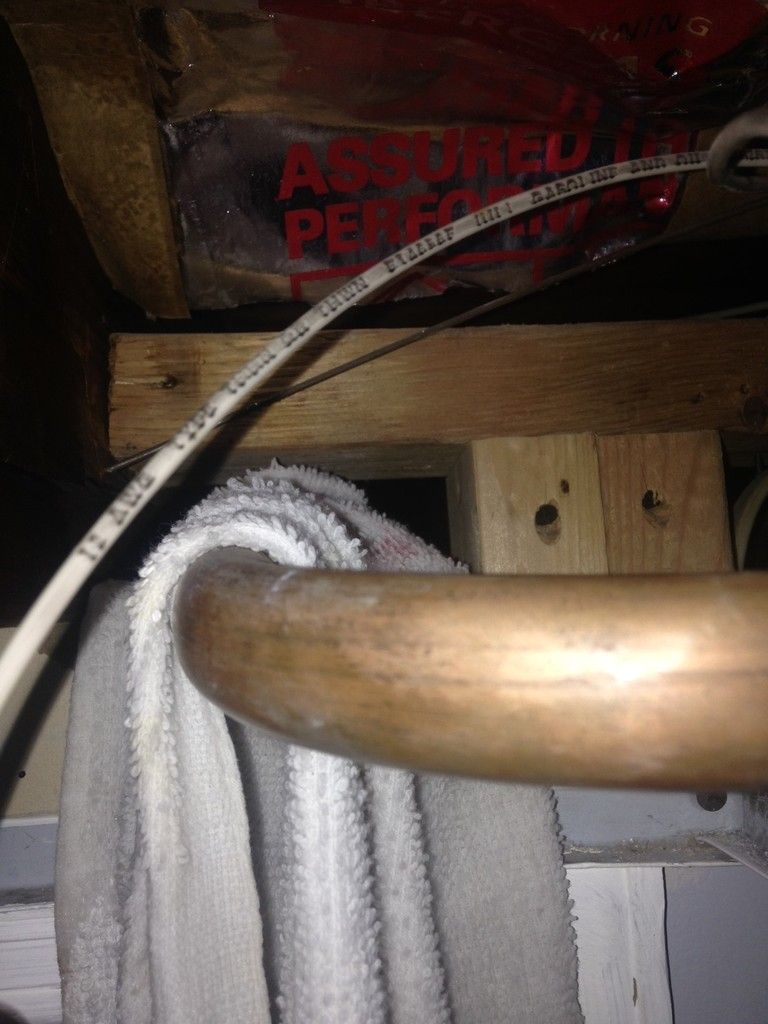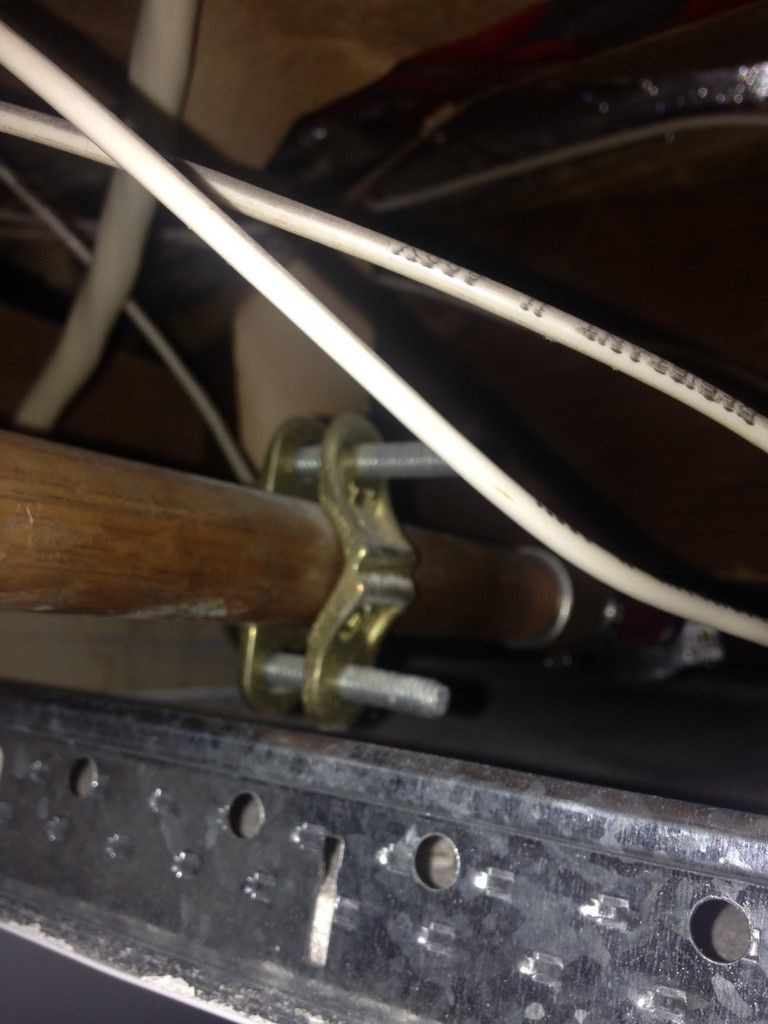 ---
Last edited by PJmax; 05-29-17 at

05:48 PM

. Reason: added all three pics
05-29-17, 05:51 PM
Join Date: Oct 2012
Location: Northern NJ - USA
Posts: 60,725
That is an expensive type water pipe ground clamp that an electrician would use.
That #12 white is stranded THHN single conductor wire.
White is not usually used for a ground wire.

It could be for an alarm system ground.
It could go to a clothes washer.
Possibly although not likely some type of antenna system ground.

That is not a clamp that a utility company would typically use.
Hopefully it's not from your electrician.
That wire is not from your service or panel.
05-29-17, 07:14 PM
This house most likely has never had an alarm, My dryer is pretty close but the ceiling in the laundry room is open so it would make no sense for it to be in this location. It has to go, I guess I could always move it there is plenty of slack. My concern was did it go back to the panel, I used my multi meter and got no readings. I tried tracing it again, it goes behind a wall into my sauna, I guess it's possibly some type of ground for the sauna.
05-30-17, 08:05 AM
Bonding jumpers used to interconnect sections of metal plumbing with plastic pipe between them may be sized to match the size and amperage of branch circuits passing near the downstream section. So it is not unusual for a 12 gauge bonding jumper to be run where a section of metal pipe was torn out and replaced with plastic pipe.
05-30-17, 01:23 PM
Thanks for all the replies, I removed the crappy copper put in pex and removed the ground. Upon further inspection that ground clamp is defiantly not new. it was hard to see in the ceiling. For now I have a wire nut on the wire. I have a feeling it was a ground for the old copper phone lines. There was endless amounts of phone junk in the ceiling and I cut it all out a few years back. So far all my outlets and everything are working fine w/o the ground.
05-31-17, 10:14 AM
I extended the wire and grounded it to a copper pipe on my no longer in use 1970's sprinkler system. It is still connected internally in my utility room. No water flows to it as I have a shutoff valve.