Installing new Light Switches but I do not understand the wiring here.
12-08-17, 08:24 PM
Join Date: Dec 2017
Location: United States
Posts: 4
Received 0 Votes on 0 Posts
Installing new Light Switches but I do not understand the wiring here.
---
Hello, first post here.
I have a 1982 Mobile Home (built in Albuquerque I think) in the country near Chilili New Mexico USA (87059), about 25 miles or so from Albuquerque NM. This was a double wide mobile home that has been greatly built on since, new roof, new outer walls, huge 36 solar panel array, etc etc. Being that it is 35 years old I will be replacing all the light switches and electrical receptors this coming spring. All of these light switches have survived just fine but I am starting to feel like a few might be giving up finally (High traffic areas only). We also recently purchased a few Google Home (smart assistant home automation units) units and we have a dozen or so WEMO Insights turning on things like fans, lamps etc already. But we are taking it to the next step, full voice control lighting automation for every main room. However, I discovered that our light switches are not even remotely normal (like I see at Home Depot) and I have already figured out how to solve that, using Lamson B120R PVC Gang Box's. Now that that is figured out I need to figure out how to wire Smart Switches in place of these 35 year old mobile home type switches. Below is a image of what I am working with. I assume this is a non-neutral light switch?
Image of the Gang box I will be using to convert these self holding switches to normal box type housings. I have to use these types because not one of the switch holes are near any studs, just a square hole in dry wall.
Can someone help me understand what these wires are please? Black, White and a bare copper. Or is this a wiring setup I can not change and I have to replace with exactly the same type of switches? And then forced to use smart bulbs instead?
Oh and I am thinking of using the Leviton switches at the following link because they do not require hubs.
DW15S-1BZ > Decora Smart? with Wi-Fi Technology > Lighting Controls > Products from Leviton Web Site
Thanks for any advice.
Best Regards
Rod
Sponsored Links
12-08-17, 08:34 PM
Join Date: Oct 2012
Location: Northern NJ - USA
Posts: 53,245
Welcome to the forums.
You are correct. No neutral there.
That looks like a three way switch being used as a standard switch.
That is called a switch loop. Power is at the light and just the black/hot wire is brought down to the switch on white and returns back to the light.... switched on black.
This is a generic diagram of what you have there.....
---
Last edited by PJmax; 12-08-17 at

08:58 PM

.
12-08-17, 09:29 PM
Join Date: Dec 2017
Location: United States
Posts: 4
Received 0 Votes on 0 Posts
Thanks Pete,
THAT is exactly what I thought I was seeing too. They are just rocker type on/off switches (pictured below). So these switches do actually have power to them, but not the neutral wire I would need.
Guess I need to do smart bulbs instead then.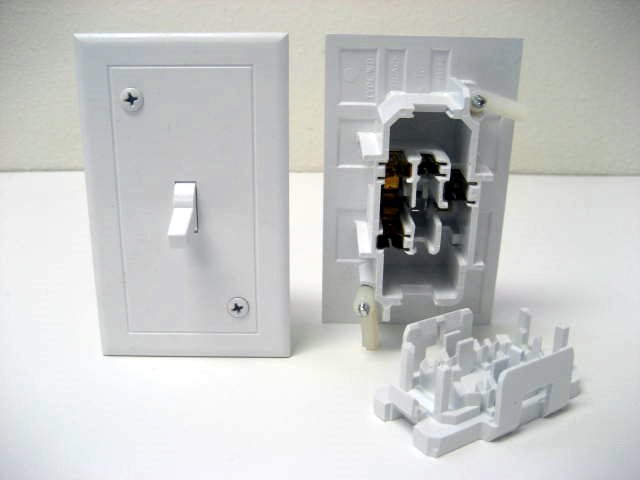 Thanks for the reply
Rod
12-09-17, 04:48 AM
rgray318: Before you go and buy those old work boxes that you plan on using I would highly suggest you first check the depth of the wall cavity. Many of the mobile homes I have worked on are notorious for very shallow wall cavities; which is one of the reasons I shy from any jobs now that deal with mobile homes.
This
shallow wall old work box
here is even difficult to work with especially if the wall material is very thick.
12-29-18, 12:56 PM
Join Date: Dec 2017
Location: United States
Posts: 4
Received 0 Votes on 0 Posts
Thanks AFJES

Yeah I was forced to buy those shallow old work boxes from Home Depot, like you linked to. They worked just fine though, no issues that I could see. But I suspect some of the switches will be in tight spaces between 2x4's, and for those I will probably have to cut the back sides off of normal depth gang boxes. I halted the project last year in Dec 2017 just because I could not find proper smart wifi switches. But last week I was forced to fix a few of these old switches because they finally broke, flickering on and off etc. New mobile home switches to replace these are like $10 a pop, so were not going to do that, not when a switch at HD only costs $1.30 each or less. Just went to Home Depot and got normal single pole switches and "old work" shallow gang boxes like above. Seem to be working great.
12-29-18, 02:27 PM
Wow! I thought I was in the twilight zone here or something. I saw Dec on the thread date and could not remember anything about it until I saw the year. A year ago. rgray318, you thru me there for a minute!

rgray318 as PJmax stated you can NOT go and alter a box any way at all. The boxes are approved by the UL as they are manufactured. Cutting off the backs "compromises" their integrity!! The box is constructed to encapsulate any sparks or flames if there is a malfunction in the box. Changing it in any way "voids" the UL approval and if you ever have a claim for an electrical malfunction in any of these boxes and your home owners insurance does an inspection it is very highly likely that they will NOT HONOR YOUR CLAIM. Cutting off the backs of the boxes is like not even using a box at all.
12-31-18, 03:30 PM
Join Date: Dec 2017
Location: United States
Posts: 4
Received 0 Votes on 0 Posts
Yeah very good point guys. So I won't be cutting the boxes to make them fit then, but I will still need to find gang boxes that are only 2" max in depth and nothing on the sides. But I won't actually know until I pull the current crap off the walls to find out what I am working with.

I will be coming back here with more images because some of these switches are wired differently then the ones I already replaced (which only had one black and one white = simple to understand) and I just want to double check with the pros what I am working with.

Thanks again, and have a happy New Year!

Rod
Posting Rules
You may not post new threads
You may not post replies
You may not post attachments
You may not edit your posts
---
HTML code is Off
---