Sub optimal outlet location. Options?
01-19-18, 08:50 AM
Sub optimal outlet location. Options?
---
Hi everyone!
So, my fixer-upper sagas continue
We decided to move my desk into our MBR so I can work from home. This resulted in moving the bed in front of an outlet. We really need to use this outlet, as the previous owners converted the other outlet on this wall to a switch that controls the outside flood lights (dont get me started on this.. I have no clue why and removing the switch isnt doable at the moment)
I did change the outlet so its now grounded, but I am concerned about two things:
Outlet box is recessed about .5" behind sheetrock
Plugging anything into outlet-- I am concerned about arcing
For the first issue, I intend to get a sleeve so the wiring is not neat 'combustible material' (I think that is the code nomenclature?)
For the second issue, I have a power strip that positions the outlets to the sides, so you can plug in and not put strain on the cords you attach, if you have anything in front of it (like a bed, in this case). In this pic, you can see the box spring on the right
I have concerns that this is not entirely safe. My question is this:
Would changing breaker to arc-fault protect us from power strip/electrical failure/fire? Or, should I just change the outlet to a surface box and run wire mould to position the outlet away from the bed?
I realize I could always 'just run a new circuit', but that is a bigger job than I want to get into right now...
Appreciate any and all comments and advice! Thanks
K
Sponsored Links
01-19-18, 09:52 AM
I have concerns that this is not entirely safe.
I suppose that depends on what goes on in there. If it was my house and I didn't have time to rewire anything, I'd just get a power strip with a 3 ft cord and a right angle plug so nothing's in the way like that (the power strip would just sit under the bed).
Is all the wiring still intact in that box that the previous owner converted to a switch? If so, you can easily stick one of these in there and at least have a receptacle in an accessible place and keep your switch too, with only a few minutes work: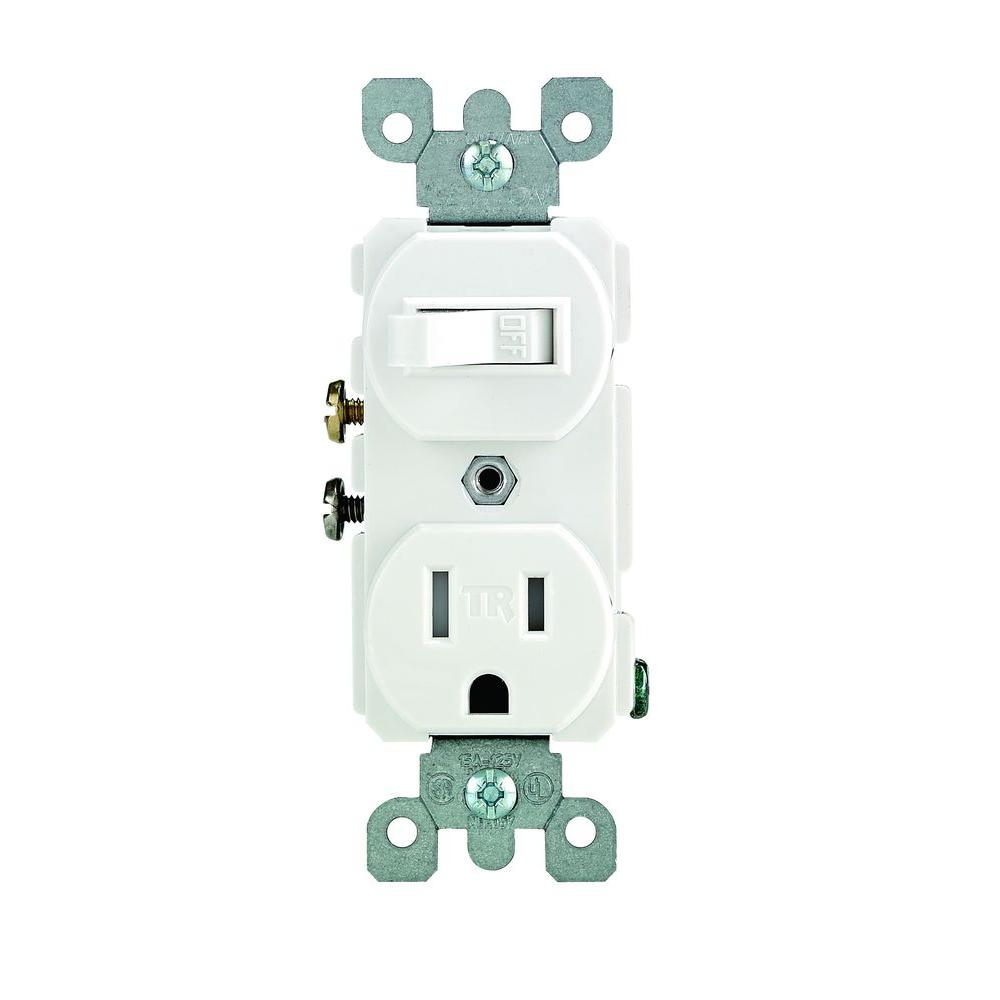 Or it wouldn't be too much trouble at all to fish some romex straight up or down from that switch and toss in a new receptacle using an old work box, without having to do any patching.
01-19-18, 01:29 PM
I agree with Core, either purchase a strip with a flat outlet plug similar to the one below or, if you're concerned with the bed up against the outlet, move the outlet to a better location.
Posting Rules
You may not post new threads
You may not post replies
You may not post attachments
You may not edit your posts
---
HTML code is Off
---