Help Wiring Power for Video Doorbell & IP Chime Replacement
09-21-18, 08:23 AM
Join Date: May 2012
Posts: 17
Received 0 Votes on 0 Posts
Help Wiring Power for Video Doorbell & IP Chime Replacement
---
I would like to install a doorbell camera that and a pair of IP-based chimes to my existing home that is wired up just like pictured below
from this excellent video
. I'm trying to determine how to wire it:
Each of the three wants 15V consumes no more than 1A each, and they can operate off of Wi-Fi. Since these use constant power, would I just need to simply replace the existing transformer with a 15V with any amperage above 3A and then simply replace the bell and chimes? I can imagine that last leg might need to be wired differently, and I can also see running little branches to each device instead of running the wires through each device. I don't have the ability to run new wiring, and the only area with 120V available is where the existing transformer is located.
Thanks for any ideas!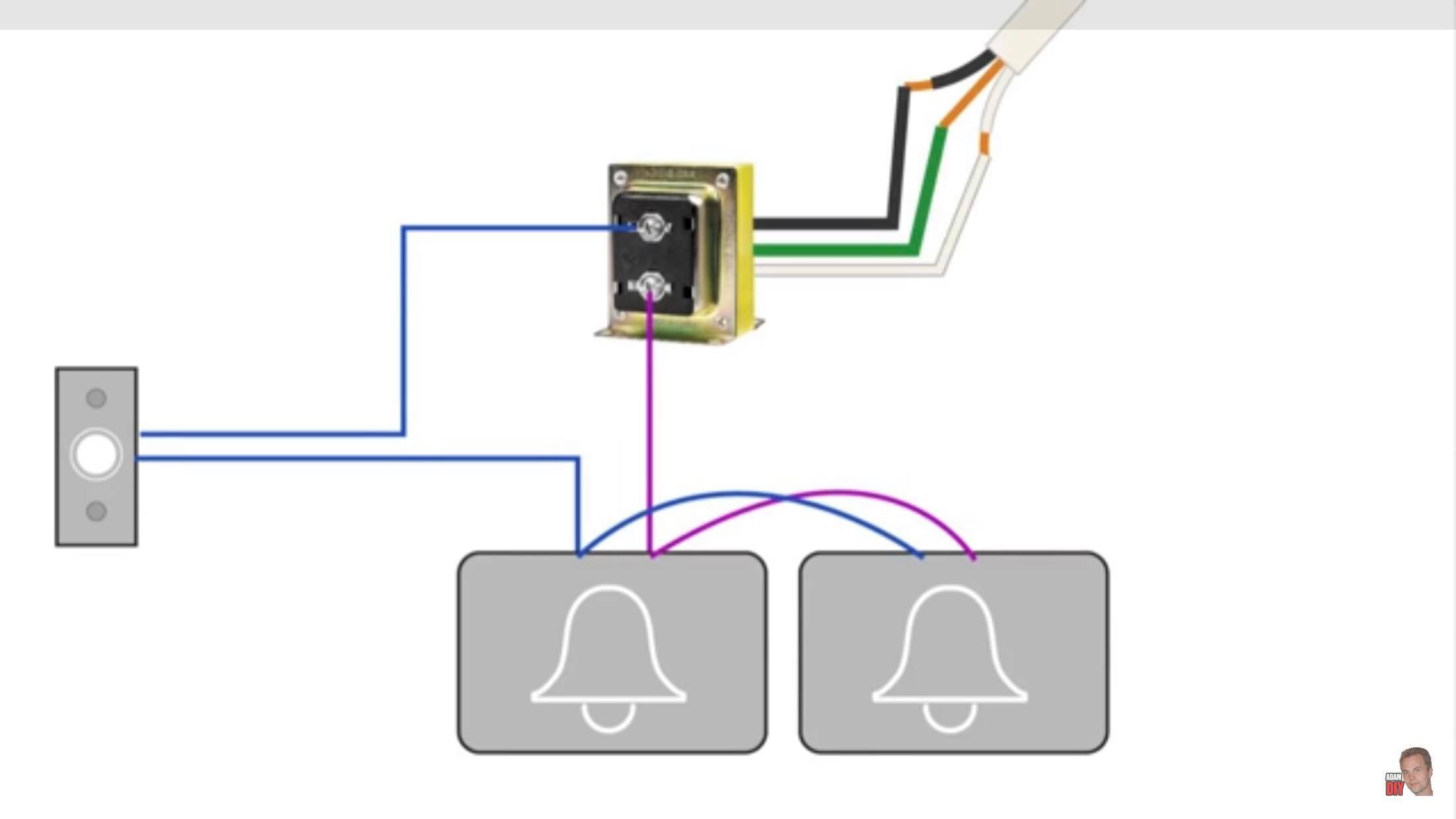 Sponsored Links
09-21-18, 12:01 PM
Assuming Ring doorbell camera and Ring remote chimes ?

That video shows strictly hardwired chimes. If you go by that diagram..... your Ring doorbell camera will replace the existing pushbutton. There will not be additional wired connections. The Ring remote chime plugs into the wall and is wifi connected.

Remember.... you can't run wires so one transformer to run all three doesn't even make sense.
09-26-18, 05:24 PM
Join Date: May 2012
Posts: 17
Received 0 Votes on 0 Posts
It's for a DoorBird with IP chimes. 17v might be okay, but I'm trying to figure out how to wire it. If I had more wires, I could then use analog chimes, but in this case I need to change the wiring from the old analog doorbell system to simply constantly provide each 15V. I can't change the wiring exactly, but I'm thinking that if helpful, in the box I could basically make a T and hit each device or run through the device itself.

Here are the data sheets:
Thank you so much for the help! I really appreciate it!
09-26-18, 09:39 PM
The DoorBird wants constant 15v DC while most door chimes are AC and switched by the button.

You won't be able to use the old transformer but use a 15v DC power supply. So, yes, you need to make a T if you use a shared power supply. The same + and - (or 15v and 0v) connections need to go to each device.
09-26-18, 10:00 PM
Ok..... good you provided links as these are not your typical units and are a bit confusing.
To start with the remote chime. This unit requires 15vDC. It comes with it's own wall adapter so that no wiring needs to be run. Then it connects wirelessly thru the wifi (router). The other method is to connect it using a PoE (power over internet) cable) which you probably don't have and requires running a data cable. So..... this remote doorbell should be installed to run on it's power supply as your wiring is not going to work for it. It needs always live 15v power.
The front door unit also requires 15vDC. It doesn't operate a doorbell directly so you will need to send 15vDC directly to the unit with no wired chime unit inline. This means you will need one of those wireless type speakers at every location where you want it to chime.
DoorBird D10X series doorbell
10-11-18, 07:28 AM
Join Date: May 2012
Posts: 17
Received 0 Votes on 0 Posts
Thanks very much for the reply!! Since 120V power or category cable isnít available at any of the locations for use of the power supply provided, it seems the only option is to replace the AC power transformer with a 15VDC power supply.
I found one here that can handle up to 7A.
I donít know if connecting the load of three or the run of wires will give it a voltage drop, but the supply is adjustable. My concern would be that some would get 15V while the others wouldnít.
It seems like if I replace the power supply as shown in your drawing and right behind the doorbell connect the two wires that come there together, that should work. Is that right?
I have a multimeter to check if Iím getting 15V at each location, but Iím not that comfortable about how to wire this even while it seems like I should have the wiring available to give them each what they need.
I REALLY appreciate the help!
10-11-18, 08:10 PM
I drew a diagram for you. Is that what you have ?
Do you have a two wire cable from the door to the chime area ?
Do you have a two wire cable from each remote location to the chime area ?

If not...... you need to explain exactly what you have in place for wiring.
You need two wires from each location to the transformer..... regardless of where the transformer is. That power supply should work ok. Since this is DC.... you will have to identify + and - polarity.
10-11-18, 08:41 PM
Join Date: May 2012
Posts: 17
Received 0 Votes on 0 Posts
Yes, I was referring to what you augmented. Indeed, I have two wires to the power, two wires to the doorbell, four to the main floor door chime, and two to the basement door chime (exactly as in the image I posted). I was thinking from your drawing that I could simply connect the two existing wires together at the site of the doorbell to connect them as you drew, basically allowing the power not to flow only two the bell, but along the line. Does that make sense?

Thanks again!
10-12-18, 05:25 AM
Manual:
https://goo.gl/UBS3HF
As you see of the diagram you may need a number of wires depending on need of chime, door opener etc. The power supply for chimes and locks may still be the existing power. Running the power and data ina CAT 5-7 wire with power over ethernet may be a solution.
dsk
10-12-18, 05:45 PM
In this application..... the OP has limited wiring in place and can't run additional. If the video door unit and the remote chimes are connected to 15vDC..... they can communicate thru wifi to ring.
Posting Rules
You may not post new threads
You may not post replies
You may not post attachments
You may not edit your posts
---
HTML code is Off
---