3 receptacles 1 is split controlled by 2 3 way switches
10-17-18, 10:13 PM
3 receptacles 1 is split controlled by 2 3 way switches
---
So I have been redoing things in a house. currently we have 3 receptacles on the wall, only 1 was split controlled by 3 ways switches on either entrance wall. the wiring is confusing the hell out of me. some how when I replaced everything I can no longer get anything to work off the switches.



The source power comes in on the first receptacle 2 wire, a 3 wire then goes to the center receptacle 3 wire from there to the final receptacle 2 wire to the switch and 3 wire between switches.


I have attached a diagram that shows the wire bundles but I have no idea how I should hook them up to make this work again. anyone able to help?
10-18-18, 05:54 AM
You said you "replaced everything". Does that mean you replaced the receptacles, switches and wiring?

When you say nothing works off the switches what does that mean? Is the switch controlled part of the split receptacle always dead or always on? Are the other, non-switched outlets working?
10-18-18, 07:14 AM
all switches are getting changed, and all receptacles. every receptacle is powered. I can't seem to get the switch to control any of them. that's were I need help. I really only want 1 of the 6 plugs to be controlled by the switch if possible. but right now id have 2 switches for looks lol. the first receptacle or last id like to split

whats really confusing me is the red wire at each receptacle. isn't the red just for the 3 way switch. and I believe I have to cross a white and black somewhere to make the switch work but im not sure.
10-18-18, 07:57 AM
If you changed the receptacles did you remove the tabs on the one that you want to have switch controlled. If you do not remove the tabs to isolate to two sockets then they will both always be powered.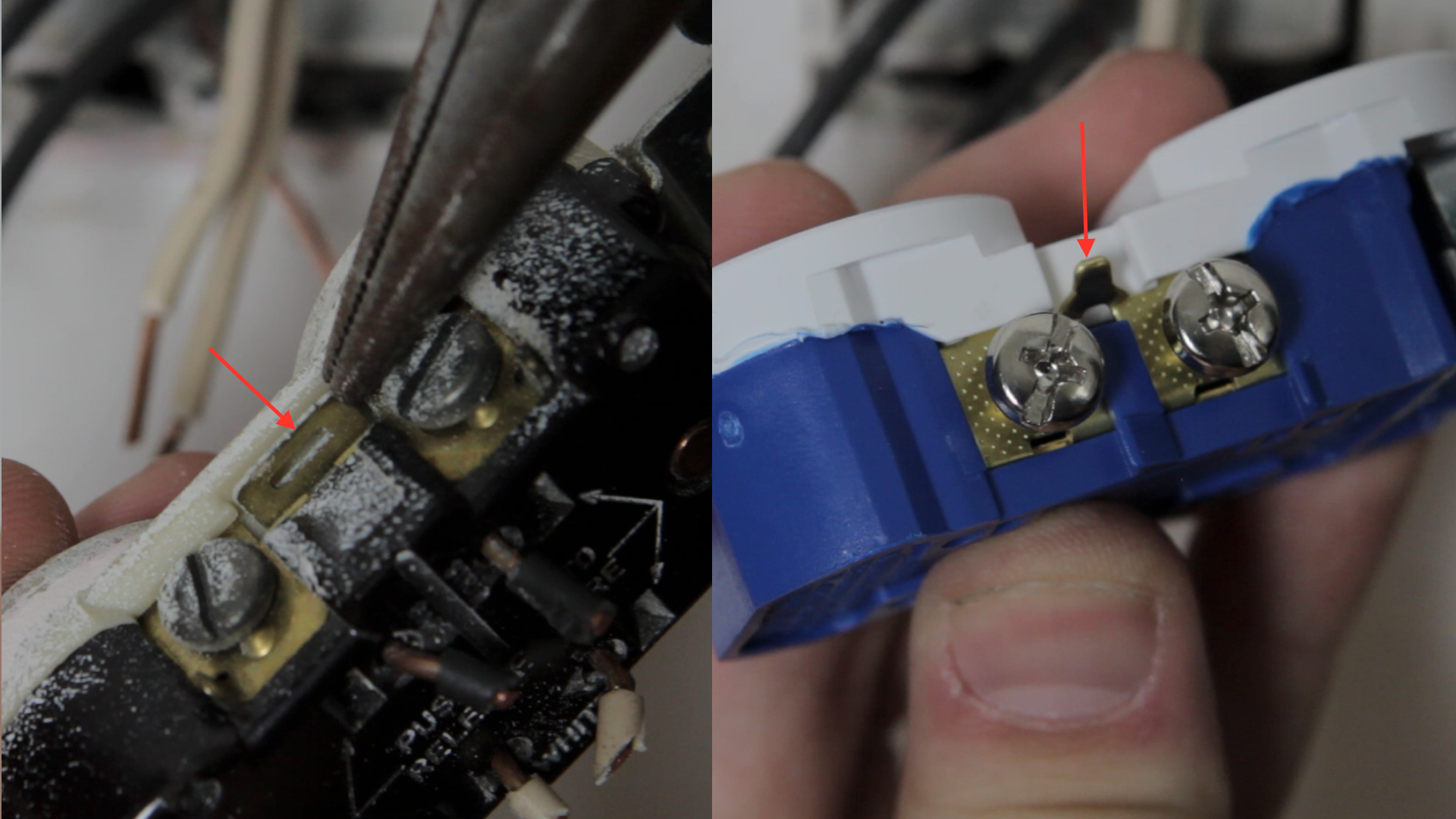 10-18-18, 08:02 AM
Wire colors on 3-ways are optional. Whatecer the installer chooses. The important thing instead is the common terminal (odd color screw) on each switch. Power in is connected to one common and power out to receptacle to the other.
On a splot receptacle the brass tab is removed. Constant power goes to one screw and switched power from the 3-way to the other.
. I really only want 1 of the 6 plugs to be controlled by the switch if possible
Maybe. Switched power would go to #1. A 3-conductor cable between each receptacle would cary unswitched power on the black and switched on the red between the receptacles. Yes, if you used a dead end 3-way connected with a 4-conductor cable to meet current neutral in switch box requirement.
---
Last edited by ray2047; 10-18-18 at

08:18 AM

.
10-18-18, 08:10 AM
I can remove the switches and still have power so I know something is not wired right. I really need a wire diagram to show me how to hook them all back up. the image I attached is the wires at each box and the path they take now I just need to know where to connect them and which tab(s) to break to make the entire thing work
10-18-18, 11:27 AM
Try this:

For split receptacles, bend off the tab on the gold (hot) side and attach the red wire or pigtail as shown.

For unsplit receptacles, do not remove any tabs and do not attach the red wire or pigtail and instead tape that loose end.

Wire nuts shown in light blue.

Put a band of black or red tape or stain at the ends of white wires used as hot wires, where attached to switch terminals or to colored wires, as shown.

Ground wires not shown here.