Box for outdoor outlet
11-07-18, 08:32 PM
Box for outdoor outlet
---
I'm looking to replace an outdoor light with a power receptacle so that I can run a power failure light (that plugs into an outlet). The existing light is held by just a clamp (see picture). I bought a plastic electrical box but the threads that hold it in place are situated way in back of the box. Should I have bought a box like this one instead?
https://www.homedepot.com/p/4-in-x-2...8660/100560024
https://imgur.com/a/FA7EcCY
https://imgur.com/a/Mo0pEGA
https://www.homedepot.com/p/IDEAL-Se...ixture%7D%3Aqu
11-08-18, 04:22 AM
Join Date: Jul 2002
Location: Maryland
Posts: 15,224
The metsl.box.is.for.use inside.only. If there is no box in the wall now you would.add.a.screw.in cable.clamp to the plastic box shown. You.Will also need gfi protection and a weatherproof in use cover.
11-08-18, 10:47 AM
You'll want a box like this: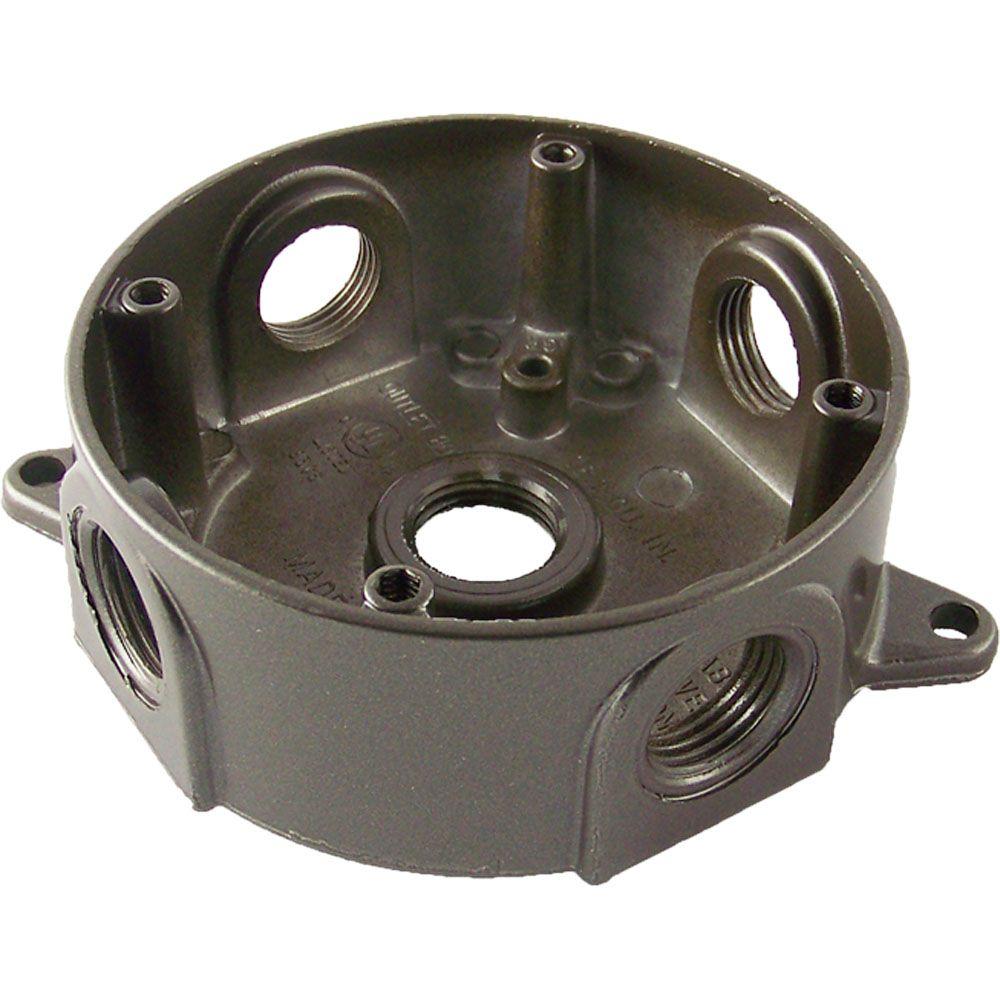 If you can easily cut into the siding, you can mount an old work round box like this. It's allowed because if it's mounted in the wall, it's considered interior. Once you get outside the siding, you need an outdoor/wet rated box.
11-08-18, 03:59 PM
11-08-18, 04:03 PM
you would add a screw-in cable clamp to the plastic box shown.
Do you have a link to what this cable clamp looks like?
I need some sort of long screw and maybe a spacer to hold the box inside the wall because the screw holes on the box are recessed back about 2 or 3 inches (as shown in the picture)
---
Last edited by PJmax; 11-08-18 at

05:02 PM

. Reason: added pic from link
11-08-18, 05:08 PM
The box in the previous post is a surface mount box.
That is not want you want. You want a cut-in gem box. They are available in metal or plastic.
I'm an old time electrician..... I still use metal cut in boxes.
However, when installing a GFI receptacle like you are..... the plastic is a bit larger and non conductive. The plastic comes with wings that hold from behind. If the wall is too thick.... you may need to use small screw thru the front flanges. Be sure to use a deep box so that the receptacle fits comfortably.
11-08-18, 05:30 PM
11-08-18, 05:36 PM
Yes.... that is what you want but if you are planning to put in a GFI receptacle..... you need the deep version of that box. It looks identical but is deeper. A standard framed wall should handle it with no problem.
11-08-18, 05:39 PM
11-08-18, 05:50 PM
Trust me..... go with the deepest box they have. It may be 20ci or 22.5ci. You need the room to work and you don't want to get hung up on the wire clamps.