Home AC outlet (melted)
01-31-19, 01:32 PM
Home AC outlet (melted)
---
Weird thing happening. I melted the inside of my wall outlet. I replaced all the 2 prong outlets with grounded outlets. There isnít a dedicated ground wire, but I discovered that the mounting boxes are grounded. A couple months after having secuessfully swapped the outlets, one of them melted. I think itís the outlet that is at the start of a circuit. With the outlet removed, breaker on, and all wires splayed out, upstream hot to downstream hot or neutral both read at about 98V... what is happening here?


Sponsored Links
02-01-19, 09:11 AM
Ah Okay. Is this typically an issue at neutral wire connections to receptacles downstream from the issue and not at the breaker panel? Probably user error if so. Downstream appliances have been behaving properly with no other melting. For a while I had the up and downstream hots and neutrals connected respectively in the problem area without a receptacle in line with downstream outlets passing voltage tests.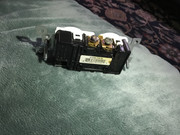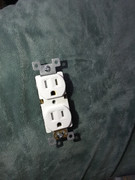 https://i.postimg.cc/tCmgsnmb/image.jpg
https://i.postimg.cc/T1zHs93G/image.jpg
Melted hot side and charring in the ground slot.
02-01-19, 11:57 AM
Where the melting occurred, I would say it was a loose connection between the wire and the screw. Maybe it just wasn't seated quite right when the screw was tightened or the screw wasn't tightened enough.

If it was an issue with the internals or an appliance plugged in, it would have melted more from the inside.

Loose connections cause heat, and heat causes the melting.

Assuming it's all copper wiring, right?
02-01-19, 02:33 PM
I didnít have anything plugged into that outlet when it was giving me problems. There is a pass through and the opposite side of the wall has the whole entertainment system on it- no problems there.

Yes I believe itís copper wiring and itís old. Some of the jacket is dry rotting away. I think loose connection makes sense- but if you see above, I was getting some weird readings with no receptacle in line. I guess I can check the neutrals on the rest of the circuit as best I can and throw a new receptacle in there- will report back.
Posting Rules
You may not post new threads
You may not post replies
You may not post attachments
You may not edit your posts
---
HTML code is Off
---