Is there a reason to use a non fused disconnect vs a circuit breaker
10-08-19, 09:55 AM
Is there a reason to use a non fused disconnect vs a circuit breaker
---
So Iím modifying a motor control panel to accommodate a new pump and the way the panel was put together it has a shut off switch like this: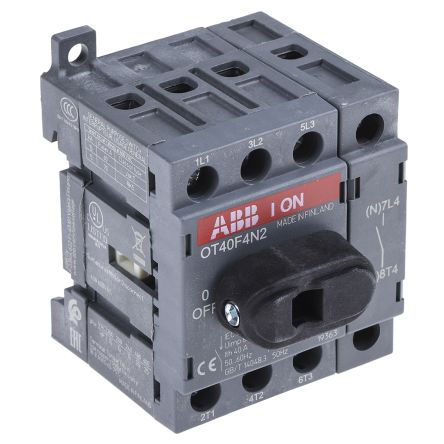 for reasons of space Iím going to move the shut off for the whole sub panel to the main panel which the subpanel is mounted to the back of.
What im wondering is why this type of switch was used? Checking the internet this switch is for sale for twice as much as a 4 pole circuit breaker rated for the same amperage from the same manufacturer
This 4 pole switch takes up 3 spaces on a din rail vs 4 but surely that canít explain the price difference. Im probably going to use this just because I already have it even though the breaker is cheap and the space saving isnít useful to me but I want to understand why.
Sponsored Links
10-08-19, 11:25 AM
A disconnect has a purpose of isolation of power sources from folks working on equipment. Typically, with lockout/tagout provisions. Many circuit breakers don't lend themselves to LOTO.
that ABB disconnect is rather designed for a DIN rail mount inside a control box on a subplate. Where power is removed by turning an exterior knob before the box door can even be opened. Note the square hole for a shaft.

there are specific standards that rather insure that the switch opens very reliably when turned. Circuit breakers don't follow the same, exacting standards for safety. ie: if the contacts weld together, can the mechanism still be able to be moved, etc.
Posting Rules
You may not post new threads
You may not post replies
You may not post attachments
You may not edit your posts
---
HTML code is Off
---