How to add a remodel ceiling fan bar hanger if something is in the way?
05-11-20, 07:13 PM
Join Date: Oct 2005
Location: Florida
Posts: 1,734
How to add a remodel ceiling fan bar hanger if something is in the way?
---
I have a ceiling light fixture that I would like to put in a ceiling fan.
The existing ceiling box is an octagon box mounted to an old style hanger bar nailed to the bottom of the two joists.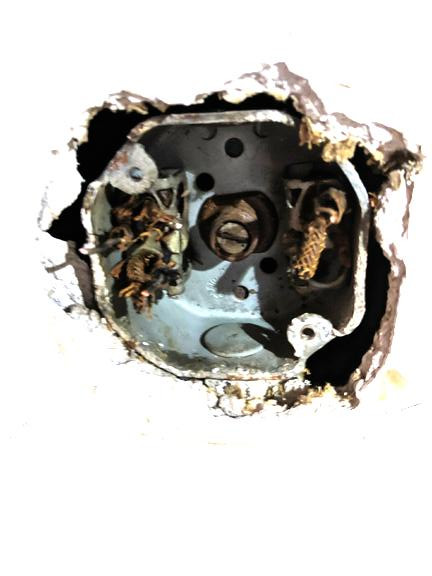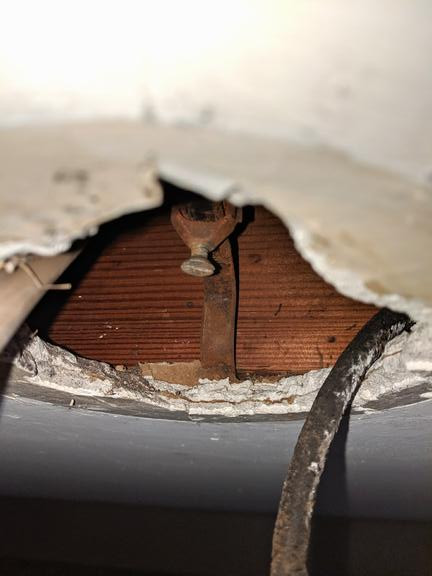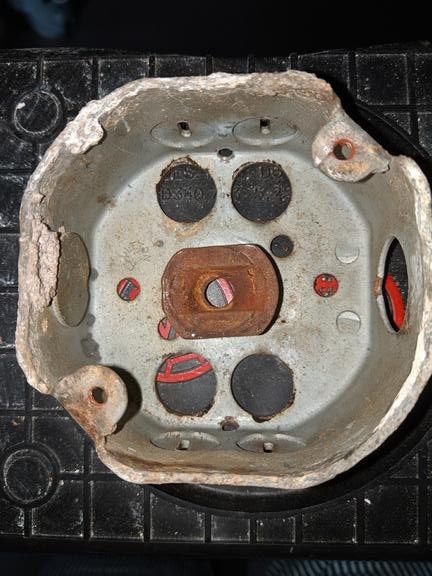 I would like to put a fan rated box with a remodel hanger - the kind that you can insert into the ceiling hole and twist the bar until the ends are tightly biting into the joists. However the existing hanger is in the way.
Even if I cut the existing bar and push it up and out of the way, they will still be in the way of the new hanger bar at where it needs to meet the joists.
Is there anyway I can work around this without cutting a hole a few inches off?
05-11-20, 07:47 PM
Join Date: Nov 2007
Location: United States
Posts: 15,121
If you cut the bar in the middle and bend the two pieces back and forth the metal will break off. That should give you enough room to get a remodel fan bar hanger in there.
05-12-20, 05:48 AM
Is that box installed right against joist?
If so, you don't need a t bar box.
Just cut one side, push/bend existing bar to the side and install this box.
https://www.homedepot.com/p/Madison-...BFAN/203343431
If you must install tee bar, dremel with metal cut off wheel work the best.
Bending the bar back and forth usually will damage drywall. That bar is just nailed in and not very secure. The nail will pull out and pull drywall with it.
05-12-20, 07:54 AM
Join Date: Oct 2005
Location: Florida
Posts: 1,734
That box is just about an inch away from the side of a joist.

I may be able to attach a piece of 1" deck board to make it flush with the side of the existing hole, or enlarge the hole to get the the edge of the joist.

I am not quite getting this side mount box. It says "Add a cold rolled steel L-Bracket to this Smart Box and you now have a UL listed 50 lb. paddle fan support box and a 75 lb. light fixture support box that works for all kinds of job situations." Is it saying I cannot just side mount the box to the joist by driving the three screws at an angle, I must attach an L-bracket for it to be rated for ceiling fans? What kind of L-bracket must I added to the box? I searched for it and can't find more information.
05-12-20, 09:07 AM
Join Date: Sep 2019
Location: Canada
Posts: 1,973
I think the bracket is included with a MSBFAN box.

I looked at the Home Depot link and then at the Product Brochure.
It shows the metal bracket and say this is a fan box.