Overhead power wire strain relief
09-08-20, 09:48 AM
Overhead power wire strain relief
---
I recently had the roof replaced.
After the roofer left I noticed the overhead power line that runs from the power pole by the street to the weatherhead has some sort of connector dangling on it. It is in the white circle in the picture below.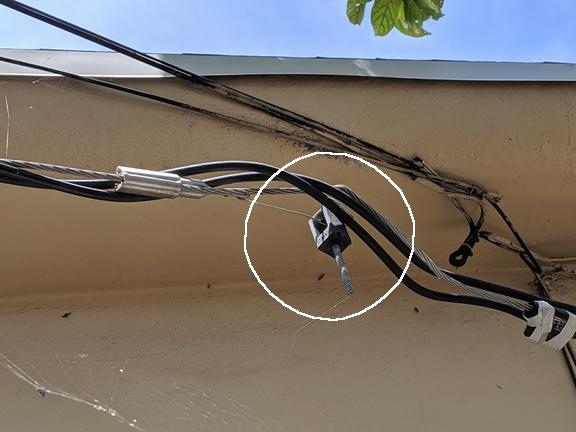 I assume it is some kind of a connection made to the house's framing in order to provide strain relief to the power lines in case a tree limb falls on it during strong winds like we have periodically in south Florida.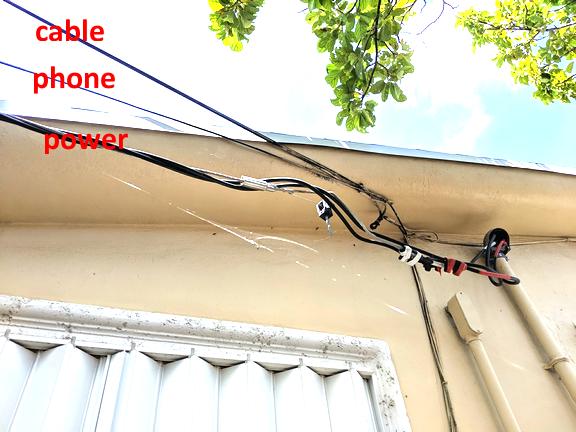 I think when the roofer redid the shingles and drip edges they removed this connector and left it like that. I do not know where the connector was previously attached to. I called the roofer and they said they don't remember if they did or did not but it's my problem now.
It is not my intention to assign blame at this point, and the roofer had failed in other aspects of the job so I am not even comfortable to have them come back to address this.
I have a few questions.
(1) This is what is called a "Roll Soffit". The rafter tails are cut at the end into a curve, then metal lath is attached between each pair of rafters and a layer of stucco applied. That connector must be attached to one of the rafter tails which is impossible to locate behind this thick layer of stucco that's over an inch thick. I assume previously it was attached high, possibly through the old drip edge through the stucco into the framing? Or else they wouldn't need to disconnect, right?
(2) How is this thing attached? It has all the wires running through the black rectangle. Can it even be attached with the wires in the way? Or do service need to be stopped at the pole, these wires removed by an electrician, this gadget attached to the house, the wires fed through it again and connections remade?
(3) Since this is on the overhead wires, it is reasonable to assume this is actually something the power company installed in the first place and this is something only they (not an electrician) can do?
09-08-20, 11:21 AM
Join Date: Oct 2012
Location: Northern NJ - USA
Posts: 60,773
Yes.... that is a 4" screw-in service hook. It needs to be screwed directly into framing.
Your roofer removed it. He should be able to tell you or show where to get decent wood.
Your wedge clamp looks to be broken also.
Wedge clamp
09-08-20, 07:33 PM
I'm not sure that's much of a DIY repair. While the insulation on those wires looks to be in good condition, I'm not sure I'd suggest you go near them. I'd probably call the power company or an electrician to fix.

You should have a king stud (2x4) to the right of the window that should provide a solid mounting point.