Exterior outlet questions
09-29-20, 07:37 PM
Exterior outlet questions
---
I've got an exterior outlet (standard, not GFCI) that is in bad shape. The cover had come off and the outlet screws were rusted. Looking to replace this with a GFCI outlet and had a few questions.
1. There are 3 12-2 w/ ground romex cables entering the outlet (2 home runs and one that picks up power here, though prior owner seems to have abandoned this as the ends were wire nutted as in pic below). Is this too much for a single gang box once I stuff a GFCI outlet in there? One of the outlet screws was rusted so badly, the head snapped off, leaving the threaded portion in the box's threaded hole, so I'll be replacing the box (more trouble than it's worth trying to drill out the broken off screw).
2. Prior owner had 2 home runs into this outlet, one for each receptacle. Do GFCI outlets have a tab that can be broken off to separate the receptacles so that I can put each receptacle on a different circuit?
3. Both home runs were protected with 15A breakers. Not sure why. Maybe the circuit that continues on from this outlet (which is using 12-2 at this outlet) has 14g wire downstream, not sure. One of the runs is only from main panel to this outlet and terminates there; since this is using 12g (look like it, but I'll have to measure diameter of bare wire to confirm), any reason not to use 20A breaker?
4. Some of the wires have a nick in them. These are all solid copper wires and they don't appear damaged under the jacket (only one of them looks like the jacket was cut all the way through where I can see copper if I bend it the wire away from the nick). Can I use heatshrink tubing on these? If not allowed by 2017 NEC, what are the easiest acceptable and safe options? Splice in new wire in the box? Worst case, I could rerun the homeruns because they're pretty close to the main panel and I wouldn't have to tear down any drywall. Pics of nicks below:
5. I'd like to get an in-use cover - do these work reasonably well or do they put a lot of stress on the extension cords as they have to make a relatively sharp 90* bend to exit the bottom of the cover?
---
Last edited by cartman; 09-29-20 at

08:42 PM

.
Sponsored Links
09-30-20, 04:33 AM
Hi, looks like a switchleg in that box, maybe best to straighten those cables out and pull them out of the box , if there is a 14 /2 in that circuit it must be protected by a 15 amp breaker.
Nicks could be repaired with heat shrink, do you have access behind that box? if so I would consider pulling those cables back and boxing them inside and having only 1 cable in the new box, too many conductors in the old box to start with.
In use covers are OK if the cord is not to large.

Geo🇺🇸
---
Last edited by Shadeladie; 10-02-20 at

07:55 AM

.
09-30-20, 06:18 AM
I don't think there's any switchleg situation here.
Here's the view from the other side, in the rim joist area.
The two cables on the left are both home runs. One was wired to the upper receptacle, and the other was wired to the lower receptacle. The cable on the right starts at this outlet box, but wasn't connected to anything in the box (this is the hot and neutral that are wire nutted together - must have been done by prior owner) and travels to parts unknown.
The extension cords I'd be looking to use with this outlet are 12g.
09-30-20, 09:02 AM
If you can find the other end of unused cable and in fact you don't need it, you can just pull both sides out of the junction box and cut them off.
This will eliminate unnecessary wire in the box.

There will be enough room for 2 sets of wires. 3 sets of wires is probably doable if you bend wires carefully to the back. Or, you can just get a thicker box.

For those small nicks, electrical tape is enough to fix. You need to put some sort of thread sealant to the cap on top. Otherwise, water will leak through. In use cover will work fine for most extension cords. Otherwise they wouldn't make one is the first place.
09-30-20, 09:22 AM
09-30-20, 10:59 AM
OK, I'll wrap the nicks with electrical tape, thanks. And I'll pull the unused cable out.

I don't really need two separate circuits at that exterior box, so I think I'll run one of the 12-2 home runs outside and install a 20A GFCI outlet (and replace the 15A breaker with a 20A breaker). I could use another outlet inside the basement a few feet from this exterior box, so I'll attach a 12-2 cable to the load side of the GFCI outlet and run that to a 2-gang box where I want it in the basement.

Since the proposed 2-gang box in the basement is fed from the load side of a GFCI outlet, I can use regular outlets and they would meet GFCI protection requirement (unfinished basement), correct?

Can I have this interior outlet box on the wall 6ft off the ground?
---
Last edited by cartman; 09-30-20 at

12:35 PM

.
09-30-20, 01:40 PM
Seems like most of the single gang weatherproof boxes have 1/2" holes.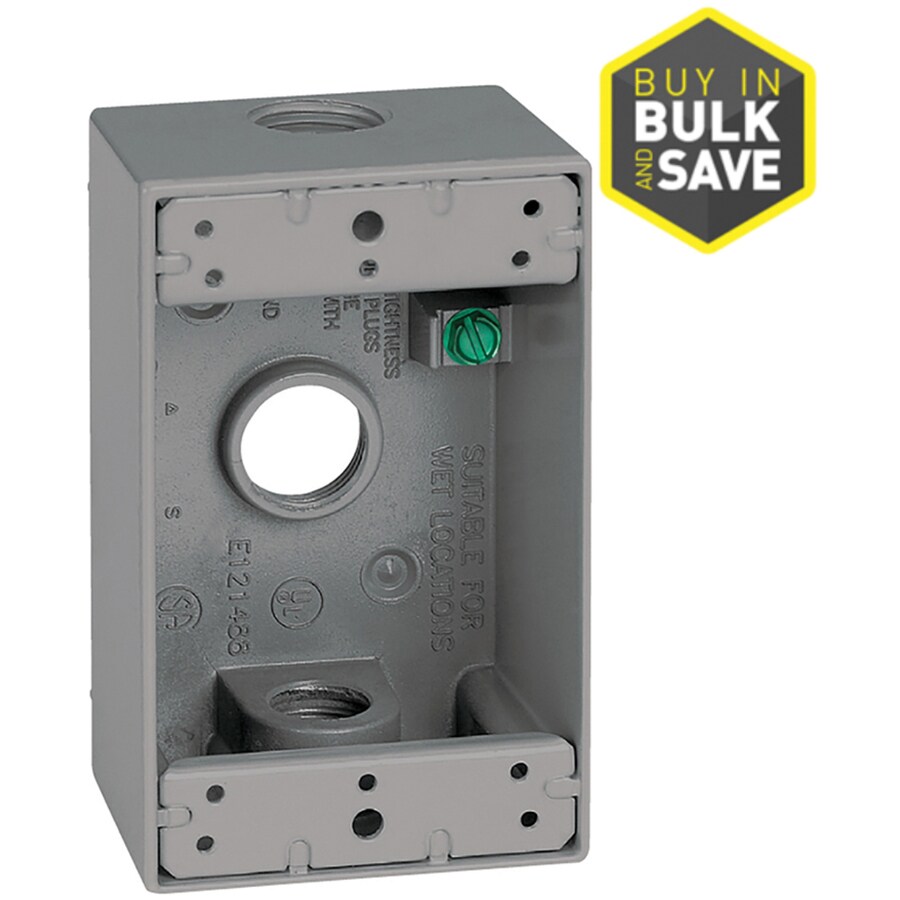 These are the 1/2" KO connectors I'm familiar with:
The push-in connector on the right is only listed for 1 cable. Since I want two cables (one line, one load), that's out. The clamp connector is listed for 2 x 12-2 cables, but it's for dry locations. Another issue with the clamp connector is it might be tough to snug up the screws given that I'm reaching deep into a rim joist cavity.
What are my other options for a simple box connector? I don't need to run conduit since I'm running cable from unfinished basement out through rim joist area (as shown in earlier pic).
09-30-20, 06:32 PM
Metal clamp is what I normally use. Plastic clamp will not fit in the thread.
You can cut screws on the clamp short and enlarge hole on the wall larger if needed. Although this clamp is meant for dry location, back of the weatherproof junction box could be considered dry since it goes inside of the wall. Caulking top and sides of the weatherproof box is recommended to keep water out of the wall. Do not caulk bottom so any water that makes behind junction box can drain. Another method is sealing the hole with duct seal. You could caulk the hole as well, but that would make removing very difficult later.

Since there are no sharp edges, I think running cable through without clamp probably is acceptable as long as you staple wires in the wall within 12". I see this often, but not sure if this actually is code compliant.


10-01-20, 06:52 AM
Hi, make the connector up inside and slide it though the hole and spin the box onto it, make the hole a bit larger if needed, or why not install the GFCI receptacle in the basement box and run the load side of it to the outside box, less conductors to work with in that box.

Geo🇺🇸

---
Last edited by Shadeladie; 10-02-20 at

07:46 AM

.
10-01-20, 08:05 AM
why not install the GFCI receptacle in the basement box and run the load side of it to the outside box, less conductors to work with in that box.
Good question. The exterior outlet is ~10ft from the panel, and the location I'd like to mount a basement box/outlet is ~6ft past the exterior outlet, so ~16ft from panel. So I could do what you're suggesting, but I'd be doubling back. Not really a big deal since the distance is so short, but seems a bit odd from a design/aesthetic perspective.
10-04-20, 12:38 PM
Posting Rules
You may not post new threads
You may not post replies
You may not post attachments
You may not edit your posts
---
HTML code is Off
---