How to install GFCI in this situation?
11-29-20, 08:15 AM
How to install GFCI in this situation?
---
I have this exact setup...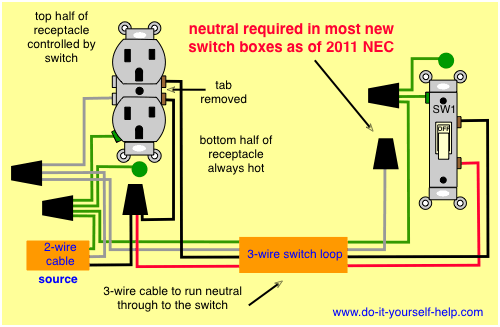 The only difference is that my SW1 is a switch/outlet combo so my neutral is used where the image has a it capped. My setup needs to remain exactly like this in terms of the split/switched outlet. This is in a kitchen, so I would like it GFCI.
I have a GFCI outlet that is a switch/outlet combo that I would like to install in place of SW1, but I cannot figure out any diagrams that are exactly like it and I've looked so much that I'm confused. Can I swap out the regular switch/outlet combo for this:
https://www.homedepot.com/p/Leviton-...-0KW/206000203
If so...how does this get wired so that ALL three outlets are GFCI protected?
11-29-20, 08:29 AM
Unless the split receptacle is in the same box as the GFCI you can't do it without more cable. You can swap out the combo you have but you can not GFCI protect the other receptacle.
You need hot and neutral to feed the GFCI. And then you need two hot (switched and not switched) and neutral to feed the receptacle.
11-29-20, 09:26 AM
I can easily drop another wire down the wall, but I think I'll just leave it alone. I would have to put a double box to accomodate additional wire. There just isnt enough room in a small box with wire nuts and the behemoth GFCI outlets. At this point, I'd rather just drop in a GFCI breaker and call it a day. I like those better than all these goofy GFCI outlets anyway.
---
Last edited by agdodge4x4; 11-29-20 at

09:47 AM

.