Some questions about a ceiling box for a fan
03-24-23, 08:26 AM
Join Date: Mar 2019
Location: USA
Posts: 190
Received 0 Upvotes on 0 Posts
Some questions about a ceiling box for a fan
---
I likely put this in.... 15+ years ago. So I forgot what I put in there. Previously was just a ceiling light. That's likely a ceiling fan box, based on that thing in the middle?
(thinking now, I think the existing wall switch controlled 1 outlet of a 1 gang receptacle. I put the ceiling box in / wired it for the wall switch to work the ceiling light).
I could go in the attic, but there's 2 layers of insulation up there - 1 layer between the joists. And then I laid another layer going the other direction on top of the joists.
Looking through the holes, I see metal through 2 of them which line up with the ones that would have a bar going between joists (so more likely a fan box).
Side note - Maybe in another room or previous house, I remember running if you were wiring for an always hot line AND a switched line. The fan would have the always hot / controlled by the pull chain on the fan. And the switched line would be for the light (so fan can run all the time).
Did you do that also (run a hot AND switched line up there)? Do you do that now?
My memory is bad but I think in the recent past, I looked at a new fan with a remote and couldn't see how to separate electricals for light from fan... and still have the remote working? Or some other issue?
Thank you!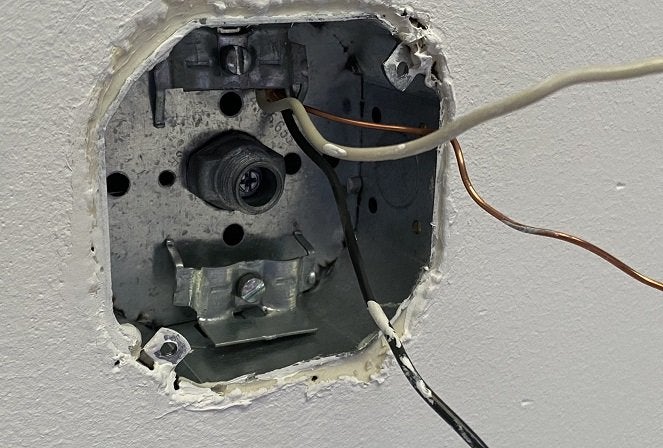 03-24-23, 08:42 AM
Join Date: Jan 2014
Location: USA near Boston, MA
Posts: 2,041
Based on the presence of the center stud the box could be mounted in a joist-to-joist hanger. But I do not know if that satisfies the requirement of a fan box.

Based on the lack of mounting studs inside the box (supporting the fan with screws in the ears is not acceptable) it appears not to be a fan rated box.

And based on only two current carrying wires it is not possible to switch the fan and light separately without a remote or pull-chain switches at the fan.
---
Last edited by 2john02458; 03-24-23 at

08:46 AM

. Reason: Assumes black is switched and white is neutral.
03-24-23, 09:00 AM
Join Date: Mar 2003
Location: NC, USA
Posts: 26,302
Your box looks very similar to this one. A standard electrical box with a bracket to mount it between studs.
03-24-23, 02:31 PM
Join Date: Mar 2019
Location: USA
Posts: 190
Received 0 Upvotes on 0 Posts
THANKS!
Expanding on the other part of my post about always on power - do you run it?
Do you normally put in a fan rated box when putting in a ceiling box in the middle of the room, even if you are going with just a light now? Future proofing it?
And if you put in a fan rated box, do you put in switched AND always on power?
I realized this fan doesn't have a remote. So we'll want always on power for the fan along with the wall switched light power.
I found a junction box up in the attic for an attic light / roof vent. I was going to connect the unswitched power for the ceiling fan to this junction box.
Problem solved....
But realized - that junction box is on a different circuit from the switched ceiling light power
I'm betting someone here is going to tell me there's an electrical code rule that I can't have 2 different circuits going to the same ceiling box? I DO understand that - someone turns off the circuit to the light. Then gets zapped by the power for the fan.]
Right? Not allowed?
There's also a rule about receptacles are supposed to be on different circuits than ceiling lights, right? I guess that's relatively newer than the 50 year old house I have since that's not the case here.
But for newer houses, can the fan and light power be on the same circuit? I guess yes, otherwise you are back to having 2 different circuits in the same box?
03-24-23, 02:37 PM
Join Date: Oct 2012
Location: Jersey
Posts: 62,499
Do you normally put in a fan rated box when putting in a ceiling box in the middle of the room, even if you are going with just a light now? Future proofing it?
And if you put in a fan rated box, do you put in switched AND always on power?
In new custom house construction.... it is customary to install fan rated boxes and to supply a three wire cable from the fan box to the switches. We do this. I consider it customary.
However..... with a tract house.... anything goes.
Most ceiling fans are remote controlled. They require always live power and use the remote for all functions. You can get a second remote and mount it at the door.
Ceiling fans are not usually partially remote and partially switched.
All depends on the remote type.
You can install a ceiling fan that uses two wires and comes with a wall box installed dual dimmer.
It controls the fan thru the two wires present.
03-24-23, 04:43 PM
Join Date: Jan 2014
Location: USA near Boston, MA
Posts: 2,041
AFAIK It is not illegal to have 2 branch circuits in a single box. It is not usually done except for specific uses like for dishwasher and disposer connections. However it can be dangerous. If the two circuits are not on the same phase it introduces 240 volts in the box. Also if not a MWBC the neutrals must be kept separate. If you have 2 circuits in a box you should put a warning note inside or on the back of the cover plate.
03-24-23, 07:17 PM
Join Date: Sep 2002
Location: welland ontario
Posts: 7,932
Based on the flimsy little tabs for mounting that is NOT a fan rated box.
Also the cable coming into the box should show some of the external jacket inside the box.
03-25-23, 05:26 AM
Join Date: Sep 2015
Location: US
Posts: 1,013
One of my very informal rules-of-thumb is that if a supporting flange is attached on one side only (as in the pancake box above), it is not a fan rated box.

The larger the screw, the greater the contact area of screw threads to box threads. My preference is a #10 screw. I also consider the thickness of the box material

314.40(B) says sheet steel boxes of not more than 100 cubic inches must be at least 0.0625" (1/16") thick. Exception 1 says "Listed boxes ... shown to have equivalent strength and characteristics shall be permitted to be made of thinner or other metals." (Ellipsis is mine.)

If the material is 1/16" thick (not listed using Exception 1), a screw with 32 TPI, will only have 2 threads of engagement. Not enough for me to feel safe.