metal 4X4 box 3/4" KO
09-25-23, 08:53 PM
metal 4X4 box 3/4" KO
---
am I the only one who HATES to remove the pre-punched 3/4" KO hole in a metal 4X4 box? I don't mean the regular 3/4" KO hole, but the one that are both 1/2" and 3/4". First you remove the 1/2" tab which is easy, then the 3/4" that is like a curved sliver with two tabs. I have a hard time getting those off from the box. First I have to use a flat head screwdriver and a hammer to pound that sliver at several spots to bend it, then a plier to try and bite into it enough to work it back and forth to break it off. Being that it has two tabs it's always been a struggle to remove it. I tried small, medium, needle nose pliers and none of them work any better. Sometimes I need to open all three holes on one side and by the time I am done I ended up warping the metal on the side by pounding on it so much.
Is there a trick I am not aware of to get these off easier?
Once I was in the attic and had to remove one. I was laying on my side due to low head room, I can't use a hammer to strike the bod against ceiling sheetrock either. I struggled for half an hour, finally gave up and crawled all the way back to the hatch came back down just to deal with getting the KO tab off.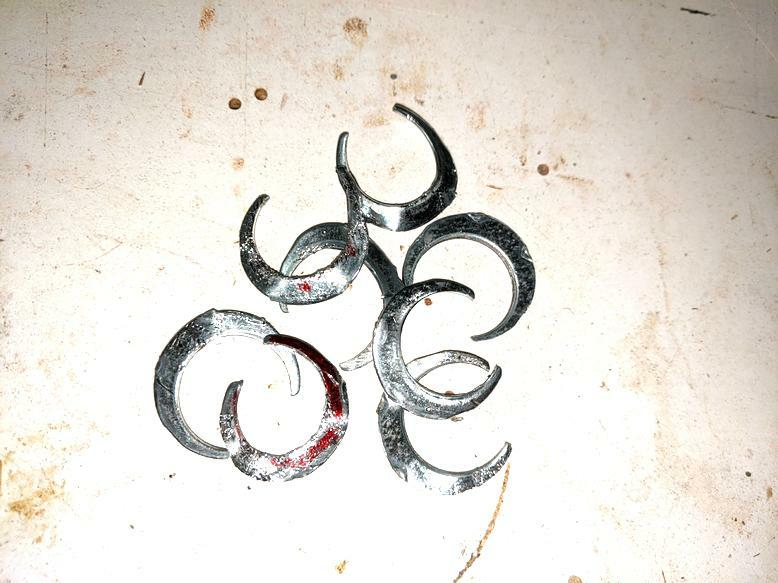 There has to be a better way.
09-25-23, 09:06 PM
Join Date: Dec 2004
Posts: 26,842
After you remove the 1/2" knockout drill the next 3/4" one out with a step bit.
09-25-23, 10:22 PM
But the 3/4 KO holes are not concentric with the 1/2. The step bit will enlarge the 1/2 but it's not going to shave off the 3/4 remant slivers, by doing that the EMT conduit will not align between box holes.
09-26-23, 12:53 AM
This has always been an issue with me. I found that being patient and first knocking out the 1/2" and then grabbing hold of the "sliver" part and gently wiggling it up and down with either long nose or regular lineman's pliers will dislodge it and break free from the tabs. It is a horrible design but then again why should the manufacturer care.

This disturbing design method reminds me of the same type of stupid design on baseboard heaters. The wiring compartment metal removable hatch. Attempting to get that darn screw back in the hole and tighten the screw is hard because the screw hole is drilled/made so that you have to point your screwdriver tip upwards which means the handle of your screwdriver has to be against the darn floor. I always carried a mini philips head screw driver in my sack of tools in case. Urgh!!
09-26-23, 05:47 AM
Join Date: Oct 2015
Location: Ct.,USA
Posts: 3,031
Has anyone tried using a hack saw blade to cut slits radially in the horse shoe to the k/o indentation so you are removing the horse shoe by smaller pieces?
09-26-23, 06:02 AM
Join Date: Dec 2004
Posts: 26,842
Mark center and use a step bit for the entire hole then. It would have to be a cleaner hole with less effort.
09-26-23, 07:52 AM
Join Date: Jan 2003
Posts: 861
Use a Klein 1104 to snip the 3/4" knockout's sliver once the ½" knockout is punched out.
---
Last edited by Kooter; 09-26-23 at

08:15 AM

.
09-26-23, 09:42 AM
Has anyone tried using a hack saw blade to cut slits radially in the horse shoe to the k/o indentation so you are removing the horse shoe by smaller pieces?
Possibly. There are 4 attachment points on that horseshoe, I usually use a hammer to pound and deform the two attachments at the tips of the horseshoe, that leaves two in the back, A plier that grabs at the right angle and tilt sometimes can bend and wiggle it free in a few tries, but more often then not, sometimes I would bend back and forth 20 times because the plier can't grab enough of the material and because it's difficult to bend & pivot with two attachment points. May be a saw blade to cut the thickness part radially so it becomes two halves, each with one attachment point may make it easier to bend,
Some of the masonry boxes use concentric 1/2" and 3/4" KOs instead of a horseshoe for 3/4, I found those easier to remove as the 3/4 removal is a ring with two attachment points on opposite sides of the circle.
09-26-23, 02:14 PM
Join Date: Jan 2003
Posts: 861
Even better than the Klein 1104 would be the Klein D238-8 diagonal, angled snips.
09-26-23, 06:10 PM
Join Date: Nov 2007
Location: United States
Posts: 14,157
I typically grab the "horseshoe" KO with my 9" linesmen pliers, bend it back and forth a few times and they break out.
Granted this is before the box is fastened to the structure.
Perhaps I'll make a video one of these days showing off my technique.
09-28-23, 11:27 AM
Join Date: Sep 2005
Location: USA
Posts: 6,021
Just yesterday I was cursing and thinking back to this thread. I had an already-installed box 4x4 and struggled immensely to pop the 1/2" KO on it. Finally with a hammer and screwdriver, and more force than I thought necessary, I managed to pop both the 1/2" and horseshoe 3/4" KO at the same time.
Now I need a 3/4" push fit cable clamp
Thanks for making me feel less worthless that I was struggling to get a KO out.
09-29-23, 02:04 PM
Wow, removing a combo 1/2"&3/4" KO from an existing box with wires in it is difficult as I imagined it.

I remember one time I need to punch out to the KO on the back of an existing recessed metal box, with the intent to drill a hole from the other side to align with that KO to pass wire through for an exterior receptacle. I tapped on the 1/2" and it folded into the wall cavity, but I needed it to come off completely and fall off. Our came a chisel and pound pound pound on the last connection for a good 3 minutes.