How to remove stripped screws w/tap wrench
11-16-03, 04:03 PM
How to remove stripped screws w/tap wrench
---
Good info in the previous post, but I bought a hand tap wrench with a screw extractor bit to get steel Phillips screws out of a rusted fence hinge.

My question shows my ignorance--how do you use the tap wrench? My problem is that the bit doesn't "grab" the screw head unless I push real hard, but then I don't have any hands left to turn the tap wrench handle. Does the "tap" in tap wrench mean I'm supposed to hit it with a hammer?

The tap wrench and bit packaging doesn't tell how to use it. Obviously, I missed the shop class in high school.

Any help appreciated. I don't have a Dremel or vise grips, but the screws are tight into the hinge so there is no opportunity to grab the screw head.
11-16-03, 08:47 PM
Join Date: Jul 2001
Location: USA
Posts: 15,886
You hold the bit in place...don't have to push really hard, and hit the end of the handle with a hammer. You have to make sure you have it set to go in the right direction. The impact of the hammer will make the dirver turn and it will also push the bit into the head of the screw really hard for that instant. They work well!

EDIT!!!!

After re-reading your post, I am not sure I am on the right track here...not sure of your terminology. What I am talking about is an impact driver/power driver. If you are using something like an easy out that you drill a hole for, you definitely don't want to hit it with a hammer.
---
Last edited by cheese; 11-16-03 at

10:12 PM

.
11-16-03, 08:55 PM
toscana1:

I'm not exactly sure what you have.
Does it look anything like this:

Image credit: sears.com
11-16-03, 09:53 PM
Hello Larry and Welcome to these forums.

I stock and sell over 7,500 different types and sizes of threaded fasteners - but only a dozen or so different tools for removing rusted, broken, or otherwise 'frozen' screws, bolts and studs - so I might know just enough to help a little.

I am, quite frankly a little confused by your term "screw extractor bit" and need a little clarification to best help you, so I'd like to ask you some questions to help get me pointed in the right direction:

Is there a product name or model number on the 'bit or on it's packaging? Is your bit the type in the photo posted by GregH? Is it the type that has a reversed "S" shaped tip? Is it cone shaped with barbed or knurled edges? Does it have a round shank or a hex shaped shank? Is the drive end flat or does it have a square nub?

There are, generally speaking, three basic types of screw extraction tools. All three use left hand or reverse action to unseat the fastener.

The first is a bit that uses an aggressive tip shape to grasp the screw head. The user must apply pressure and turn the bit counterclockwise. These bits are made to fit a variety of tools, both hand and power.

The second is a bit that has barbs, knurles or aggressive reverse threads along it's slight cone shape bit. This tool is designed to fit into a hole that is first drilled into the screw, bolt or fastener. Once firmly and squarely inserted into the hole the user uses a counterclockwise motion to unscrew the fastener. This type has been traditionally called an extractor, and these often have a hex shaped shank that will accomodate an open wrench which if used will offer extra torque; and they also often have a square nub on the end that fits nicely into tap wrenches. A T-handled tap wrench affords the user extra torque, and ratcheting torque wrenches allow fast extractions. These types of extractors require first drilling a hole into the rusted, frozen or broken fastener.

The third type is a tool that requires a hammer. It's a power driver. GregH posted a photo of one in the other thread. Several different size bits can be fitted on the end. Usually one size larger than the frozen screw head size is needed. (If, for example, the frozen screw has a #2 phillips head a #3 phillips tip is usually - but not always - needed). This tools needs to be set for proper direction, counterclockwise in this instance; and on some models the power range needs to be selected, but when struck with a hammer the screw will either begin unthreading or snap.

It *sounds* to me like you have the second type I described above, and I believe you may have to drill a hole before using the set-up you purchased.

To answer one part of your post; tap wrenches are designed to hold taps - tough bits for cutting threads in metals - and do not get their name from being tapped with a hammer.

I hope this info helped a little.
Good luck,
NBK
11-17-03, 06:06 AM
Hey Larry,

1). It would also help to know what materials the gate and post are. For example; is the gate wood or is it an ornamental metal? Is the fence post also wood or is it made of a metal - or are the hinges screwed into a concrete or cinderblock wall?

The reason I'm asking is because although one of the 3 above types may work for removing your screws, some screws driven into metal will 'put up a fight' and not come out. Years of rust and corrosion will actually hold them in place. Some screws used in metal will have fine machine threads and water penetrates. Over time that water turns to rust and that rust bonds the two into one.

Using heat, from a propane torch for example sometimes helps extracting a rusted screw from metal, as will using a fine penetrating oil; but often times screws into metal are best removed with a power drill and twist drill bits. One drills a small hole into the center of the screw head, then switches to a larger sized bit, and then larger again - until the screw head is drilled away. The remaining stub can be chiseled or grinded away.

Screws driven into concrete or cinderblock can also put up a fight and be tough to extract. Some screws for concrete use an anchor - made of either plastic, a fibre or a metal that's shaped like a sleeve - which expands. Plastic and fibre usually allows removal of the screws but some metal anchors get rusted tight to the screws. Drilling the head away may be the only alternative for this type.

There are also screws for concrete and cinderblock that have very aggresive threads and do not need an anchor. These are generically called 'Tapcons' and are available with every of popular drive head - slotted, phillips, torx, etc. Many Tapcons will screw out - but some embed so well into the concrete that they're in there for good and drilling away the head is the only way to seperate the hinge from the fastener.

2). I'd also like to ask you to take a second look at the phillips head screws you have. Are they "regular" phillips head - the type that can be driven home clockwise and removed counterclockwise; or are they "one-way" security phillips heads that can be driven in clockwise but can not, due to their design for security purposes, be removed? Security screws can't be removed by the 1st and 3rd methods I described above. They must be drilled for the 2nd method or the head must be drilled away. A phillips head security screw a first glance looks just like a phillips head, like an 'X' of sorts, but looking closer a security phillips head is cammed so that the screw can not be removed by unauthorized people or theives. Many hinges sold in high crime areas have security 'one-way' screws included in the packaging. (Those hinges are usually also tamper-proof - the hinge pin is welded or otherwise permanent).

It may sound as if I'm trying to beat a dead horse here. Sure, extracting a screw should be easy, and it is - but the more information you give will result in the best advice from me or any number of other participants here.

Good luck,
NBK
11-21-03, 09:50 AM
Then a good suggestion might be to go buy some vice grips. They are not exactly a high dollar investment. Most extractors depend on the fastener being very well supported, typically in a solid metal hole. If you drill out a screw in wood it will often expand when the extractor tries to grab it since the wood provides little support to the hollow shell the screw has become..
11-21-03, 04:14 PM
toscana1:

I wonder how you are making out with your troublesome screw.

NBK has given you some good info which if you heed will lead to success.
11-23-03, 04:26 PM
[IMG]C:\Documents and Settings\Administrator\My Documents\My Pictures\tap wrench.jpg[/IMG]
Thanks for all the replies.
To answer your questions:
- I have tried to attach a photo of the tap wrench. It is a T-handle wrench that was $6 or so. The packaging did not have the name of the tool. It is not an impact or power driver. It looks like the Hanson Model: 12001 in the hardware store at this site.
- The gate and post are both wood
- The bit I bought for the tap wrench seems to be the second type NBK describes. It is 2 3/4" long, with a square shape 1/4" long on one end (that fits in the tap wrench), a round shank about 1 1/4" long, and at the other end has a slightly tapered bit that looks like a barber pole when it turns. The package said #3 screw extractor" and it has "No 3 USA DRLL 5/32" printed on the shank.
- The screw extractor bit I bought ($2) doesn't look anything like the photo GregH posted. The tip itself actually is a pentagon 1/8" wide.
- The screws I am trying to get out are about #12 1 1/2" Phillips common wood screws, silver (not copper). They are not the security type.
- Vise grips won't work because there is nothing to grab. The screws are tight into the beveled holes of the hinge.
11-23-03, 04:34 PM
I'll try to insert the photo as an attachment.

Here's the description:


0-1/4 In T Handle Tap Wrench by Hanson
SKU: 6783583
T-Handle Tap Wrenches For Use With Tap Siz = 0 - 1/4

Retail Value: $6.95
DoItYourself.com Price: $4.89
You Save: $2.06 (30 %)
Normally ships at Freight Saver Rates in 2 to 6 business days from our NJ tranship warehouse.


Designed for use with taps and on many other tools to be turned by hand. Easy adjustment and tightening quick turn. Additional holding jaws are recessed inside hole for gripping onto smaller sized taps. T-handle extends full length in either direction for more leverage. -
Factory: Hanson Model: 12001 UPC Code: 042526120015
Estimated Shipping Weight: 0.24 lbs. includes some packing.
11-23-03, 04:54 PM
toscana1:
Unfortunatly we are unable to attach photos directly.
You can find a location where the pic is already posted or you would have to have a site for you to put the pic and then put the link in a simple code for it to appear here.
Right click the image and select properties and the location will show up .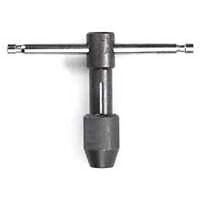 This is more for use in turning a small treading tap.
The bit you have is not the correct one.
The drill 5/32" means you must drill that size hole for it to be able to grip the screw. The screw is not much bigger than that and if you try to drill it that size you would never be able to center the hole. What you have would be for something like a 1/4 " bolt.
A screw extractor will likely not do it for you in this case.
You might try to just pry under the hinge and with luck it might pull out. You could then pound in some wood to renew the hole.