Another air compresser problem
12-14-09, 01:25 PM
Another air compresser problem
---
Well i have a Porter Cable mo#cffn251t pancake compressor that stopped working. I was using the nail gun and when pressure got low the motor kicked in to refill but the motor would not shut itself off so i unplugged it. After the fact i started to smell overheated motor so i figured maybe the motor blew. I let the unit cool down for a couple hours and tried to use it again but the motor wont even come on now, its completely dead.

I opened the unit to have a look around, the fuse inside is fine. Iv looked at the motor for hours and cant seem to find what the problem is. I did read somewhere that some have breakers inside that can trip but had no luck finding one on this unit. Any thoughts, am i missing something here, also is it possible the on off switch can faulty? Sucks cause this unit is a little over a year old and iv become very attached to it lately.
12-14-09, 04:12 PM
look on the motor data plate for the words "thermally protected".

If it does say that, and it most likely does, there are either thermal fuses or a thermal switch inside the motor.

do you have an ohmmeter or continuity tester?

plus, there should be a description of what type of motor this is. post that as well.
12-15-09, 01:18 PM
Thanks for the responses guys, i dont have any of those meters. I look around some more today and still have no idea what it is im looking for. I snapped some pics of the motor, if you guys have any other suggestions feel free to chime in, thanks again.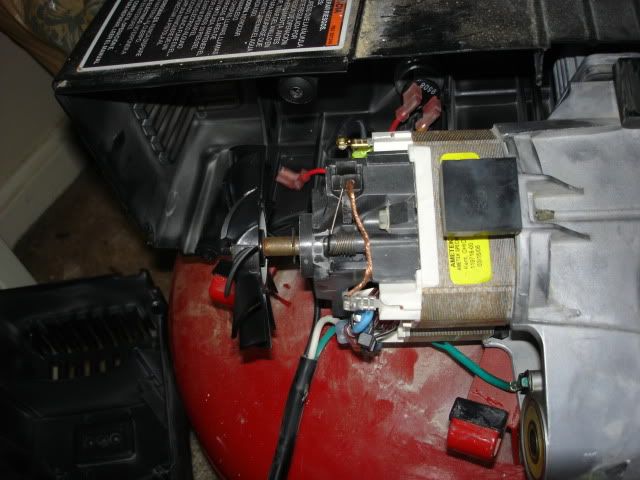 12-19-09, 11:34 PM