Yet another air compressor question
03-18-11, 06:15 AM
Yet another air compressor question
---
So I have a tankless air compressor, and a 10 gallon carry tank from lowes:
Shop Task Force 10-Gallon Air Tank at Lowes.com
The way you put air into the tank is through a tire type valve, and I was wondering if there was any way I could make it to where the compressor is hooked up all the time (like a regular air compressor setup you'd buy from a store) If you need any more information let me know.
03-18-11, 11:04 AM
Join Date: Feb 2001
Location: SW Fla USA
Posts: 12,016
It would be do-able, but I'm not sure it would be very workable from a practical standpoint. If you haven't already made the discovery, it's likely to take quite a while to fill the tank from the little tankless compressor (if you've got what I think you do). I carry a portable tank on my wrecker for doing tires, but I fill it from my big 33 gal compressor (or borrowed air from a garage).
Among other potential problems with your plan would be leakage. I added a ball-valve shutoff valve to my tank for positive shutoff so I don't find an empty tank when I need to air something up and a standard air hose QD for connecting.
03-18-11, 12:42 PM
If you want it to work like a real compressor, you'll need to rig a pressure switch somewhere in there. With only one port to fill and draw air, you're bound to run into logistic problems. Not worth it.
03-18-11, 12:42 PM
03-18-11, 03:21 PM
If your air tank is like mine, it has a limited life spec - mine is already out of date
Those diaphragm air pumps aren't all that spiffy. I was surprised that they claim 100 psi. They're also quite noisy and prone to tear up. IMO you'd be better off saving your money and buying a real air compressor set up - either used or new.
03-19-11, 08:25 AM
As said it would not be practical to do what you suggest.
The parts alone would be a good down payment on a decent new compressor.
In addition to a pressure switch you would need one that had a pressure relief mechanism on it and you would have to install a check valve on the line to the tank.

In addition, your compressor has a duty cycle that would cause it to overheat if you had to run it to keep the tank continually full.
Check your manual and it should say how many minutes it can safely run out of ten.
03-22-11, 08:17 PM
Well, I got it all hooked up and didn't spend any money on it either. So I guess its a win win until I can afford something a lot nicer.

And about the duty cycle, I have no idea, and the manual didn't say. But I guess the on time would be pretty long cause the compressor has sandblasting and paintsprayer attachments and such.
09-23-11, 10:59 AM
been awhile since I updated anything.

Everything works good on the setup. The sand blasting works good. The setup is mounted in the back of my jeep, it's good for airing up the tires after wheeling. I'm going to get a power inverter so I can run the compressor in the jeep without having to be near power.

I still haven't found anything duty cycle wise on this compressor. I haven't found any CFM info on it either. Pretty frustrating...
09-23-11, 12:16 PM
Unfortunately, the Power Pal Compressors have been discontinued by Campbell Hausfeld, so they have taken all information down from the website, and no one else seems to have it either. Evidently, they or their customers were not happy with the nperformance or life of these units. Based on 2 cfm flowrate, it is probably a maximum 3/4 HP compressor. Duty cycle on this type of unit is typically 50% or less. Of course they don't mind if you exceed that, and kill the compressor in a short time. Then you'll have to buy a new one.
11-14-11, 04:29 PM
well the powerpall is still alive. lol. however, got this baby runnin:
my 10 gal tank and plumbing job: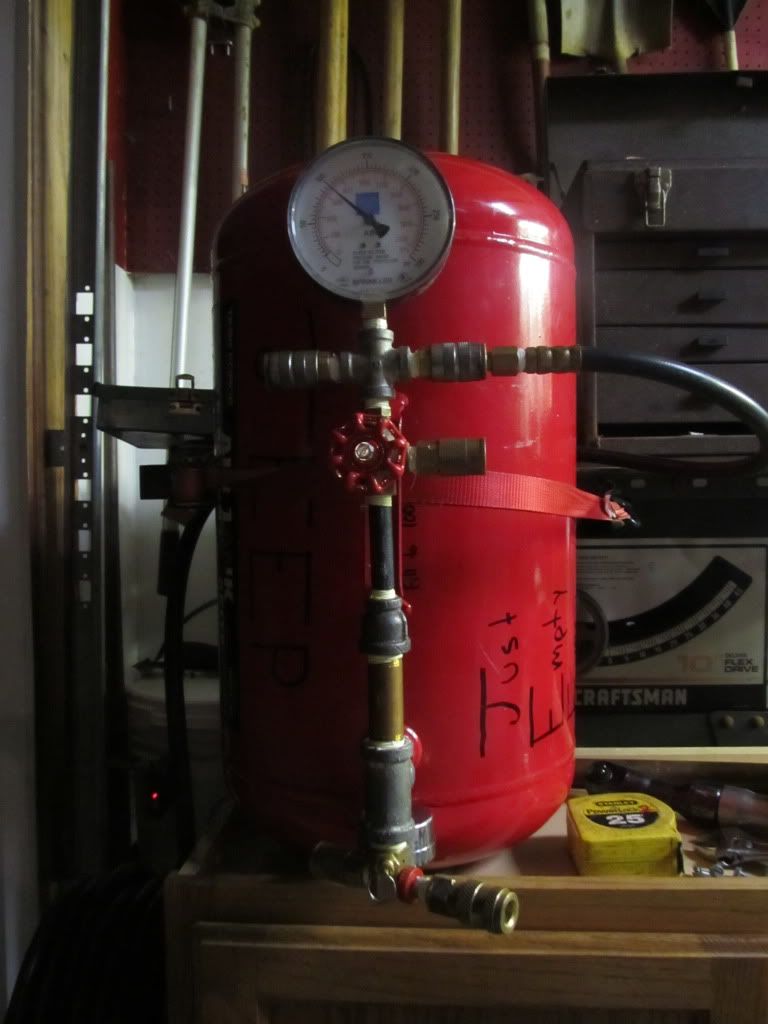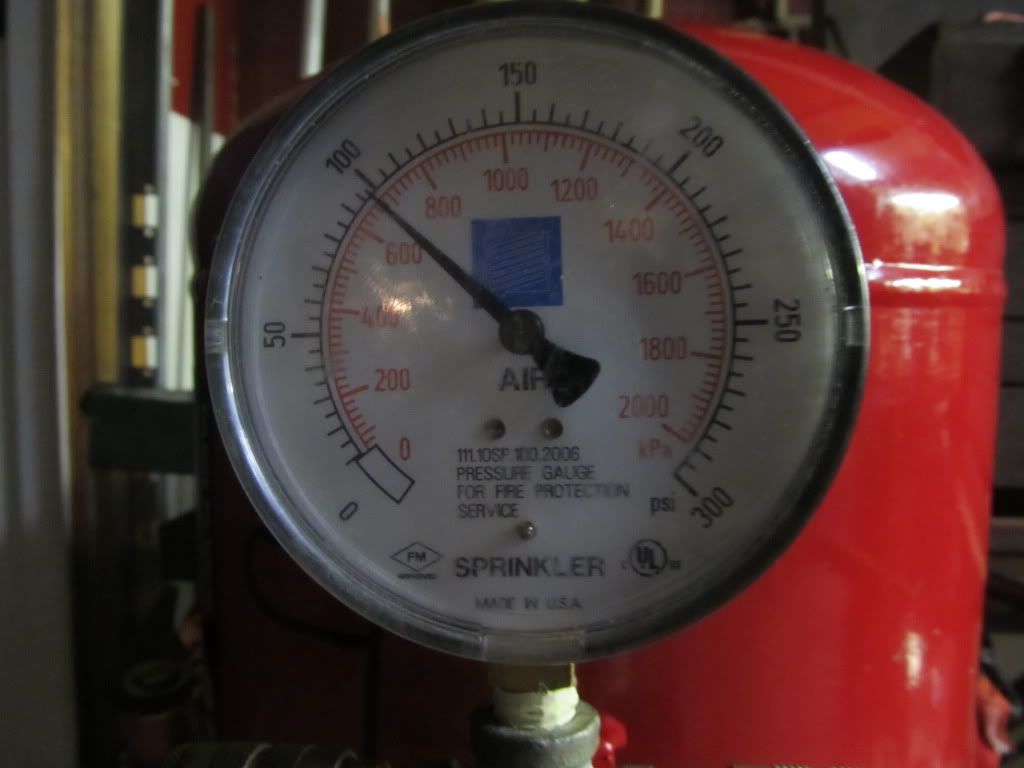 that belt driven compressor pushes 8+ CFM, compared to the powerpal's 2ish. and fills up the tank a LOT faster. gonna get another 10 gallon tank and hook it up to the current one. This setup runs air tools very well, but because of the small tank size, it burns through air quick. Gonna get a pressure switch do I don't have to manually turn on and off the compressor.