Drain valve for Compressor
07-25-11, 12:20 PM
Join Date: Jul 2011
Location: USA
Posts: 2
Likes: 0
Received 0 Likes on 0 Posts
Drain valve for Compressor
---
I recently purchased a used 60gal black max air compressor. The previous owner had a huge (approx. 3.0") galvanized nipple and cap in lieu of a drain valve on the bottom. I bought this thinking it would be an easy fix however i do not know where i can find the fitting that i need nor do i know the proper name for it. I'm hoping someone here can help. Attached is a picture of the piece i'm looking for. Oh and i even found the original owner manual for this compressor and it doesn't call out the part i'm looking for either, only the actual drain valve.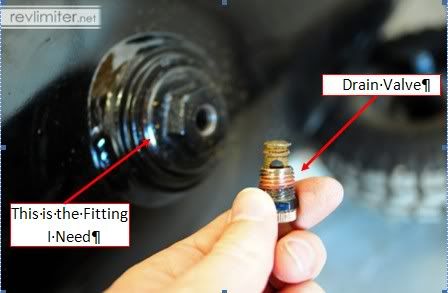 07-25-11, 02:45 PM
Join Date: Mar 2005
Location: USA - N.E.Tn
Posts: 49,336
Welcome to the forums!

I've always heard it called a petcock, similar to the drain on the bottom of your vehicle's radiator. I replaced the one on my big air compressor with an elbow and nipple along with a gas shut off valve - it makes it easier to drain the water off the bottom of the tank.
07-25-11, 03:58 PM
Why do you need that adapter fitting? Is the original cross threaded or somehow ruined?
Ps
I got it, it's missing. Go to a plumbing supply and ask for a pipe reducer fitting. You have to know the NPT size and I doubt they'll have one to take you right from that to the 1/4 or 3/8 NPT drain ****. It could work if you just get a pipe plug in the correct size, then drill and tap it for the drain ****. Good luck.
Pps
I meant "valve", of course
---
Last edited by markiz37; 07-25-11 at

05:20 PM

.
07-28-11, 07:35 AM
Join Date: Jul 2011
Location: USA
Posts: 2
Likes: 0
Received 0 Likes on 0 Posts
Thanks for the help guys. i was able to find some fittings here:
McMaster-Carr
The fitting is referred to as a threaded tank fitting...in this catalog anyway! And 3/8" is the smallest you can get but that should work for me. I plan on adding an elbow, nipple, and shut off valve as suggested. That should make like easier. Thanks again
07-28-11, 11:22 AM