old vice inquiry
05-13-19, 03:57 PM
old vice inquiry
---
I acquired this old rusty Wilton manufactured bench vice which I could probably "unrust" and get restored to reasonably well working condition. I am however unfamiliar with this style/type of vice; it's not the typical type style I usually see mounted to workbenches etc and I am rather unclear about how it mounts and what it's typical use would be as compared to the more "regular" looking vices. Any comments or "ad-vice"
appreciated.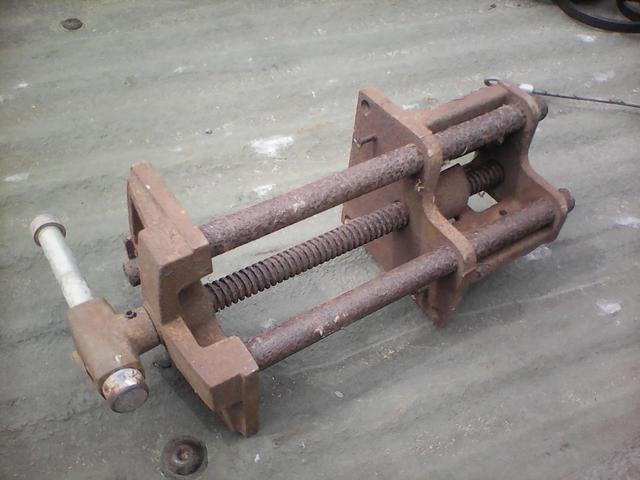 Sponsored Links
05-13-19, 04:14 PM
I'd call that more of clamp as opposed to a vise. Looks like it clamps vertically to bench or table and the top can be screwed down to clamp (glue) two board together or fit together for further machining or work. This as opposed to securing a single board to a vice for working on it. Definitely a specialty type clamp.
05-13-19, 05:57 PM
Join Date: Jan 2013
Location: U.S.A.
Posts: 1,702
Likes Received: 2
I would call it a woodworking vise (not vice; where's Furd when we need him?), or more specifically a corner or miter vise. See the chamfered holes in the back plate? I assume those are for mounting it with flat head screws. The smaller holes with the screws sticking out of them are for fastening the wood surfaces that your material would clamp against, and there is probably another set of those holes that we can't see on the front plate. Nice find. A couple years ago I bought a product at TSC that I was impressed with. You soak something like that in it for however long it says and it returns the metal to original look, then rinse it off. The catch is that you have to paint or oil it ASAP or it will rust right up again. For a more traditional and perhaps less toxic approach, you could try soaking it in kerosene, fuel oil, or something like that overnight and see what it does. If those screws are at all stubborn I would hit them with some PB Blaster or Break-Away.
05-13-19, 07:16 PM
Aka pedro, thank you too for the very helpful reply. I'll definitely heed your "ad-vise"
about the soaking. Appreciate the info!
05-14-19, 04:44 AM
Join Date: Mar 2003
Location: NC, USA
Posts: 19,555
Likes Received: 28
Do some searching on YouTube. There are a number of videos showing how to soak and remove rust specifically when restoring old tools.
Posting Rules
You may not post new threads
You may not post replies
You may not post attachments
You may not edit your posts
---
HTML code is Off
---