Ademco Vista 15 Master Code
04-08-08, 08:30 AM
Join Date: Apr 2008
Posts: 2
Received 0 Votes on 0 Posts
Ademco Vista 15 Master Code
---
Just brought a house and it has an Ademco Vista 15 system in it with the basic two line fixed keypad. The owner gave me a code which I believe is the Master code but I want to change it. Everything in with the system works fine but am having a problem getting into programing mode. I have the installer manual and I followed the directions with powering up and hitting *+# but it didn't same to work. I also tried using the basic installer code 4112 + 800 but that didn't work either. Anybody have any ideas what I should do or try. Thanks!
Sponsored Links
04-08-08, 08:42 PM
To get your IC out of the system (if it's not one of the defaults)

Power the system down by removing battery and AC power. Wait about 1 minute. Repower control. Press * + # to enter programming (feature may be locked out via programming).

Hit # 20. Make note of the 4 digits the panel gives you. Those are your panel's IC.

Hit *99 and NOTHING else, otherwise you can severly compromise your panel's programming.

To reset the code for the Vista 10:

IC, 8, 2, new master.

Vista 15 and 20 (SE)

IC, 8, 02, new master OR
IC, 8, 01, new master

Vista 20P and P series of panels:

IC, 8, 02, new master.



The procedures listed above will NOT work with the 41 series of panels, or anything other than a VISTA panel. One offs, proprietary software versions, or even local programming may have rendered these options unavailable, or you may generate a panic alarm by attempting to enter programming in this method. All PLUS series of Vista panels will need to have the real time clock reset after having all power removed, which may affect test timers, access windows, etc. This feature is not applicable to the larger Vista panels, like the Vista 40 and above.

the IC for those panels is located in data field 00 of those panels.

Default IC's for Ademco can be:

4110, 4111, 4112, 4140, 5140.


Also bear in mind by entering programming in this method, you may void any warranty you have on your equipment, void any monitoring agreement, or can render your hardware non-operational by doing anything other than what was listed.
04-11-08, 07:09 AM
Join Date: Apr 2008
Posts: 2
Received 0 Votes on 0 Posts
Thanks for the help. I have been trying like crazy to get into the programing mode. I tried the dafault codes and I tried a couple times to disconnecting the battery and as soon as I reconnect the power I press * and # at the same time. It doesn't ago into programing mode. all it says is d1. Any ideas what to try next. Thanks
04-11-08, 08:15 AM
d1 means it is initializing, you need to continue to hold *+#, until you see "20 or "installer code".
04-22-08, 09:17 PM
Join Date: Apr 2008
Posts: 5
Received 0 Votes on 0 Posts
I am having the exact same problem, did yours ever work?

When I plug the system in, I get d1 I hold the *# buttons down and nothing, after 50 seconds or so it starts beeping like the alarm is about to go off.

I can't seem to get it to do anything else.

Thanks!
04-23-08, 05:29 AM
That means that someone set the installer lockout. Try powering down the system, have a helper hold * + # _while_ you restore AC power. On _most_ ademco style panels this will bypass installer lockout.

A few installers use the download software to disable _all_ local programming access, if so, the above will not work, and all you can do is either find the company that locked the thing out and have them unlock it, or replace the motherboard.
04-23-08, 06:17 PM
Join Date: Apr 2008
Posts: 5
Received 0 Votes on 0 Posts
ok, here is a little more info....
when i plug in the system, it beeps a couple of times and then d1 comes up... then
I get these on the keypad....btw, can anyone tell me what keypad I have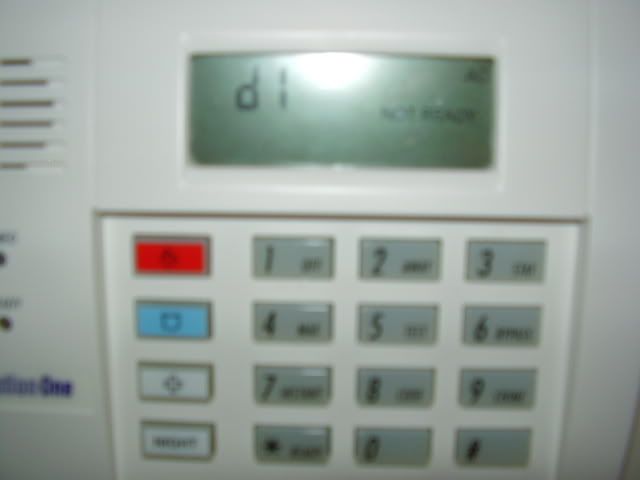 then d0
then 01 FIRE ALARM
then 100 Not Ready
all along it says AC in the upper right hand corner...
any good news?
04-23-08, 07:38 PM
It's a fixed alpha keypad, probably a custom version of the 6150.

All of these indicators are in the install manual. Websearch using the phrase "Vista 15p installer manual".

D1 is the initial power up indicator as the system boots.

DO means Dialer Off -- the dialer is disabled

Check 100 means that the wireless receiver is not being detected, or you have wireless zones assigned in a system that has no wireless receiver.

The fire alarm showing means that somewhere in the house you have a heat or smoke detector that is stuck in alarm. For smokes, look for a solid lit LED, for heats, if the little disk shaped heat sensor on the bottom has been broken off, the device has to be replaced.

The DO is not a good sign, that generally pops up if a system has been shut down using the download software. It's not sticking at D1, so they may have shut off the dialer because of the unrestored fire alarm.
04-23-08, 07:59 PM
That is a Protection One 300P1. If it is wireless, your keypad is a 6150RFpl2. P1 typically does not lock their panels, in fact I've never heard of it. Usually if someone cancels or moves, they send a represenative out to power down the system.
04-23-08, 08:11 PM
Join Date: Apr 2008
Posts: 5
Received 0 Votes on 0 Posts
Ok, some of that makes sense, and I will look up those codes, sorry about that...i am VERY new at this. I dont have a phone line and will not be hooking one up, so I am guessing I wont have an auto dialer.

I should mention this system was taken out of a home and I bought it cheap on ebay...

I have hard wires running to most everything and only need to put a wireless transmitter in 3 places. do I need to somehow reset the system to defaults and enter the transmitters in again?

but that still doesnt solve my problems on how to get to the programming mode... I cant get past those screens mentioned below!




I really appreciate all of your help!
04-24-08, 05:37 AM
Ah, there's the information we should have started with...

If this panel came to you used, before you connected anything, you should have defaulted the panel.

If may be sticking because if you have contacts on the zone 1 input, it's default configuration is for smoke detectors, so you are booting the thing into a fire alarm condition. Once in alarm, you cannot access programming.

Take the contacts off of zone 1 and put a 2k resistor in their place. Then try seeing if you can get into programming.

If that doesn't work, I would suggest seeking your money back. Used security hardware is often not the bargain it seems to be. I have seen too many cases of people selling off systems that are locked out, missing critical documentation, or just plain damaged.
04-24-08, 07:32 AM
Join Date: Apr 2008
Posts: 5
Received 0 Votes on 0 Posts
I got the system for 50 bucks, so I figure at least the 2 key pads and 3 wireless sensors are worth that. What you just said makes perfect sense, I will go home and undo the wired portions in position 1. When I go back to wire the hardwire areas, what positions should I put them in? Thanks again...
04-24-08, 08:32 AM
You can use Zone 1, with a 2k resistor, but you need to change the programming. Without an alpha keypad, you may have some trouble.
04-24-08, 09:46 AM
Join Date: Apr 2008
Posts: 5
Received 0 Votes on 0 Posts
so i need to put the resistor in there with the wires for my hardwired zones?
I will snap a picture tonight of my what I have and post it...
I will buy you guys beer if this thing gets to working!
04-24-08, 11:26 AM
Yes, zone 1 MUST have a 2k resistor in series on the circuit. Good luck.
Posting Rules
You may not post new threads
You may not post replies
You may not post attachments
You may not edit your posts
---
HTML code is Off
---