Beeping DSC Power 632 Security System
11-17-15, 06:54 PM
Join Date: Nov 2015
Location: USA
Posts: 1
Received 0 Votes on 0 Posts
Beeping DSC Power 632 Security System
---
We have a Ranger American Security System which is not monitored but has a local alarm. The Model number is PC1555MX. It has been beeping every 10 seconds or so for 3-4days. IT's driving me crazy and I can't turn it off. The system is about 11 years old and we have had the battery replaced once about 5 years ago. I am not sure it is the battery, but if it were, I don't know how to safely replace it without causing a short that might wreck the mother board. Anyone know how to fix this? Please!
Sponsored Links
11-17-15, 08:20 PM
Join Date: Jun 2000
Location: Gainesville, FL, USA
Posts: 16,234
Typical battery life is 3-5 years, so you are probably due. Press *2 and compare the results to the chart on page 9 of the installer manual:
http://cms.dsc.com/download2.php?t=1&id=13789
If it's low battery you simply get a new battery from someplace like Batteries + or Battery Source, and unplug the wires on the existing battery and swap the new battery in. The wires are color coded, so it's hard to screw up. If the trouble is battery, it will clear within 24-48 hours.
12-07-15, 01:38 PM
My alarm was beeping like yours (every 10 seconds or so) for about 1 month.
Then suddenly it stopped beeping and I can't arm it anymore. I only get an error code "4: which is " panel has failed to cummunicate with the central station". Which is normal because I`m not connected to the central.
12-07-15, 03:09 PM
Join Date: Jun 2000
Location: Gainesville, FL, USA
Posts: 16,234
Failure to communicate won't stop you from arming. If you aren't getting a ready light, then you have an open zone.

If the zone 4 light is on steady _without_ you pressing *2, then whatever is connected to zone 4 is open.
12-09-15, 06:25 AM
Ok, tks a lot for confirming what I thought about arming possible even when you are not connected to the central.
No, I only get zone four, after I press *2.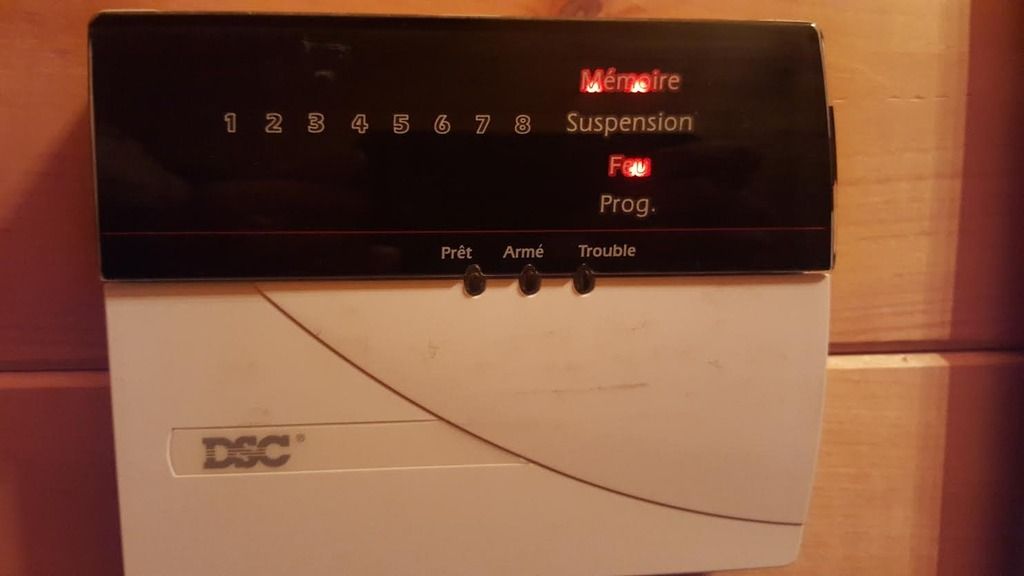 Posting Rules
You may not post new threads
You may not post replies
You may not post attachments
You may not edit your posts
---
HTML code is Off
---