Security camera system advice needed
04-26-17, 03:00 PM
Security camera system advice needed
---
I would like to install a security system with cameras. Here are my requirements.
(1) To be able to monitor my home's inside and outside, all together six spots I have identified I would like to mount cameras on. Two inside ceiling locations and four outside eave mount locations. To be able to see what the cameras see from my mobile phone anywhere.
(2) Have some sort of motion sensing capability whereby when there is motion, I can be alerted by text or email so I can see from the phone if there is an intrusion.
(3) Recording capabilities activated by the motion sensing so I can go back to review prior activities.
Based on these requirements, is that enough to narrow down what system and devices I would need?
Now, to make matters a bit more complicated, apparently the previous owner has installed security cameras in this house previously. I found four sets of cables in the attic, running from a central location to the four corners of the house, with the cables terminated either in a junction box mounted under the eave, or just dangling out of the hole in the soffit, like this: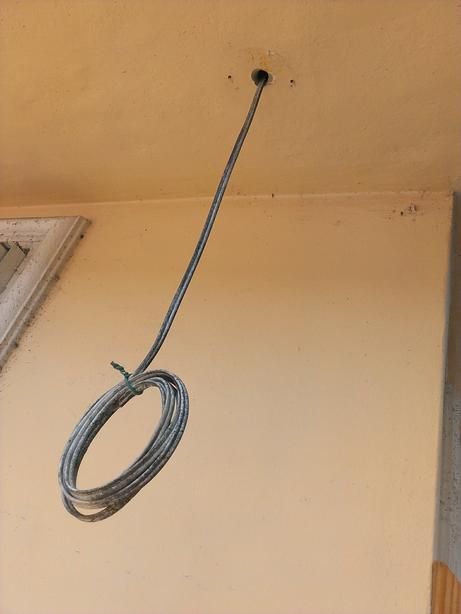 I used a tone tracer and was able to confirm which cable goes where and there is indeed continuity from these outside cable to the attic with a lot of slack. These cables are marked "E254600 (UL) Surveillance Camera Cable 20AWG RG59/ 18AWG) I believe they are called "Siamese" Cables? So the next question would be with those cables already in place running to the corners of the house, will I be able to take advantage of these existing wiring for my new system.
To make it even more complicated, four of the three corners have existing security cameras connected. I have no idea if they work or not. I have removed two of them because I need to repair rotted rafter tails at those locations. These cameras are made by JVC and it appears that they are old discontinued devices. JVC MODEL TK-C215VP4U and it says "WITH HEATER" which I am not sure what that means. Is there a heater inside these things? So the next question is whether these cameras are useful for what I need to do?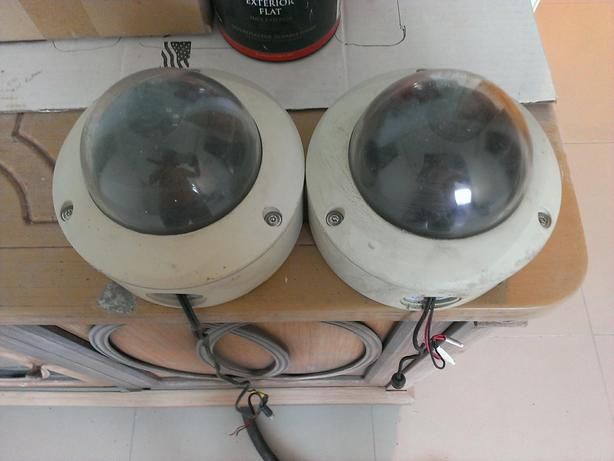 Finally, once I figure out what I need for my requirements, I need to see if the existing four sets of Siamese cable wiring and three cameras can be used or do I need to do everything new.
Thoughts?
Sponsored Links
04-26-17, 03:30 PM
Join Date: Oct 2012
Location: Northern NJ - USA
Posts: 57,678
Just some quick things off the top of my head.

Those are RG-59 composite video coaxes with 2x#18 power wiring. Re-usable.

Most outside dome cameras have some type of heater in them to keep the dome from condensing.

I will not usually install cameras inside a customers home if the recorder has network access. You don't want your private affairs on the internet if there is a security breach.

Many people grow quickly weary of motion detection sending an email as ANY motion will cause an email to be sent.

Those cameras can be tested with a 12-18VDC power supply and a TV with AUX input.
04-26-17, 04:06 PM
Hmm, From what it looks like you may want to just purchase a new system I believe it will actually be cheaper depending on who you go to. I'd go with either SimpliSafe or LiveWatch to use Alarm.com's products. SimpliSafe has some flaws in the system so I switched away from them(Said they are fixing it but I wasn't going to wait forever), but I believe they are mostly tied to door and window sensors. Livewatch has been great, I got a whole system with cameras for a $100 then when I activated the system I got a $100 amazon gift card so it's basically jsut the monitoring I paid for. Highly recommend them, if you're feeling nice you should DM me and I'll give you my refferal code, it gives me two free months as well as you, I think
04-26-17, 04:44 PM
Those JVC cameras, if functional, are decent quality units. The heater is to keep the dome from fogging or icing, and protect the camera itself from freezing temps (needful if it's a colder climate).
http://pro.jvc.com/Pro/attributes/CC...215vpu_all.pdf
Having the hardwire infrastructure already in place is a huge savings, both in time and money.
Any decent brand DVR will do most of what you want. I'm personally fond of the Everfocus brand for less expensive budgets.
EverFocus Electronics Corporation
11-05-17, 06:07 PM
Do you want to install a wired or wireless security system? It looks like you need to install a new system.
If you don't want to deal with the wired cables, you can consider a new wireless security system which may be cheaper and easy to set up. Those
wireless security cameras
have motion detection function and allow you to monitor your home with an app on your smart phone.
Posting Rules
You may not post new threads
You may not post replies
You may not post attachments
You may not edit your posts
---
HTML code is Off
---