Painting over satin with flat on aluminum siding? Help.....
04-15-10, 06:20 PM
Painting over satin with flat on aluminum siding? Help.....
---
I bought two gallons of Duration exterior paint from our local paint store not the big box store. I asked for flat and for some reason and I never noticed the guy mixed one flat and one satin. I am sure if I rant to the guy they might refund but hey mistakes happen.

I started to paint my aluminum siding on our house this past week and did the back of the house with the flat and it came out great. Tonight I proceeded to start to use the other can (satin) on the side of the house and noticed as the sun was low in the sky that when I walked to one side of the house I could see it was drying slicker than the back. I could also see roll marks and non slick areas looked dreadful. I then looked at the can and seen it was satin paint.

One way or another I know I'm going to have to do this over with another coat and am dreading if I go satin again I won't be able to get it to lay right. I am rolling it from the ground using a 24' extension poll. Mind you the highest point is only about 16' so it's not fully extended. I am rolling up and down left to right as I don't have access to scaffolding and such.

My ultimate question is this. I did use emulsa bond on the first coat and wonder if I got back to the paint store, could I get away with rolling one more coat over this but with flat as planned? Will it cover evenly? I honestly hate to do satin again as I stated I fear with going up and down left to right I won't be able to keep it wet enough to get the flow to blend right. Plus the sheen you can see every issue such as a small dent and such. I am lucky as the house is 36 years old and the siding is in near perfect condition.

Any suggestions. I will laugh it off with the paint store but I'm sure they will discount the next can seeing how they goofed but I did to and didn't notice as well. Shame on me too! LOL.

Any ideas????

Thanks for your replies.
04-16-10, 04:14 AM
There shouldn't be any problems using flat over satin and yes, flat it a little more forgiving than flat. You won't need to add any emulsa bond this time. It will cover evenly. My only concern is the fact that since duration is a fairly heavy paint, there might be physical ridges in the 1st coat of paint that another coat won't completely hide.
04-17-10, 03:20 AM
Worked perfectly and I thank you for your reply. I rolled the side with the satin yesterday and you can't see a single spot where I stopped and started.

I will post before and after once I'm done the whole house!
04-17-10, 05:09 AM
flat is a little more forgiving than satin
I guess my typing fingers weren't hooked up to my brain yesterday
04-17-10, 02:57 PM
LOL I knew what ya meant.
None the less the house is done and I am BEAT!
Below are some photos of the house before and after. Keep in mind the house was a nasty green which could be hard to see in the before photos especially on the side shot as the sun washed the photo out a bit.
Before:
Front of house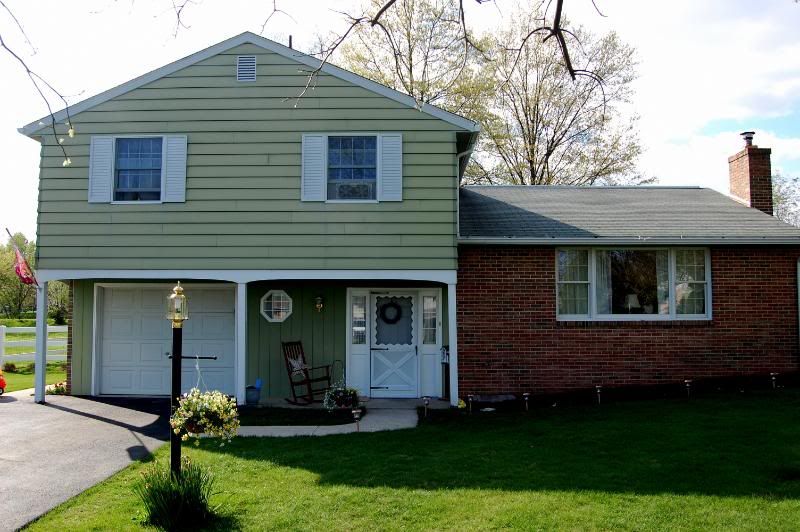 Left side of the house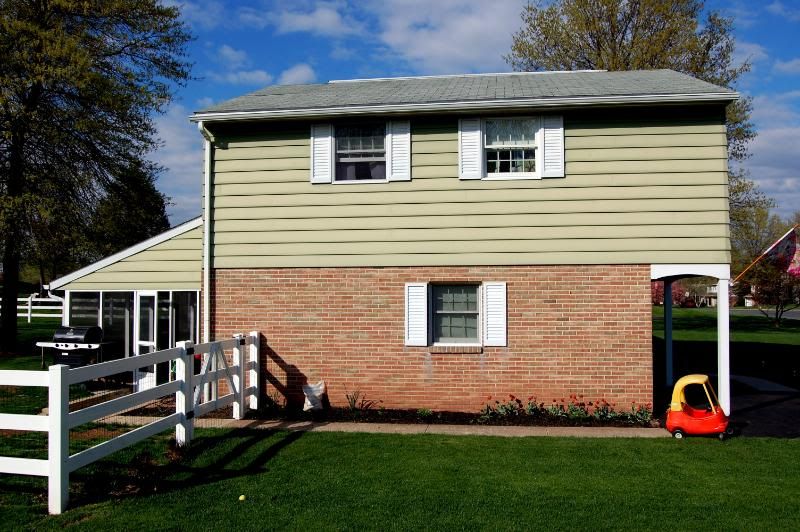 After paint, went with a grey on the siding with pewter green for the shutters. Our brick's have a tinge of green in them so we wanted to try to match off of them.
Front of house.
Side of house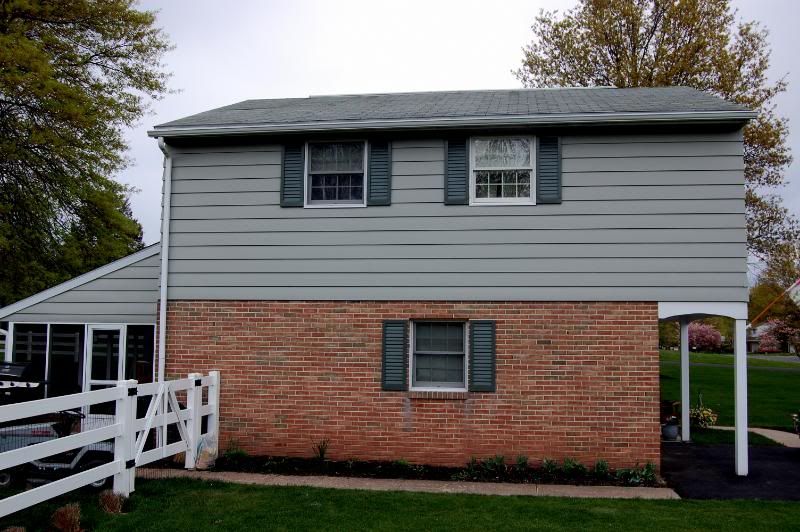 Corner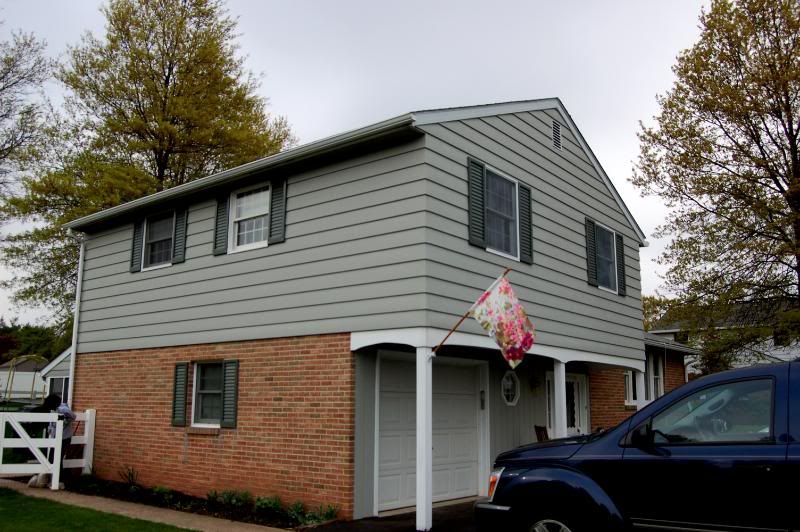 I rolled the entire house from the ground without scaffold or a ladder. I used a 24' extension pole and man I tell you what, my arms are beat. I also used a mini 6" roller so I was able to get under the edge of the siding pretty good without touch up.
Comments? I saved $3100 doing it myself as a local painting company wanted $3,300 to do the job. Paint and supplies cost me $200 from Sherwin Williams. Best $200 I have ever spent and saved a ton......The wife is happy and we all know that is all that matters.
All the neighbors stopped by today and said how much better it looks. I was pleased. To the victor goes the spoils!
04-18-10, 03:47 AM
Looks good
While I don't recall ever rolling any siding I'm real familiar with roller poles. You ought to try rolling a tall masonry wall with a 16' pole, standing on a scaffold, bucket on the ground with a 1.5" roller cover dripping with paint
Not only did you save 3k, you have the bragging rites that some will call priceless
A customer once told me there were 2 types of 'sweat equity' - diy or sweating on the job to make enough money to pay the pro