Fascia wood rot - how best to replace or repair?
01-10-12, 06:23 PM
Fascia wood rot - how best to replace or repair?
---
I have a flat roof section and it has 5 layers of 1x6 fascia wood, numbered on the pictures as 1, 2, 3, 4 from top to bottom respectively.
The very top fascia (not numbered) is mostly hidden by the drip edge of the roof.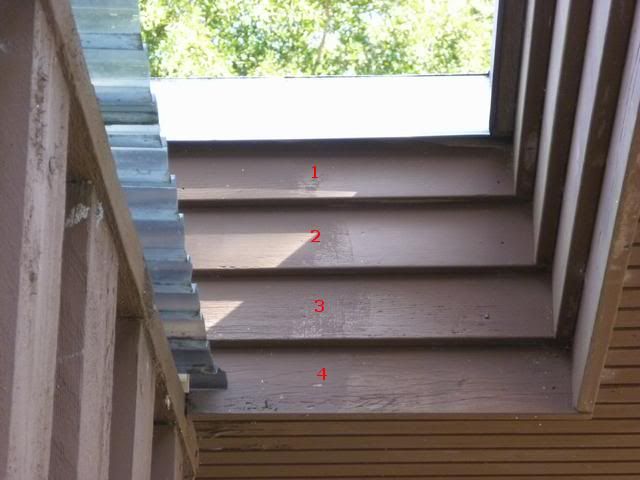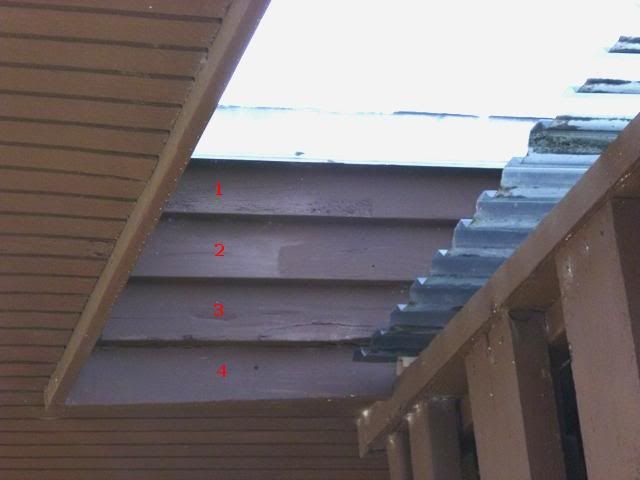 Due to the direction the rain hits and the intersection wood structure, the fascia number 3 and 4 have rotted, it has rotted so badly it feels spongy if I apply pressure with my fingers.
However, I am not sure how best to remove this piece of fascia. The way it is nailed, I can't remove fascia 3 without removing fascia 2, and can't remove fascia 2 unless I remove fascia 1, and can't remove fascia 1 unless I remove the top fascia which will not come out unless I completely pry out the drip edge of the roof.
Anyone has any creative way to make the repair without removing everything?
Can I use a circular saw sideways to cut fascia 3 flushed with the bottom of fascia 2 and go from there? Although I feel a bit nervous using a circular saw hang down from the roof holding it sideways, not to mention probably the saw will have some bulky parts that get in the way so flush cut is not possible.
Thanks in advance for any comments.
---
Last edited by MiamiCuse; 01-10-12 at

07:53 PM

.
01-10-12, 07:29 PM
I would use the skilsaw to cut fascia #3 horizontally, but there is no reason to try to go perfectly flush with the bottom of fascia #2 because you don't want to booger it up. Even cutting 1 1/2" below the bottom of #2 would be fine, IMO.

Once the lower portion of fascia #3 has been removed, you will be able to pry behind it with a wonder bar to loosen both pieces on the nails so that you can insert a sawzall blade behind fascia #2 and cut the nails (both in front of and behind) that are holding the remaining portion of fascia #3 that is still behind fascia #2.

Once you cut the nails in front and in back with the sawzall blade, that piece will probably just fall out, and you can go about replacing it.
01-11-12, 05:44 AM
Join Date: Mar 2003
Location: NC, USA
Posts: 27,617
A reciprocating saw (Sawzall) might also be helpful. Just pry a little gap smomewhere and shove a long, fine toothed blade up into the gap between the boards and cut the nails holding the boards together. The long blades are quite flexible and can make the bend to get up in there while the saw is at a angle on the outside. It'll screw-up the paint and maybe chew some wood if you are not careful so make sure you mess up the boar you need to replace.