Repainting exterior wood trim that's in poor shape
04-17-13, 03:38 PM
Repainting exterior wood trim that's in poor shape
---
I bought this frame stucco house 3 summers ago, and when I bought it the trim/posts/carport/fascia plates were starting to look like they needed repainting. It's been one thing or another, and I've been either short on time or short on cash to complete the trim repaint. It's finally gotten pretty bad, and needs to be done.

There's a carport and 2 small patios with 4x4 vertical posts, and all the posts are taking the beating especially hard. Most of these posts have cracks running the length of the post, and a multitude of smaller cracks where the paint is peeling up. I suspect that the previous paint-job was not a good one to start with, based on how the paint underneath the carport was peeling and flaking 3 summers ago.

What kind of work do I need to do to the wood trim before repainting? Will caulking the cracks be sufficient? Can I get away with just scraping the rest of the surfaces, or do I need to go through and sand everything down? What kind of primer will work best?

I live in Tucson, Arizona. The heat through most of the year can get extreme. We also have a monsoon season late in the summer, where the wind blows hard and the rain falls sideways. We don't have a very cold winter, the lowest it goes is like 20 degrees F, and that's rare.

Thanks for your help!
04-17-13, 04:09 PM
Welcome to the forums.

Oil based primer and a couple coats of latex paint are what I use on the wood trim around my house. For spots needing wood work, I use wood putty to build it up and the put the primer and paint on top of that.
04-18-13, 03:26 AM
Caulking the cracks might be good enough. It's a little hard to say without seeing what you see. You can post pics if you want -
http://www.doityourself.com/forum/el...-pictures.html
If the existing paint is chalky, you'll need to clean it. Same goes if there is any mildew [not sure if that's an issue where you live] Scraping is usually sufficient although some like to sand to get rid of the transition from peeled paint to sound paint. As always, you'll find better coatings [advice too] at your local paint store - not a paint dept in a bigger store.
04-18-13, 04:30 PM
Thank you both for your input. I'll include some photos, and if you wouldn't mind I'd sure appreciate your opinions on whether I should be caulking or wood puttying these cracks. Now, I haven't scraped anything yet so there's quite a bit of paint that'll come off yet, obviously I won't caulk or putty without prepping the surface first.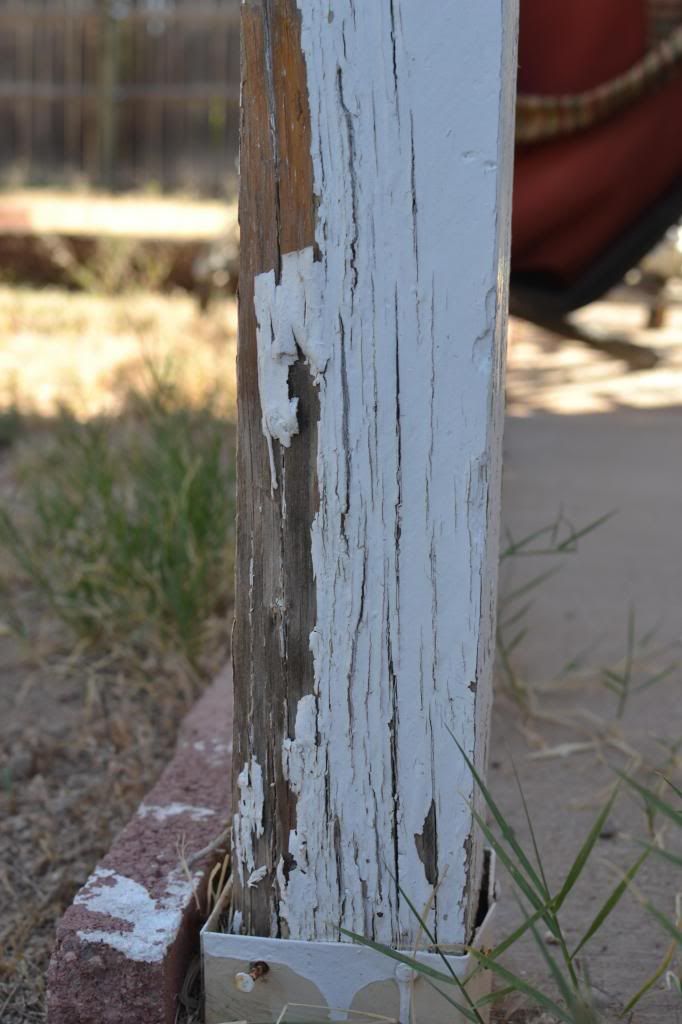 Mildew isn't an issue, or at least it doesn't seem to be for my home. It's so dry here, it typically is only a problem inside.
---
Last edited by McTucson; 04-18-13 at

04:35 PM

. Reason: updated photos
04-19-13, 03:27 AM
I think I'd just caulk the worst of the cracks. Force the caulk into the crack and wipe off the excess with a damp rag. Coating the wood with a wood filler would look better but I'd be concerned that after awhile the filler would pop off here and there making it look worse.
Do you know if the current paint is oil base or latex?
http://www.doityourself.com/forum/pa...latex-oil.html
Latex paint generally holds up better in the sun. It's ok to apply latex over weathered oil base paint but if the paint [latex or oil] is chalky, the chalk needs to be washed off! When that isn't feasible the chalky areas need to either be primed with an exterior oil base wood primer or have Flood's EmulsaBond added to the 1st coat of latex [primer or paint] Obviously this won't be an issue anywhere all the paint has peeled or been scraped off.
04-19-13, 09:30 PM
Thanks Mark. The existing paint is definitely latex. I will scrape and sand the really bad areas, then caulk the cracks. I think the latex is new enough to not be chalky, at least none of the areas I've examined closely are chalky. That's the sad part, is that I don't think the paint job is that old, just done badly. Not surprising, since the people we bought the house from did several really stupid things. Appreciate your time and advice.
04-20-13, 04:49 AM
The peeling looked like the way oil normally peels but it's easier to tell in person than thru a pic
The older a paint job is the more apt it is to be chalky. Just to be clear, chalk is the residue that will be on your fingers if you wipe them across the paint..... and latex paint doesn't adhere well to chalk. As I'm sure you know, getting the prep right goes a long way towards getting a lasting paint job.
04-29-13, 07:00 PM
First big mistake they made was trying to paint pressure treated wood.
It should have been a soild stain instead.
If it was mine I would wrap it with vinyl post wraps and never to deal with it again.

It still can be sanded and recoated with Deck scapes soild stain by Sherwin Williams, Or Cabots soild stain for siding and fences.
04-30-13, 10:21 AM
I don't think painting pressure treated wood is a bad idea, the oil based primer underneath just becomes more important and it adds the step that you have to wait for it to dry after installation before painting it the first time.

I wouldn't paint a deck but the trim around my garage doors is painted.
04-30-13, 01:34 PM
The biggest concern with painting or staining PT wood is how wet/dry it is. If you seal the PT wood before it dries out from the PT process, the moisture has no place to escape.... unless it can pop thru the coating which usually removes it in the process. The main reason for using an oil base primer is to keep any of the chemicals in the wood from discoloring the finish paint - not always an issue.

I've had paint hold up well on standing PT wood but it's never advisable on a deck or any other surface that can hold water for any amount of time.