Coil Nailer question
03-05-14, 12:46 PM
Coil Nailer question
---
I have a bostitch N66c that I use for general purpose nailing (fences, siding, etc.)
I was using it the other day on a fence and a part in the tip/nose broke. I can find parts online, but the diagram is confusing me. Can anyone help me figure out which part I need to order to replace the broken part?
I am fairly handy, is this something that I can tackle myself?
Here are a couple of pictures of the damage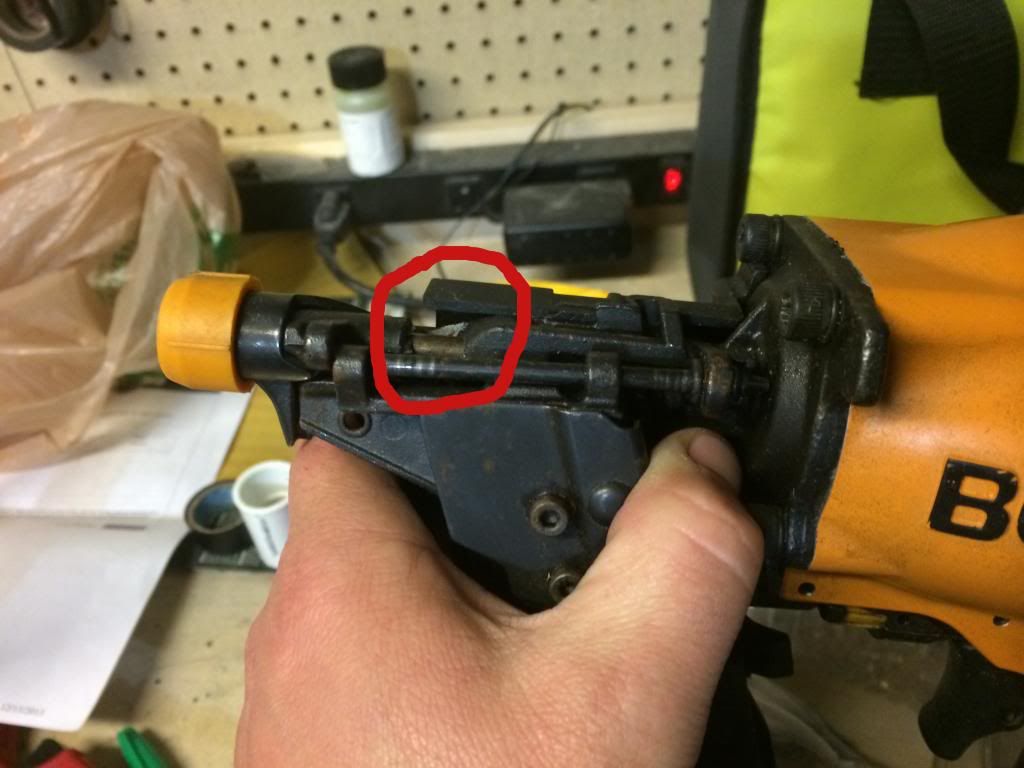 Here is a link to the parts and a diagram. I am just not sure what to order.
Bostitch N66C Parts List and Diagram : eReplacementParts.com
03-05-14, 03:49 PM
I think I have that nailer, but it is out in the tool shed with a lot of ice inbetween. I can venture out tomorrow and retrieve it and see if that helps me identify the part. Does fig #52 (nose) look like it?

Bud
03-05-14, 04:37 PM
Are you sure that the thing you have circled is not the driver... and that it's not stuck in the "down" position with part of a nail jamming (wedging) it inside the gun? If so, you just need to tap the driver (and piston) back up into the cylinder.

I have a Makita siding gun that will do that from time to time.
03-05-14, 06:02 PM
The metal piece that houses the driver is actually broken completely in half. My pictures are tough to distinguish but you can see it if you look at the first picture.

This is the second time it's happened. I'm not sure if I and ping something wrong or if I just have a lemon.
03-05-14, 06:21 PM
Sheesh. So that's part #52... $150??? Looks like that part is on back order so I would guess that a lot of them are breaking... more than just yours. It probably is a lemon.

Toolpartsdirect can order it for $133.78.

Acetoolrepair can order it for $115.77.
03-06-14, 08:16 AM
Dang, I was hoping the part would be cheaper. Are you pretty certain that's the part I need?

I'm wondering if its even worth fixing now, or if I should just go ahead and get a new nailer. Like I said, this is the 2nd time within a year that this has happened. The nailer has probably only had 10,000 nails shot through it ever.

If I need to get a new one, does anyone have a suggestion as to which brand is best? I am gunshy of bostitch now, even though this one was very highly reviewed when I bought it.
03-06-14, 03:08 PM
I have the Makita and love it. Hitachi is a good gun.
03-06-14, 03:19 PM
No, mine is an N 80 slightly different, but it does look like that is the part. With your history and the nailer being in reasonable shape I would fire off a letter to the company and say it should not have failed twice in this short of a time. All companies have the option to give a good will adjustment and especially if you sound like you are and want to remain a loyal customer to Bostitch.

If that fails, research your state implied warranties. All products are supposed to perform as they were intended and it sounds like yours has not.

Worth a few emails and I have seen results from addressing issues like this to people who are concerned about the company image, the PR people.

Good Luck
Bud
03-08-14, 05:24 AM
I spoke with the people at bostitch and they have sent me a ups label so I can send my nailer to their head technician. I'm not sure what they plan on doing, but I'll keep you posted.
03-08-14, 06:24 AM
Maybe a bent driver is causing it to break. A little odd that it's happened twice.
03-08-14, 01:34 PM
Having worked in mfg and sales I have a different take of warranty work. If a company is getting buried with complaints, then management gets together and decides how to stall and defer all related repair issues, because fixing them would be extremely expensive, you know, the bottom line. If however, complaints are few or the company has a strong desire to treat their customers fairly, regardless, then they will fix a product like yours and consider it a good investment in public relations. And it will work, assuming it doesn't break again.

The real bottom line is, you never really know how good a company and its product are until you have a problem. Now you will find out.

Luck
Bud