Repair stucco on top of wall
10-19-14, 03:18 PM
Repair stucco on top of wall
---
Hi,
I want to repair the holes in stucco on top of the wall shown in photos. The main goal is to protect interior of the wall from rain. The entire top of wall, except for the very edges, is soft and flexes easily. I guess stucco deteriorated over the years from rain water because there was no waterproof solid backing to begin with. What is the easiest way to fix this? Can I just throw some new concrete on there using the deteriorating mesh and stucco as backing? Two possible problems I see with this are (a) No moisture barrier; and (b) A thin layer of concrete would not be very strong.
I don't see (a) as a big problem. I just don't want water to actually be pouring in there and getting into electrical conduit going to the light fixture.
Regarding (b), I could put some steel rods across the width of the wall for reinforcement. Not sure if that would be enough if someone stands on it. Usually only cats walk up there.
What do you think? Thanks!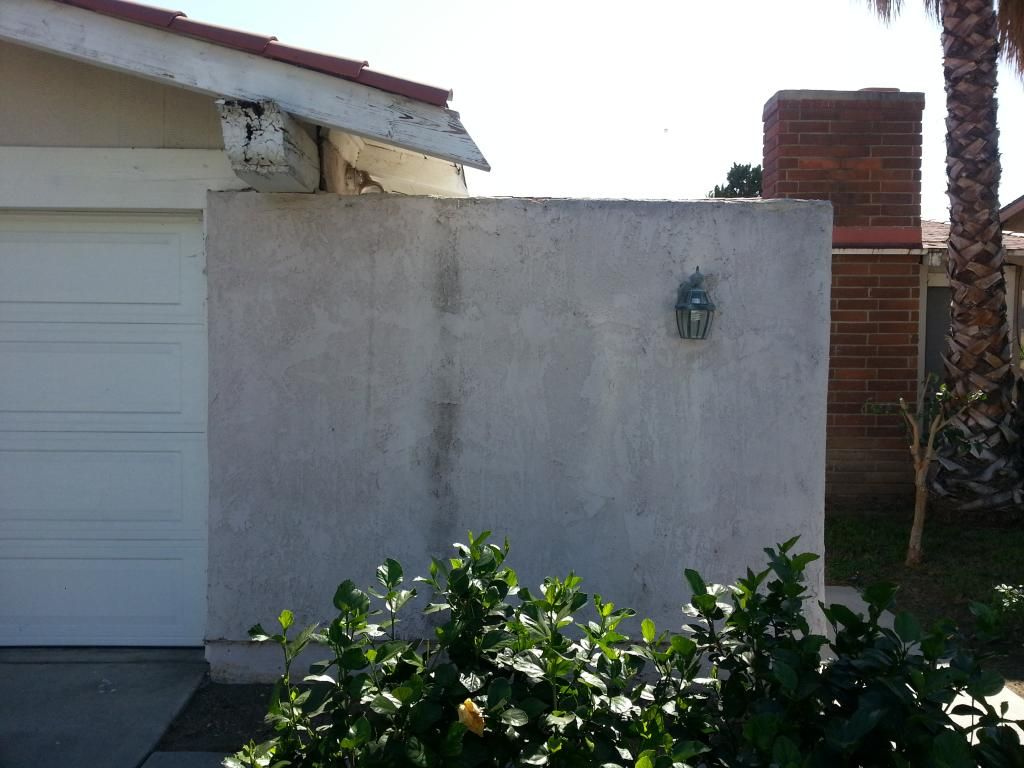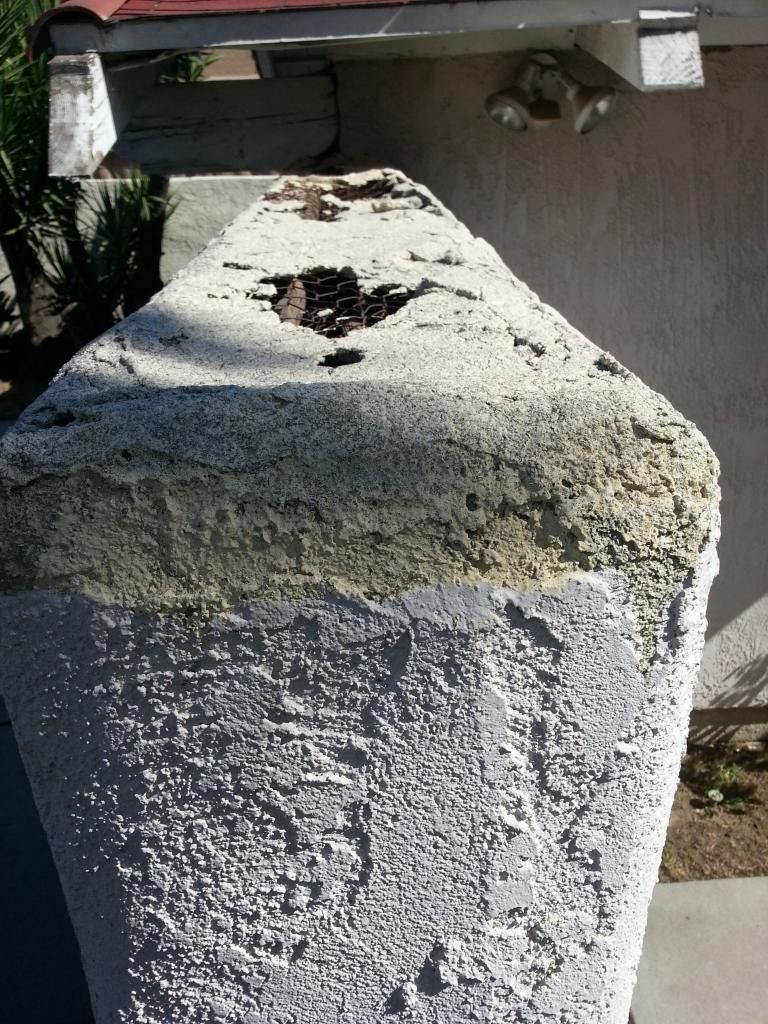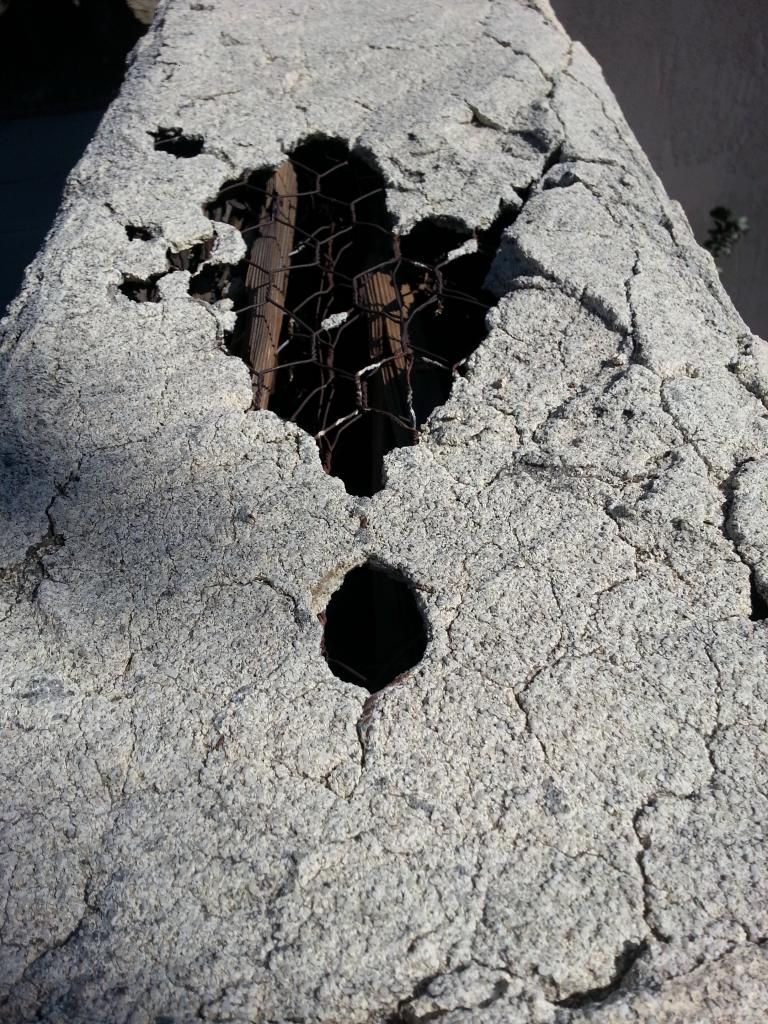 Sponsored Links
10-19-14, 03:39 PM
so that's a wood framed wall ??

You should be able to take mortar/stucco and go back over it. It will take several coats! The top should have been solid and then covered with tar paper before the lath and stucco was applied. It might be a better idea to remove the rest of the stucco/lath from the top and dry it in - then reapply the lath/stucco.
10-19-14, 08:55 PM
I'm not sure what kind of framing it is. I can just see those two rotten wood beams and I'm assuming that they were meant to support the mesh and stucco.

What do you mean by dry it in?

I was considering taking everything out, all the way to solid stucco on the edges, then putting in plywood, then covering it with tar paper, then lath, then stucco. But I don't want to spend all this time and effort on something that will never be seen. I just want to stop water from getting in there. So you think I can just apply several layers of stucco and it'll hold?
10-20-14, 04:08 AM
Drying it in means covering it with plywood and tar paper.
Since they used chicken wire and not the finer woven lath it will likely take multiple coats of mortar to get the base coat [one heavy coat of mud will fall thru] Once the base coat is dry you can apply the finish coat of stucco. It's best to round it off with it slightly higher in the middle to promote shedding of rain water.
Personally, I'd rip off the top stucco/lath, inspect the framing for rot and repair as needed, cover with plywood and tar paper and then install the lath and a couple of coats of stucco. Just because it's not seen doesn't mean it shouldn't be done right. Water inside the wall can compromise the structure and will eventually collapse the wall
10-20-14, 11:55 AM
I'll remove cracked/loose stucco and then it'll be easier to see what's inside and easier to make a decision.

You seem to differentiate between mortar and stucco. Are you saying that I should use mortar mix for everything except the finish coat? Why? Is it more sturdy than stucco mix?

And whatever I do, I'll definitely put a hump down the middle of it so that the water comes off easily.
10-20-14, 12:53 PM
Definitely shape the top (dome or sloped) to shed the water an do not allow it to sit on a level surface where it can be absorbed.

A wood 1x or 2x sloped with tar paper would make a wall top good base for the mesh and stucco..

Dick
Posting Rules
You may not post new threads
You may not post replies
You may not post attachments
You may not edit your posts
---
HTML code is Off
---