Looking for double gate plans - PIC
07-28-08, 08:33 AM
Join Date: Feb 2006
Location: Boston
Posts: 33
Received 0 Votes on 0 Posts
Looking for double gate plans - PIC
---
I'd like build a double gate fence to replace my tired dog ear gate.
Pic shows my crappy fence on top. The bottom picture is what I'm looking to recreate.
Can anyone point me in the right direction?
Thanks
Dave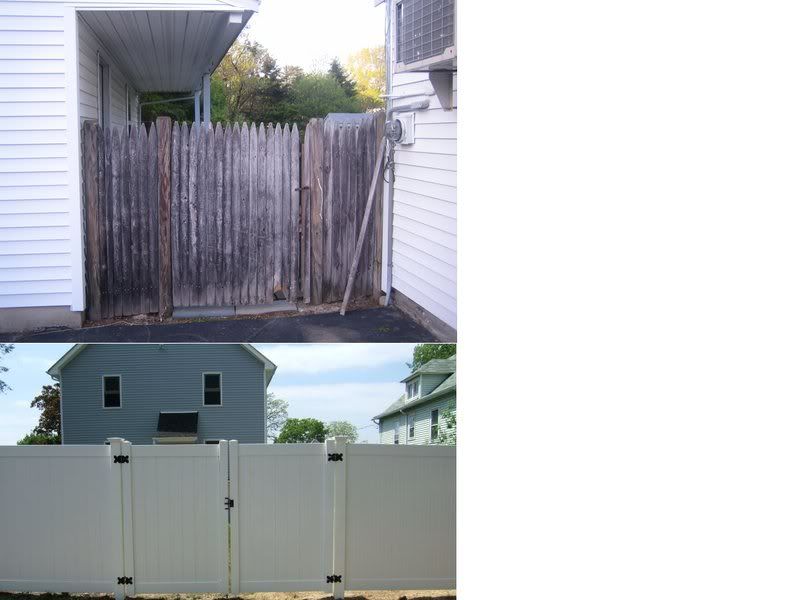 Sponsored Links
07-28-08, 09:43 AM
Do you want to put a double gate in place of the same opening you have now? Or are you looking to have a double gate opening between house and garage?
07-28-08, 10:07 AM
Join Date: Feb 2006
Location: Boston
Posts: 33
Received 0 Votes on 0 Posts
I want to have just two gates between the garage and house. Reason being is so I can bring my trailer into the back yard.
07-28-08, 10:20 AM
Join Date: Feb 2006
Location: Boston
Posts: 33
Received 0 Votes on 0 Posts
This crude microsoft paint cut and past is how I'd like the gate to go between the house and garage.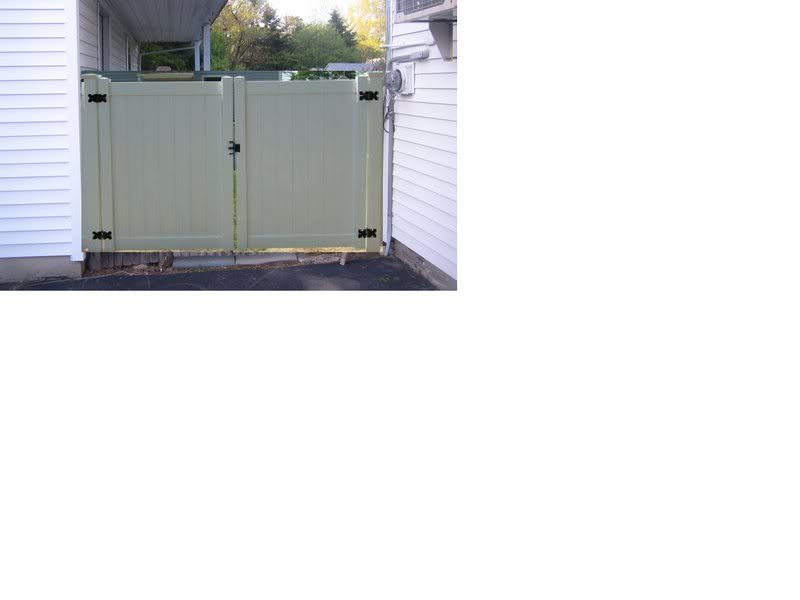 07-28-08, 12:09 PM
For a crude picture, you did pretty darn good. lol

Anyway , on the gate posts... I would set them in a fairly nice base of concrete. I would not cut the posts unless completely unavoidable.
Because your gates are fairly heavy, and also the added factor that all you have is the one post on either side supporting a gate independently, I would make sure the bases of concrete are on the generous side.
I would also foresee where the best place for your hinges should be in reference to the gates and then I would attach your hinges to the gate posts.
After that I would pour mixed concrete inside the posts, filling them about 3/4 of the way up from the very bottom to about 18 inches off the top.
This cement inside the post will help stop the posts from wanting to bow over from the sheer weight of the gates.
(You see, if you installed a double drive gate like the orriginal picture you posted, one where there were sections of material were both on the right and left side of the gates, the posts that supported the sections would be the added strength for each individual gate post. )
So , what you need to do is make the gate posts as strong as possible so that they do not shift, bow or just twist with the gate every time you open them .
I would suggest you use a drop bar on one side with a latch accesible from both sides. If your ground in the direction of the gate swing is fairly level you may want to add a wheel to the bottom of the gate that would be used more so for a walk gate on the more daily basis.
Some folks would attach a gate post to the building... It is not one of my practices to do such a thing... But if you choose to do it , that too would work.
For sure I would use adjustable hinges. Your gate will surely sag over time and you would want to make sure you can adjust it to compensate for the gate sag.
If you live in a region where the temperature goes below freezing, I would suggest drilling a small hole just above the cement line inside the post. This will assure that moisture will not gather to a pool inside the post. If it does have a chance to gather , the water will freeze and the post will crack. That is the last thing you need to have .
Keep in mind each gate post will weigh between 400-500 lbs if done correctly. Certainly a job you would only want to do once.
Give the gate posts at least a day to set up before hanging the weight of the gate. Better safe than sorry.
07-28-08, 12:12 PM
Oh and one more thing... Make sure you clear that electrical meter before installing the gate hinges. If the gate will not clear, you would be swinging into the yard verses out.
And make sure the hinges are installed on the posts before you fill the posts with cement.
07-28-08, 12:23 PM
Join Date: Feb 2006
Location: Boston
Posts: 33
Received 0 Votes on 0 Posts
Thanks Greg. If I were to make this out of wood, would that change any of your recommendations?
07-28-08, 12:49 PM
Well , If the gates were made out of wood and the posts no doubt would also be wood, to change anything I would suggest beefing up the posts to a 6x6 rather than something as light weight as a 4x4.

The 6x6, preferrably set in concrete would be , in my opinion a better way to go than PVC.
Wood gates and their hinges and whatever latch you would find would also be substancially less $$ than PVC gates and all their accesories.
I would still go with the drop bar. But with the gates I would suggest a "A" frame truss on each gate verses having just a single 2x3 angling from the bottom hinge side to the top latch side.
Also, if you are building your own gate or using prefab sections cut down to make a gate I would suggest double nailing the pickets . This would help the pickets from twisting or curling. Plus this would add a significant amount of strength to the gates.
Remember to nail or screw the pickets to the truss after your gate is in place and properly set.
Attach the latch only after the gates trusses are nailed or screwed.
If by chance you decided to do wood, make sure the lag bolts you use on the hinges are long enough to penetrate the picket and the rail. Some hinge packets have only 1-1/2" lag bolts. While they are long enough to make it through the picket, they are not as good as having a 2" lag.
You can always buy them at any hardware store, for about 65 cents each. Painting them black will make them look exactly the same as the pre-packaged.
As for the posts.... You can always miter cut the top of the posts to give your top a dog ear cut. Or if you choose to go for an extra expense you can always buy a cap from your neighborhood fence yard.
Good luck , at the same the same time , come back... let us know how you made out ..

Greg
Posting Rules
You may not post new threads
You may not post replies
You may not post attachments
You may not edit your posts
---
HTML code is Off
---