Attaching A Gate To The House
06-19-10, 05:13 PM
Attaching A Gate To The House
---
We have a concrete wall the creates a private backyard on our acreage. There is 2 openings for a walk through gate on each side of the house. I am looking for a way to install a gate in these openings but I would have to attach either the latch or the gate to the side of the house. I am unable to install a post here because there is a concrete walk that borders the home. Any suggestions on the best way to achieve this? The gate will need to open out from the backyard since a pool will be in the yard. Thanks for the help.
I have attached a pic.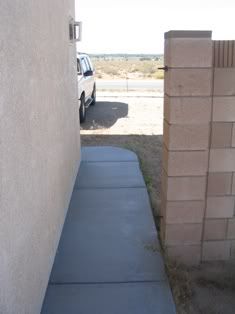 06-19-10, 07:15 PM
There is no reason why a hole large enough for a 4x4 post, can't be cut in the cement. If don't what to do that, I would attach a 2x6 to the side of the house with a Hilti shot gun & bolt the gate to that.