Help with fence footings (do I really need that much concrete?)
05-16-13, 09:01 AM
Help with fence footings (do I really need that much concrete?)
---
Hi. First time poster here but I've been doing DIY of all sorts for about 15 years now.
I am currently making a privacy fence to make the hot tub in the backyard more secluded. The section of fence is just to cover a corner, so it's an L shape. One side is about 7 feet long, the other side is about 3 feet. The fence, above ground, will be something like 7.5 feet tall. There are three 4x4 posts supporting it. I've never set posts for a fence before (though I've done deck footings and set mailboxes in the past) and I want to do this right. From what I gather I should:
Have the post underground be 1/2 the height of the fence above ground. That would mean 7.5 feet above ground so 3 feet, 8 inches underground.
Have the hole be 12 inches in diameter since I'm using 4x4 pressure treated posts.
Have 6 inches of pea gravel in the bottom of the hole, then set the post, put in another inch of pea gravel around the post, then fill the hole with concrete.
Slope the top of the concrete away from the posts. And have the hole slope outwards, so that it's a bit wider at the bottom than at the top.
Do I seem to have the right idea? But here's my question. This would seem as though it's going to take over 1000 lbs. of concrete for the three holes. So we're talking about 350 lbs. per hole? Doesn't that seem a bit excessive? I understand about mechanics and leverage, and with a tall heavy wooden fence it needs a solid base. But that just seems like a lot of concrete so I thought I would ask.
I'm building this for my Dad's home and he's paying for it so before I come back to him and say "we need to get 13 big bags of concrete to do this right" I want to confirm that I'm correct. It's ultimately up to him if he wants it "done right" or if he wants to do smaller holes, not sink the posts as deep, etc. But I want to know if I have the right idea or if I'm mistaken before I go buy, mix, and pour 1000 lbs. of concrete into the backyard. I'm pretty sure he was thinking like one bag per hole, but that fence section is pretty big.
Here is a picture of the actual 7ft section of fence so you can see what I'm talking about. And below that is a drawing simply to illustrate the L shape concept of how it will be placed when it's done. It will come right up against the deck and I thought I might lag screw it into the deck, but the deck is only a foot high (also pictured below) so it wouldn't offer a lot of support. I still need to get a proper footing with the concrete, but I don't want to pour way too much either.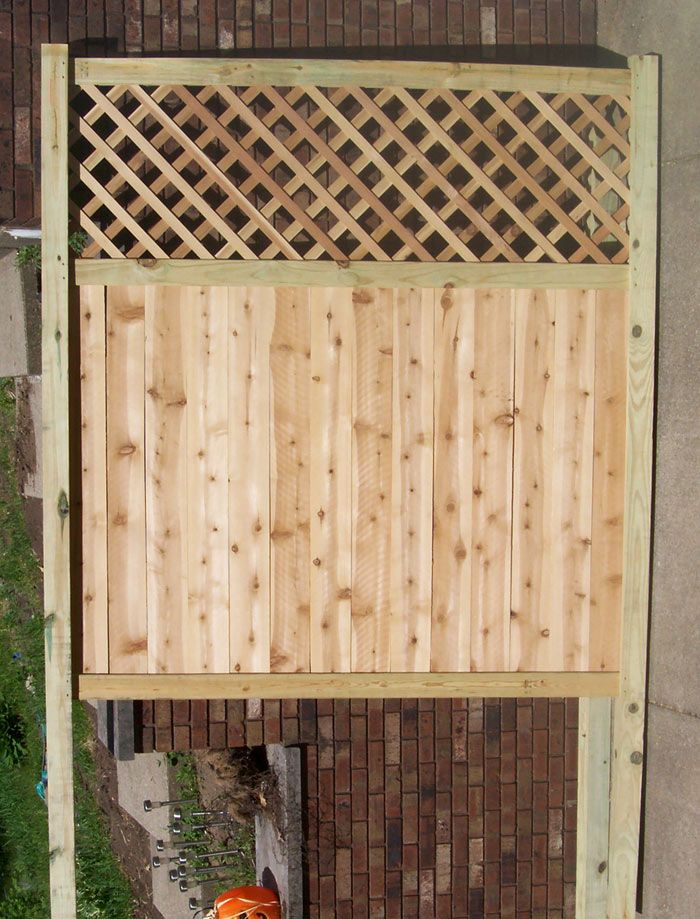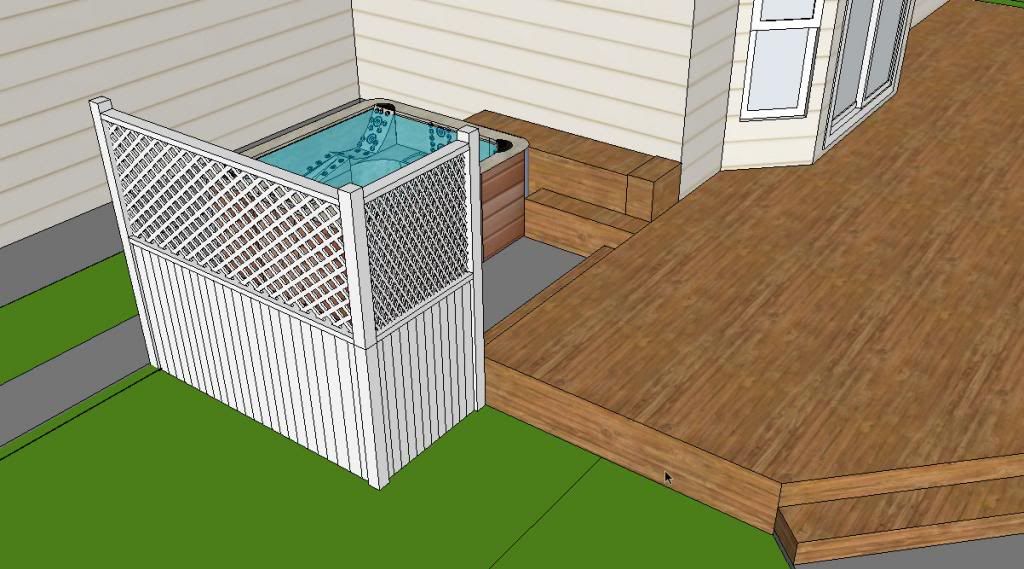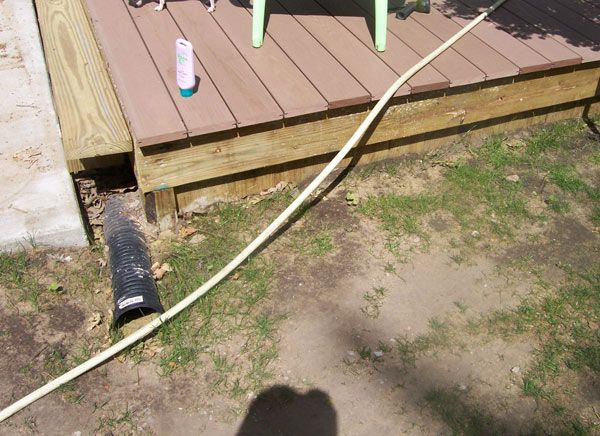 Thanks for any help.
- Carl
05-17-13, 12:05 PM
Perhaps not for protection from rot but isn't something needed for stability? It's not a mailbox. It's an 8 foot tall heavy wooden fence section. I don't know, that's why I'm asking. But I would have assumed I need some kind of concrete footing for stability purposes. Maybe not a 45 inch deep 350 lb. footing but I need something right? The diameter of the hole seems to be the only thing I could change to reduce the concrete needed but I still have, to go at the very least, 8 inches diameter. Or maybe I could fill the hole with pea gravel and then put a concrete "cap" at the top of the hole.
05-17-13, 12:36 PM
Reducing the size of the hole to 8" will only give you about 1 1/2" from the corners of the post to the edge of the hole. If you used concrete it would crack at those points. I'd put 10" diameter holes as the minimum for a 4x4 in concrete...12" would be better.

A cap at the top of the hole is just more money and work for no benefit. Gravel won't lock together and will migrate into the soil leaving a loose post IMO.

I also think you may have the concrete calculation slightly off. According to my calcs...a 12" hole 42" deep would be 2.75 cubic feet...without subtracting the volume taken up by the post. So about 5 60 lb bags...but more likely you'd need less. I could be off slightly as well.

Our fence guy has said he has installed many fences just by setting the post in the hole and tamping the soil back in...but it depends on the soil. One good thing is your fence design keeps most of the weight and windload towards the bottom.
05-17-13, 04:50 PM
The concrete increases the surface area under the soil which helps to stabilize the post and keep it from wandering. Instead of a 3 1/2" piece trying to bend the soil to move out of alignment, you now have a 12" wide piece that has to push against the same soil. The thinner one will make some headway over time. the one with the thicker base won't. Hope that makes sense.