Interestind day at the range
07-19-09, 08:00 PM
Join Date: Nov 2007
Location: United States
Posts: 13,757
Interesting day at the range
---
So, I was shooting up some targets over the 4th of July and had a 1/8" steel plate I got out of a scrap bin. I painted it up and set it next to the paper. Shot it with my .22's, S&W 686 .38 special, My 9mm and the Bersa .380 ACP (which I was quite impressed with BTW). I then move back to about 30 yards or so (I was maybe about 20 or so feet with the handguns) and shot it with my AR-15, 16" barrel, open sites, with some 55gr .223 ammo. What I saw when checked out the plate surprised me to say the least. I keep hearing how poor the .223 is with knock down power but I can say I hope I am never on the receiving end of one.
Yes, those are holes through the plate.
---
Last edited by Tolyn Ironhand; 07-19-09 at

08:15 PM

.
07-20-09, 03:56 AM
I was shooting .223 hardball at a 75' indoor range ( 3/8" hard plate ) no problems.
I switched to .223 hollow points--owner said " let's check the metal"--well no more
.223 at indoor ranges. The hollow point took little chips of metal out of the plate.
After about 50 rounds the plate was about to pop a hole--at about $10,000 a plate-
07-20-09, 10:00 AM
Join Date: Mar 2003
Location: NC, USA
Posts: 25,975
I have metallic spinning targets on my range. From 30 yards (I was on my pistol range and that's as far back as I could get) my Sig 556 easily puts holes through the 1/8" targets with 55 grain. I also have some targets made of the steel used to up-armor Humvees and the 55 grain does not make a dent. The bullet just goes "poof" with most of it reduced to sand size particles and dust.

Last weekend I was shooting cheap .223 62 grain Wolf FMJ into a 1 lb coffee can full of damp sand at 65 yards. The bullet would not exit the can unless I hit near the edge. The round would completely turn itself inside out into a very sharp, jagged wad of twisted copper. No lead remained attached to the copper jacket and the crevases of the jacket were packed solid with extremely fine sand dust where the sand had been pulverized. I also found lots of lead dust and flakes with the biggest being 1/4" long, paper thin with jagged sharp edges. I am convinced if you are less than 100 yards the little .22 cal FMJ will fragment and make a very nasty wound on a human. I can see that at 300 yards it might pass right through only making a small clean hole. On another board most seem to like the 75 grain hollow point for hunting deer and wild hogs (some up to 500lbs).
---

I wish I had my camera with me today. Sitting on my desk is a 1" thick target I shot with .30 cal with penetrators at 100 yards. Very cool looking. One shot went through, another shot the penetrator is still sticking out the back of the target.
07-20-09, 02:07 PM
Join Date: Mar 2003
Location: NC, USA
Posts: 25,975
I don't know what Wolf costs. I had someone give me 1k rounds for free. My 60+ yard range shoots over my pond. When shooting less than 70 yards the case usually ends up in the pond. I don't mind loosing the steel Wolf cases.

Oh, you commentat about complaints regarding the 5.56. Many of those are based on the standard issue ammo. I've been reading that a lot of special forces units are using 77 grain JHP ammo (MK 262 mod 1) and it has been performing very well. I think something like that may become the standard in the future.
07-20-09, 03:53 PM
@PD
In case you are curious:
At Midway-Wolf ammo
1000 rds. of .223---------$332.00 + frt.
1000 rds. of 7.62 X 39-----$290.00 + frt
Happy shooting........................................
American ammo--much higher......................
07-21-09, 05:02 AM
Join Date: Mar 2003
Location: NC, USA
Posts: 25,975
I remembered my camera today.
Here are the pieces I recovered from the coffee can filled with damp sand. All are Wolf 62 grain FMJ.
07-21-09, 05:12 AM
Join Date: Mar 2003
Location: NC, USA
Posts: 25,975
And here is 1" thick steel target shot with 308 Winchester/7.62 x 51mm armor piercing at 100 yards.
Here is the front of the target. The little dimples are from 9mm FMJ at about 15 yards.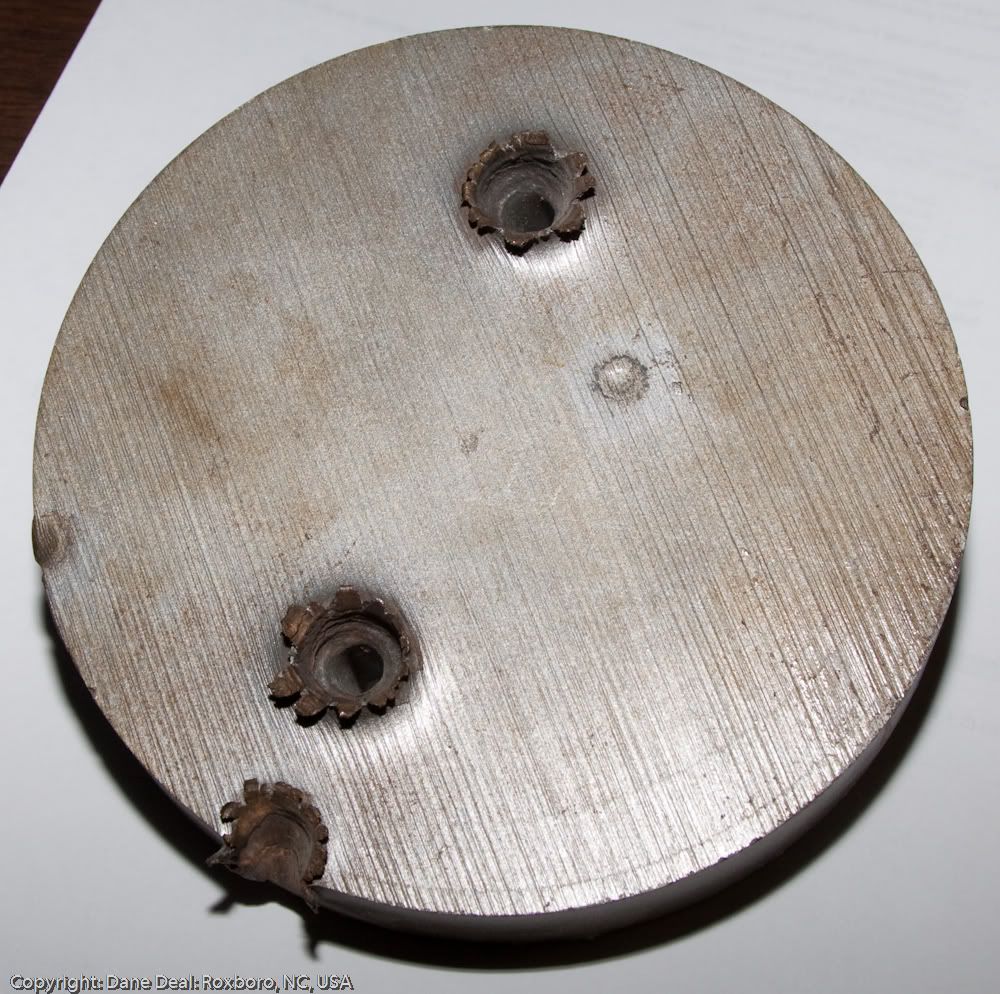 When you look at the target in person you can see the flow lines where the target metal has ripples. The hole tapers down for about 5/8" where it becomes .250 diameter with smooth sides. There rotational scratches left by the penetrator still rotating as it pushed through by brute force.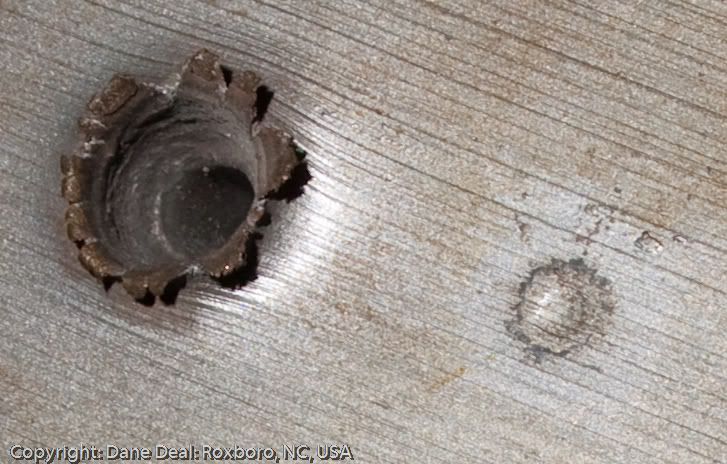 And the back of the target. You can tell one penetrator did not make it through.
When I measure, the back of the penetrator is actually beyond the back of the target. The flaring of the target metal has grabbed the penetrator. The target has been dropped several times and gotten a lot of abuse over the years but the penetrator is still solidly in place.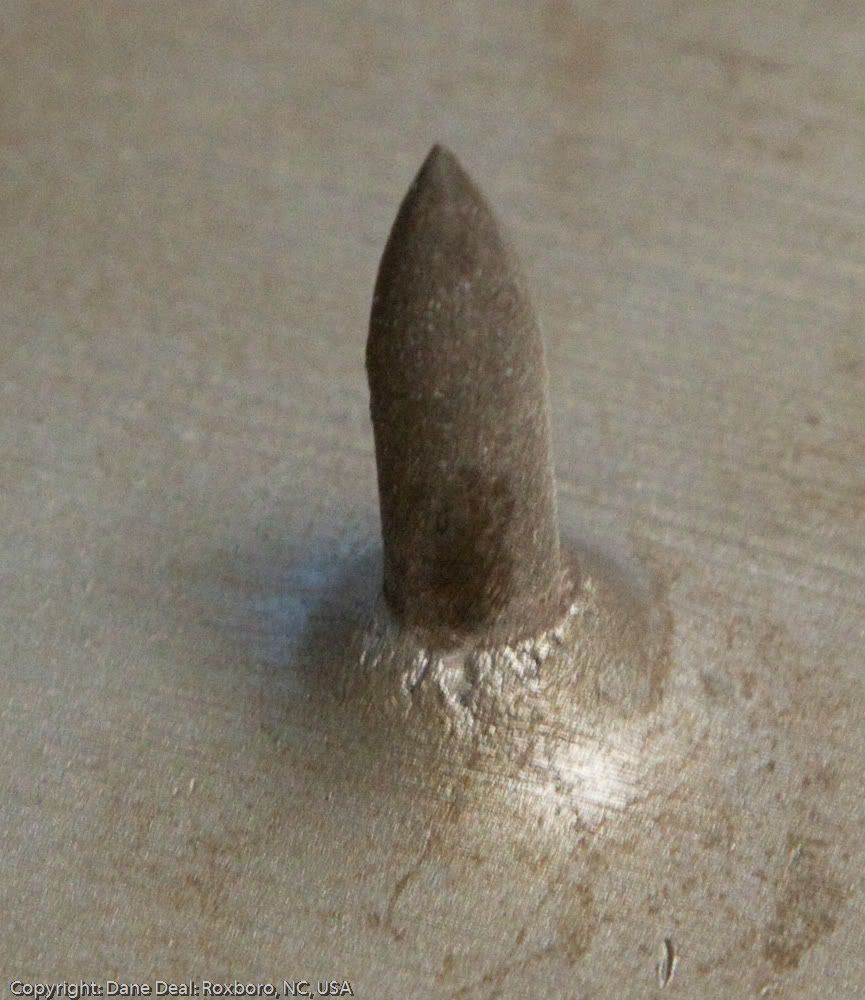 07-22-09, 12:58 PM
Join Date: Mar 2003
Location: NC, USA
Posts: 25,975
I found this article very interesting. It is a very detailed (53 pages) look at 5.56 ammo and how it behaves at various ranges.
http://ammo.ar15.com/project/AmmoOracle_061808.pdf
Basically the 5.56 FMJ is a great round if you are within the fragmentation range. Fragmentation depends heavily on the velocity (ammo and barrel length). The article explains how the short barrel carbines used often by our forces in urban areas have a very short range where the bullet will reliably fragment.
Next best is controlled expansion ammo like hollow points or soft points. They don't send schrapnel everywhere inside the body like a fragmenting FMJ but they do expand reliably.
Worst is a FMJ traveling below it's fragmentation velocity. You get a nice clean .22 hole. There is still a lot of trauma from the high velocity shock but it is nowhere near what the fragmenting round does.
07-25-09, 10:50 AM
Join Date: Nov 2007
Location: United States
Posts: 13,757
Cool pictures Dane! Thanks!!
07-25-09, 11:28 AM
I don't think I will get too excited about using military ammo in my weapons.
I see Cheaper Than Dirt is selling mil spec ( M855 SS109 ) $980.00 for 1000 rds. Lake City
Be my guest..............................
07-25-09, 05:08 PM
Join Date: Mar 2003
Location: NC, USA
Posts: 25,975
I never said I was crazy enough to pay today's ammo prices. I have been factory reloads and their price to me has not changed during the recent crazyiness.
07-25-09, 05:29 PM
That's the smart way to do it----------
I was lucky I stocked up on so many components.
I have had to buy some--OUCH !!!
Have fun,
jH
08-05-09, 08:30 AM
Join Date: Oct 2007
Location: Southeast Virginia
Posts: 179
Upvotes: 0
Received 0 Upvotes on 0 Posts
Here in Va. ammo is coming down. I still hate paying $23 a box for Wolf .45, but what can ya do? The Armory has Wolf 7.62x39 for $240 for 100 and Wolf .223 for $260 per 100. Oooops, they are out of .223.