Mantle Refurb
02-19-08, 06:51 AM
Mantle Refurb
---
We are updating our living room area at the moment.
Removing the old paneling and going in with sheet rock. I am going to attack the fireplace before we start hanging the sheet rock. It is currently brick veneer from the hearth to the ceiling with stud wall behind. I intend to remove the brick veneer from the ceiling down to mantle height, and sheet rocking this area. I will leave the bricks from the mantle level and below, as it is tied into the hearth, and there are no evident cracks in the mortar surrounding the fireplace from the heat over the years.
I want to frame out a mantle piece with two legs. It will box in the outer corners of the existing brick veneer, allowing the bricks to remain visible for 12" each side of the firebox, and about 18" above the opening. This will all be painted white to tie in with the crown and foot moulding, and the windows that are on either side of the fireplace.
The main question is materials. I figure I can simply use plywood to construct the "box" that will cover the remaining brick veneer, dressing everything out with leftover crown/foot mouldings.
Should I consider a particular wood/other material for this application due to the heat potential? Should I consider a particular paint?
Any and all hints/tips/suggestions are very appreciated!
Here's the basic idea: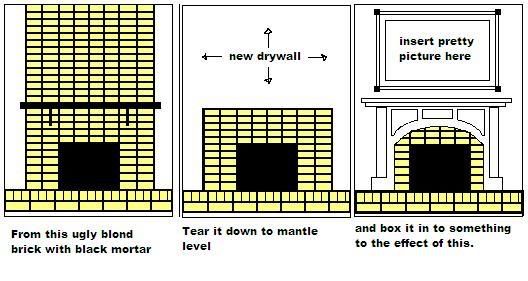 02-20-08, 05:49 AM
After removing the Colony Hearth "earth stove" insert, I have found that the throat damper is in pretty bad shape. It is stuck in the full OPEN position. I guess that's a good thing, as I will be installing a chimney top damper now. The chimney sweep will be here this morning to verify my measurements of the flue liner for sizing purposes. I measured 13.5" x 17.5" outside to outside on the terra-cotta liner, and they were not familiar with these measurements. We shall see.

What's the best way to clean old soot buildup off of masonry? The "surround" plate from the insert was hiding some really nasty looking grunge. The ash clean-out in the back of the firebox is still operational, but the outer door is in bad shape. I think I am going to do away with it entirely and fill the void in with mortar mix/cement. Is there a particular mix I should use due to the heat or will any cement pre-mix suffice? I'll shovel my ashes the old fashioned way, out the front and into my metal ash can. Unlike some folks, I actually reuse my ash to bank my fire at night as if we were relying on the fireplace to heat the whole house.
02-20-08, 06:20 AM
Banned. Rule And/Or Policy Violation
Join Date: Dec 2007
Location: Chicago
Posts: 1,011
Received 0 Votes on 0 Posts
For starters, there are some clearance requirements when placing a combustible mantle above a fireplace:
See fig: 1087 here
02-20-08, 10:59 AM
---
Thanks Michael.

Best to get a pro to help you before you burn the house down. Drywall is considered a combustible. Even if metal studs are used, they conduct heat. The chimney needs a level II inspection first.

Hearthman
02-22-08, 06:58 AM
Originally Posted by
Michael Thomas
Thanks for the link!
I had already factored in the non-combustible face around the firebox, and went well beyond the measurements shown on the clearances. The link you gave shows 6" side and 6"-12" top clearance before combustible materials, and I'll be doing 9" side and 12"-18" top. I should be "plenty to the good".
On a side note, had the sweep stop by yesterday, he did the flue inspection and agreed that a top damper was the way to go. Turns out the previous owner who installed the insert WELDED the throat damper open. Sweep said the throat damper can simply stay like it is, as it is one of the largest he has seen, and won't cause any restriction in exhaust. Everything seems to be a go.
I have now removed all the brick veneer from the ceiling down to the mantel level. Very satisfied with the result there. Used the air chisel to carefully separate the mortar at the mantel, then sledge hammered the top down in managable pieces. No damage to be seen in the newly uncovered areas, and it was raining pretty hard so I got to check for leaks while everything was open.
Now time to start cleaning the creosote soot off the face of the firebox. I'm trying real hard not to go strait for the muratic acid, but nothing else seems to be working.
02-22-08, 10:07 AM
---
That old damper will cause some turbulence--its just a matter of how much. I recommend breaking it out and rounding everything off ala' Rumford.

I advise against muriatic acid. The fumes will be corroding things indoors for years. Ask your sweep about Restore-It.

How do you plan on attaching drywall above the mantel?

Fireplaces cool houses--they don't heat them! Wave goodbye to that 400-600cfm of heated air sucking up the chimney. Air you already paid to heat.

Are you talking about the cleanout door to the ash pit? If so, ordinary mortars such as type N would be fine. See the building code.

Did your sweep perform a level II inspection and give you a written report? If not, call him back. Also, you said you pulled an insert stove? What about all the creosote inside the firebox, smoke chamber and flue? Did your sweep take digital pics? Scan the flue?

This top damper is a stock size and should not have freaked him out. It may be a little unusual in your area but not a custom size. get a combination rain cap with mesh and damper.

Hearthman
02-22-08, 11:10 AM
Safety is number one
---
I guess I am still unclear on what you want out of the fireplace. Are you going to put your insert back in? Do you want heat out of the fireplace or is it mainly for aesthetics?

If you are going to pull the insert out and convert it to a conventional fireplace you should make sure that all of you work complies with masonry specifications including those to wood framing and hearth construction and dimensions.

If you are going to reinstall your existing insert or a new insert you should install a certified liner up through your terra-cotta liner. This sizes the liner directly to your unit and makes cleaning easier. The stove works better and your chimney is safer.

Also, make sure you get a manual for your insert that specifies clearances front, side, and top. In our area we can not reinstall units that do not pass EPA certification and safety testing.

I owned a stove and fireplace business for years. We took out a permit on every job. This assured that we had an outside inspection on every job and that the homeowner's insurance was always in tact. Over all of the years in business we never had a house fire.

Jim
02-22-08, 05:02 PM
It will be aesthetics mostly, something to gather in front of during the winter. The house nor the room depends upon it for heating.
02-22-08, 05:29 PM
Design
---
From your diagram it should be a nice addition to your home. 18" clearance above and 12" on each side should cover an open wood-burning fireplace without any trouble. Masonary chimneys have several factors to consider in design. There is a ratio of front area to flue size as well to consider. A taller chimney too will draft better.
If you are considering a wood, gas, or pellet insert in the future you might build your mantle with future clearances in mind. Wood burning inserts are a different matter and can require more mantle clearance above due to the greater heat on the top and front.
There several different brands of top chimney dampers including Lyemance. Lyemance has a separate screen that installs above the unit. Whatever you choose make sure it removes easily for cleaning. Sleepy Hollow caries a couple(
http://www.sleepyhollowchimneysupply.com/
) or Copperfield can recommend someone locally in your area (
http://www.copperfield.com/)
.
If you ever install a wood burning insert make sure everything is set up properly. In our area improperly installed inserts cause most of the fires. Proper burning practices with good seasoned wood really helps.
Sleepy Hollow used to have a brochure that showed how to build an upside down fire. With this you start with the larger logs at the bottom progressively stacking crosswise smaller pieces until you get to the top. Finally, you end up with kindling on top. When the fire starts smaller coals go downward and you end up with hot coals migrating downward. It works really well especially on a non-responsive chimney.
Good luck,
Jim
02-23-08, 08:33 AM
Jim, Hearthman, thank you both for your replies!

Luckily for me, I grew up using both a conventional wood burning fireplace and an Ashley wood burning heater in our house as the only means of heat. So glad I don't have to wake up in the middle of the night anymore to stoke the fires so we weren't freezing in the morning.

Our chimney stands taller than the peak of our roof by about two feet. The only thing I have not proven yet is from which direction our prevailing wind blows here. I guess easiest way would be to go ahead and put a flag up there and take notes! I want to know this so I'll know which direction I want my top damper to open. To the best of my memory, the smoke from the chimney usually heads to the west, but I'll research that some more to be sure. The chimney drafts really well as it is, so well that I NEED the sealing damper just to keep my conditioned air in. Even now, with it being cooler outside than inside, you can stirr the ashes and watch it get sucked up, with a cold fireplace.

Since the house is central heat/air, and I have done extensive moving of interior walls thus opening the living room from about 12x14 to nearly 24x infinity (great room including dining, foyer, eat in kitchen, etc.), The fireplace really is an asthetic item now that realistically will only heat the immediate area of the hearth (where we will all be standing around when the fire's burning!). How's that for a run-on sentence!! No intentions of ever having the return of any type of insert for heating purposes.

Lyemance is the brand I've been looking at for the top sealing damper. It is also the brand the local store carries, and for about the same price I can find online. I still have to make up my mind as to what rain cap solution to make. I currently have the asbestos fiberboard spanning six masonry supports, with masonry on top. The board is still in great shape, no sag, no damage, but the masonry on top looks awful.

I thought about making my own sheet metal rain cap to cover existing cap, simply to dress it. Since the top sealing damper is what it is, and will be closed during the times there is no fire, I don't really see the need for a screen. If a critter can get down the chimney while there's a fire rolling, well, it's tougher than I am and deserves to go where he wants! I'll offer it a beer when it gets out of the firebox. The top sealing damper solves my #1 critter concern, and that's sweeps nesting during the off season.

The creosote and soot that we do have, surprisingly is coming right off with minor aggitation and a water rinse. No solvents/acids or anything.
02-26-08, 05:21 AM
Banned. Rule And/Or Policy Violation
Join Date: Dec 2007
Location: Chicago
Posts: 1,011
Received 0 Votes on 0 Posts
Just my $.02 worth as a home inspector with no financial interest in fireplace inspections: Especially given that there had been an improperly installed insert, I would definitely recommend a Level II and a video scan of the flue, it's our experience in the home inspection industry than in such situations these additional inspections frequently detect significant damage which was not discovered by a less intensive visual investigation.
---
Last edited by Michael Thomas; 02-26-08 at

07:59 AM

.
03-02-08, 07:40 PM
---
Modela, you sound like you know something about the hearth industry. However, giving out the supply houses will only hurt hearth retailers, service techs and sweeps. At least Copperfield won't sell to the public.
You are describing a Top Burn fire, which is the best way to go.
Hearthman
03-03-08, 08:53 AM
Yes, I owned a hearth business for years. My intent was not to bypass anyone. I gave the one for a reference to the Top Burn Fire. Sleepy Hollow is the only place I have ever seen this. We used to be a dealer for them and gave out their fire building brochure.

I don't believe either one sells direct but I know that Copperfield gives local dealer's names. We used to use both as suppliers.


Jim