Sagging truss
11-02-08, 01:14 PM
Join Date: Nov 2008
Location: Chicago, IL
Posts: 2
Sagging truss
---
Good afternoon all. How much is a roof truss allowed to sag? I have a slab house, 'M' type truss roof on 24" centers and only one of the trusses is almost 3/4" lower than others. There is one doorway that the truss passes over, however, it it not headered [sp?] at that location, nor is it supported anywhere on the interior of the house. The total span of the truss is 45ft from exterior wall to exterior wall.

So what do you think?

TiA
Sponsored Links
11-02-08, 01:37 PM
Join Date: Oct 2008
Posts: 82
Right, the bottom chord of truss' are suppossed to float like that("no header") cause the truss expands and contracts so much. Could be that the truss was damaged during installation. Could have been installed slightly out of straight( that would mean its eaqually high on the other side).Check the bottom chord on this truss for hooks or cuts cause that could do that too. Could also just be acceptable deflexion of this engineered member. Pictures would help
11-02-08, 02:20 PM
Join Date: Nov 2008
Location: Chicago, IL
Posts: 2
The 2x4 that is shown is for a temp 'T' that I put up to measure any sag in the truss. I guess that makes it look worse than it really is. For 1 week now, the truss has been at 96.5" AFF while the truss to the right has been at 97" AFF.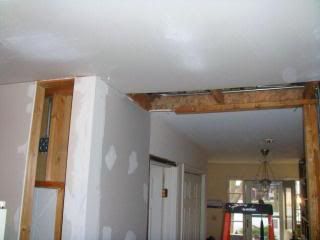 We're looking to finish the drywall in the rooms before the weather turns, so if I should header this, I'd like to finish that.
11-04-08, 02:43 PM
Join Date: Oct 2008
Posts: 82
Ok, so your cieling I joist is sagging. The answer to your question is; thats way too much. Is this a flat roof rafter or just a cieling joist? What is above making it diflect like that? For example a cast iron tub( if its a floor above) or a large commercial heating unit. more info req.
Posting Rules
You may not post new threads
You may not post replies
You may not post attachments
You may not edit your posts
---
HTML code is Off
---