Want to build garage. Need advice
03-07-09, 10:13 AM
Join Date: Feb 2006
Location: usa
Posts: 73
Want to build garage. Need advice
---
I am in the planing process of building a new 24x24 garage. I am not sure what the standard method is to build a wall upagainst a wall that already exist. The back wall of my garage will butt upagainst a preexisting wall that is smaller than the new wall. It will not be 2 floors as in the picture but it will still be taller and wider that the existing wall. Would i build the wall sheath it and stand it against the existing wall and nail it to that wall, or frame the wall stand it up and only sheat the parts that are not touching the existing wall?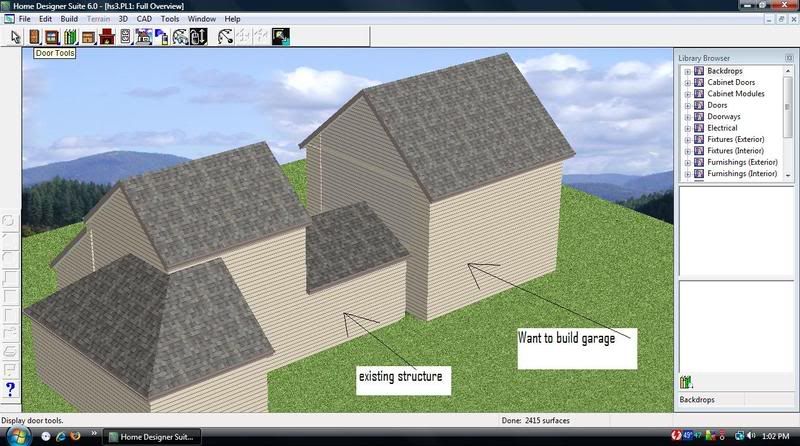 Sponsored Links
03-07-09, 05:42 PM
In order for your wall/roof line to function properly, you will build the walls of the garage after you remove the overhang of the room that it will abut, and remove about 2' of shingles, more or less to allow access to flash between the vertical wall and the sloped roofline. Then re-shingle the area and apply siding (not touching the shingles) on the new part.
03-08-09, 07:50 AM
Join Date: Feb 2006
Location: usa
Posts: 73
would i need to fasten the new wall to the old wall? or would i just butt it to the old wall with out fastening it?
03-08-09, 08:29 AM
Join Date: Jan 2009
Location: Northwestern Ontario (Canada)
Posts: 549
We jacked up a 2x4 bungalow and built a 2x6 framed main floor under it, then attached a garage thats higher than the main floor(but not 2 stories). Sort of the opposite plan to yours..

If I remember right, we spiked our garage wall's 2x6 studs to the top plates of the new 2x6 main floor walls. The garage walls went up higher, but since we didnt know where all the wiring was inside the 2x4 studs, we didnt use many nails up there.

We didnt sheath the outside of the garage wall, but the outside of the house wall was sheathed. Both walls were anchored to the same foundation. As chandler says, pay attention to your flashing. If you live in a snow prone area, you may get alot of snow buildup.. not sure how you can strengthen the existing (lower) roof trusses to hold this ? We doubled up on roof trusses on the garage as it got close to the house as per the truss manufacturer.
03-08-09, 09:05 AM
Join Date: Oct 2008
Location: New England
Posts: 9,996
An important part of your addition will be securing the new foundation to your existing. Do you have a slab, crawl, or full foundation.

Sheath only the wall that extends past your existing wall as you do not need back to back layers of osb.

good luck
Bud
03-08-09, 09:13 AM
Join Date: Feb 2006
Location: usa
Posts: 73
This is where it gets tricky. I have a crawl space. Footer is 3' down. foundation walls are block. For my new foundation the footer will have to be down 4' per code. If i have to go down an additional foot wont i be desturbing the original foundation?
03-11-09, 07:23 AM
Join Date: Feb 2006
Location: usa
Posts: 73
No one has any insight on this?
03-11-09, 07:49 AM
Join Date: Oct 2008
Location: New England
Posts: 9,996
Hi jtb, Iím not sure where you are, but most municipalities will require an inspection for footings and foundation, so the actual details will need to be coordinated with your local codes. Typically it is not a problem to tie the old to the new, but specifically what will be required, not my specialty and probably not yours. So for the planning stage you are in, just consider that the new footing will be 4í down and the foundation guy will know how to attach it.

Will you be building this yourself, or hiring a contractor? Acting as a general contractor is difficult when you know less than the sub-contractors. You are at their mercy for the results you get. We see that all too often, read the current thread where the foundation for the addition was built too high. Who is responsible?

If you plan on hiring a contractor, they can draw up whatever you want. Iíve seen people go to the big box stores to get a material quote and get a full drawing in the process. If you are going to hammer and nail this, you will need some good books to get you started.

Tell us how this is going to be build and if we seem to get lost, just bump it to the top as you did.

Bud
03-11-09, 04:48 PM
Join Date: Jan 2009
Location: Northwestern Ontario (Canada)
Posts: 549
Ya, my first thought was to support the existing structure somehow (take the weight off those end blocks and the 2 corners), smash them and the associated footing out, pour a new wide footing down at 4 ft to support both walls. But.. at what point do you let the existing foundation stay ? So I thought, nah.. this is for a 'pro'.
If you mess up your drywall or siding, its easy enough to have it fixed.. messing up a footing/foundation isnt easy to fix.
Posting Rules
You may not post new threads
You may not post replies
You may not post attachments
You may not edit your posts
---
HTML code is Off
---