Join Date: Jan 2004
Posts: 1,139
MD
strapping on top of LVL?
I just put in an LVL. The old top plate where this was going was rotted in places so I removed it and the LVL sits right under the floor joists, wall studs that it supports. The manufacturer says "strap per code if top plate is not continuous over header" and shows a strap resting on top of the LVL near the edge and continuing onto the double top plate of the adjacent wall. so my question is, what does code say about this? How far does the strapping have to go onto the top of LVL and the top of top plate? Since the joist and studs are in place, I really dont have a lot of room, unless I jack them up enough to slide some strapping underneath them.

the LVL is 9 1/2 in deep and is double layer making total thickness of 3 1/2". span is about 9'.
Sponsored Links
Join Date: Mar 2009
Posts: 1,167
WA
Sorry we are late in getting to you. In new house construction, I use what is called a coil strap. The big box stores sell a flat strap, 1 inch and one quarter wide, made by Simpson. I would use a 24 inch long one. If you can't install one continuous, buy two, 12 inches. Install one on each side, tying the top plates to the beam. If that is not possible, use a heavy-duty angle bracket on each side. You're trying to tie the wall back together, because you cut a beam in the middle of it. Use any two brackets you can find to accomplish this. Anything is better than nothing, in an earthquake. Here's the Simpson website:
Connectors by Category
You should also use some heavy duty screws, to attach the beams together to act as one member, also found at the store, SDS's.
Be safe, GBR
Join Date: Jan 2004
Posts: 1,139
MD
Thanks. but here is my problem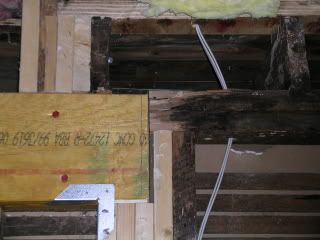 there is not much room to get straps in, particularly on the left, since the joists are in the way. I did put on some corner braces--RTA2Z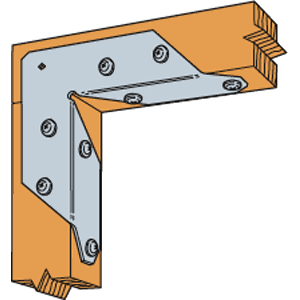 and bought a TP37
TP/TPA Tie Plates
it is only 3 1/2" x 7" and 20gauge. even with this one, I will have problems getting the one in on the left. will have to get it under the joist. will have to jack up joist, but due to location, it will be hard to get to the proper location to jack. would this even be OK, or do I need something longer?
Join Date: Jan 2004
Posts: 1,139
MD
Now that I look at things more, I wonder whether it really needs straps? Look at photo below which shows that there is a ledger to support the roof that ties the studs together to keep them from moving. It is about 3' above the header. And each of the joists are tied to a stud with (2) 1/2" bolts (which is how everythings was jacked up before-put two 2x8 under the joists in other room and jacked them up which lifted studs as well) So everything really seems tied together well?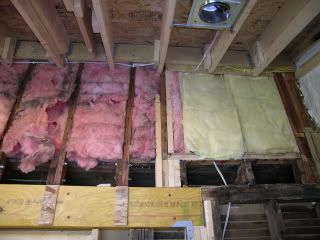 Join Date: Mar 2009
Posts: 1,167
WA
You want a 24" flat strap on each end, face nailed with 16d sinkers, every-other hole. Don't nail closer than 1-5/8 to the ends of stud/header joint. It splits out wood. Ask where you bought the LVL's they are seriously under screwed, for the loads I see.
http://forum.doityourself.com/framin...-3-4-beam.html
Be safe, GBR
Join Date: Jan 2004
Posts: 1,139
MD
bought them at 84 lumber. used exact bolt pattern that the computer printout showed. They are trussloks spaced at 24" with the two rows staggered by an inch. I showed 84lumber the blueprints and gave exact measurements. The guy used computer software for the calculations. The original span was greater by about a foot or so than what I ended up doing called for deeper LVL-I think 11 7/8". Since I decreased span, and since the original drawings were done by a designer and not an engineer, I thought maybe I could get by with smaller LVL and I was able to use a 9 1/2" per 84 lumber.

do you have a strong tie # that I can look for? MSTA24 (says for edge of 2x so don't think this is correct), MST27, MSTC28, MSTI26
Join Date: Mar 2009
Posts: 1,167
WA
Join Date: Jan 2004
Posts: 1,139
MD
Sorry, I meant numbers for the strap. I don't need any info for strong drives for the LVL. As I mentioned, I used TrussLoks. These were specified. see attachment. FMTSL338 stands for FastenMaster TrussLok 3 3/8" and they were to be spaced every 24", two rows staggered by minimum 1".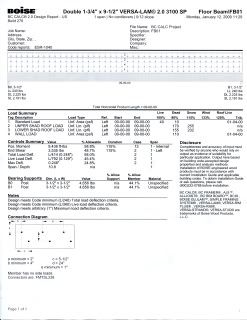 link to product site below
FastenMaster
Join Date: Mar 2009
Posts: 1,167
WA