Garage joists
09-10-09, 10:34 AM
Join Date: Aug 2008
Location: canada
Posts: 31
Upvotes: 0
Received 0 Upvotes on 0 Posts
Garage joists
---
My garage is a former carport. Whoever converted it to a garage put up a plywood ceiling. I wish to use the space between the joists and the roof, about 4 feet height for storage of seasonal items. Upon removing a section of plywood the joists are 16" on center and are 2"x8", they span about 12 feet . That poses a problem for accessing this space for storage as there is not much room for maneuvering.
I am wondering if it is possible to cut out a 3-4' section of one of the joists so that I can access this space and reinforce the cut joist somehow. Any ideas out there? Thanks
---
Last edited by darrylhicks; 09-10-09 at

10:52 AM

. Reason: correction
09-11-09, 02:44 PM
Attic Access
---
Here is a sketch of how to frame the opening: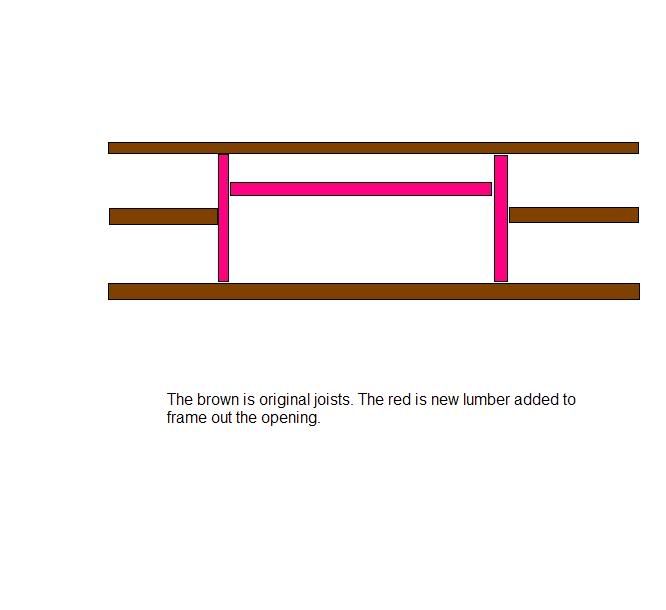 09-11-09, 02:44 PM
The floor joists are acting as rafter ties to hold the building side walls from spreading. These are required every 4' on center. This is the most you can remove.
Single header and trimmer joists OK to 4' header span.... IRC 502.10
Be safe, Gary
09-23-09, 07:33 PM
What would you be gaining by doubling the joists? They stand alone without the cut, and are bridged to spread the weight. You may want to double the bridge, but the joists?
09-24-09, 01:35 PM
No, you've spread that load to the two adjacent joists, adding support to the ends of the cut joists. If you were to double the joists, how far back would you double them? All the way back to the soffit? Just where would you stop, and why stop there? Just curious.
09-24-09, 02:16 PM
Join Date: Mar 2004
Location: I_dont_know
Posts: 175
Upvotes: 0
Received 0 Upvotes on 0 Posts
Prior to the modifications the 12' joists only carried 16" o/c loads but now you've attached a 4' header to them so they may need doubled the entire length but totally depends on the use of that space. If for just X-mas tree storage the not likely but if there is a room up there I'd double them.

Are you suggesting doubling the red joists if so why?
09-24-09, 03:15 PM
Even after the modification, each joist is still carrying the same load. I only suggested doubling the bridges to beef up the cross section of lumber to the joists. It probably wouldn't be necessary. I do it for a warm and fuzzy feeling.
With this type entry, I doubt there would be a "room" up there, and hopefully only for Christmas tree storage, etc.
09-24-09, 08:59 PM
From my previous post: "Single header and trimmer joists OK to 4' header span.... IRC 502.10 " That is to safely carry a 40# per sq.ft. load, as in floor joists.
A single 2x8 spanning 12' ---840# total load or 52# per sq.. ft. without the safety factor.
2-2x8's 1400# total load or 87# sq.ft. Either will hopefully carry his ornaments.
Be safe, Gary