How do I raise a wall?
09-14-09, 09:02 PM
How do I raise a wall?
---
I have found that one side of my house has sunk because the whole rim joist as well as sill has completely rotted away. It is safe to assume the wall is about a full 1.5 inch low. view from roof shows that wall's upper top plate meets a joining walls bottom of the top plate.

Any way, I have decided that we will raise the exterior wall about 1.75 inch, which will allow for some room to put the new 2x6 PT sill in, and also install the rim joist. This rim runs parallel to the joists. LUCKILY, the studs, and even the bottom plate of this wall show no signs of water damage even though I know this wall was constantly exposed to water and is why the main bean and also the rim joist and sill have rotted. We have replaced the main beam already.

I have looked all over online and people just say kind of how to do this in general terms. I pretty much know what needs to be done but one question remains...... How the heck do I jack the wall up? Obviously I can not just jack the joists like I have been to level the house off, because the whole wall is on the bad joist. Jacking around it is not going to do anything. So I was thinking do I just say remove some siding outside, and attach some type of hanger and a 4x6 chunk perpendicular off the wall. This would give something to put a jack under, but all the load is transferred horizontally to the wall, seems a bit weak? It is about 24 foot span. I was thinking use 2 jack points about 1/3 the way in on each side? then jack that wall up from the outside via the two horizontal 4x6 sections hanging off the studs.

Any other way to do it? Thanks.
09-20-09, 04:44 PM
Are we talking about a single story house? Are there any walls separating rooms in that 24' span? If so, are they bearing walls? Is there a full cellar or just a crawl space? Can you post some pics to photobucket?
09-21-09, 03:33 PM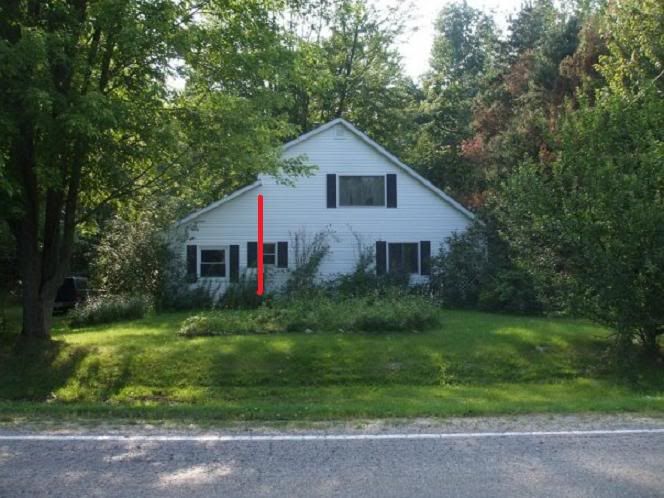 This is the house in question. Don't mind the red line, that is from an old pic where I believed we had a load bearing wall. turns out it was, and there was NO support from the crawl. Jacked it up, now the top roof line is a little off since they built new soffets and fascia etc. And now we are jacking that out of line, trying to get the floors up, its a nightmare. That is why you don't build on sagging structure!. Anyway......
So the wall in question is the one on the far left, in this pic, your looking down the wall. it goes from front to back. well that whole sill plate underneath is rotted. But it looks like the sills front and back, are holding everything on those walls up. I think it is just the side wall that is rotted. So with just the one wall sagging, we should have the other two walls where they need to be.
I know the pic is not that great on showing what we have to work with, but it is a crawl, one that I can easily sit and extend my head up, its pretty accommodating. We have a wall running perpendicular inside that separates two bedrooms, and obviously there is no second story above this wall. We have the roof exposed since it was out of wack, and we are replacing down to the rafters. With the roof exposed, we see that the inside wall that separates the two rooms, the top plate is 1.5 inches higher (a sill plates thickness) than the top plates so essentially the middle of the room, obviusly with the most sag, is basically down to the concrete where I suppose that section of sill disintigrated. Still puzzled why the wall is in spectacular shape. I just can not imagine some idiot would have rebuilt a wall over time and not thought about looking at what they were building on top of. And house is only 35 years max. not too old.
What you guys think. I am trying to think this in my head, why can I not jack up the joists closes to the affected area, (they run parallel to the bad rim joist). The wall in question is only holding that roof structure, and the shingles and plywood are gone, All I need is enough room to get the rim joist and sill in, but I am just not sure if there is enough good attachment from the wall to the closest jackable joist. Therefore I believe I have to actually fasten something to the wall structure that would promote vertical jacking.
09-22-09, 06:56 AM
Fastening something to the wall seems to be the only way to lift it besides a crane. The reason I asked about the perpendicular wall was, I think it might inhibit the operation. Out of curiosity, why don't you call a house moving company & ask them what they would charge to lift the wall?
09-22-09, 02:26 PM
good point on the perpendicular wall, though like I said, that wall has already lifted a couple inches, so it is much higher than the wall in question. It lifted as we were jacking up the main beam and adding secondary support from below.

I hesitate to call any outside firm because we are on a budget, and really time is of no concern since we don't plan on selling until spring. I try to do everything myself and believe that something like this would cost a huge amount just because most homeowners believe this is such a monumental task. It really is quite simple when you think about it. Since I don't have a crane, boy would that be nice, I guess we are back to making a form of lifting point. Thanks for the responses.
09-22-09, 11:18 PM
That is a good idea, I guess I have been mentally trained, that estimates are never free anymore. Either outright or they scoop you in with their world-is-ending scare talk. Truthfully they probably would have a good point when they tell me that only a trained qualified person should be lifting houses off their foundation, but hey the all mighty dollar is what puts food in my mouth and a roof over my head. Things are tight.

I appreciate your thoughts, and I am sure there are still good contractors out there, but then those are the ones I feel bad for when I just use them for their thoughts and waste their time to come out to the house for an estimate.